E-commerce logistics has many moving parts. Keeping track of them all can give a brand a major headache, especially when in-house logistics knowledge is limited. Outsourcing can be the key to avoiding the hassle. This article is a handy guide for anyone screaming "But where do I start?" at their computer screen right now.
When a brand considers outsourcing its e-commerce logistics, it is usually thinking about handing off a large part of its administrative and operational logistics activities to an external and specialized service provider. The idea: Let the specialists do what they do best. Reality shows that e-commerce companies are usually better off using an external logistics service provider instead of handling logistics and the entire fulfillment of orders internally. With external fulfillment, you can expect professional services and processes. The list of tasks is long and processes must be perfectly coordinated. Guaranteeing frictionless fulfillment processes is the core business of fulfillment service specialists. Due to their extensive experience, processes do not have to be set up and tested from scratch. However, there is typically a lot at stake for the outsourcing company. If the outsourced logistics does not function properly from day one, the long-term negative impact on customer satisfaction and thus on the company's own business success can be disastrous. Accordingly, it is essential that you are careful when selecting a logistics partner and consider various internal and external factors. Here are five of the most important things to be aware of before outsourcing your logistics.
Keep online shop integration in mind
The majority of modern online store systems offer a so-called API, i.e. programming interface. These APIs make it possible to connect your online shop directly with the systems of other external service providers like the Warehouse Management System of your logistics partner. But even in 2022, fully automated online shop integration is unfortunately not yet a standard feature for many logistics service providers. Therefore, when choosing a logistics service provider, make sure they offer fully automated integration between their systems and your online shop. Additionally, we recommend checking out if your potential partner offers a connection to the most common online shop systems, such as Shopify, Magento, and WooCommerce. If you ever plan to relaunch your online shop with one of these, it will be easier to keep your logistics and fulfillment provider. The API connection will act as a central interface between your shop system and your fulfillment partner and serves to seamlessly track inventory, incoming and outgoing goods, and returns. A seamless integration of both systems is the only way to ensure that you always have a precise overview of all inventory and movements, even if your entire e-commerce logistics is handled externally.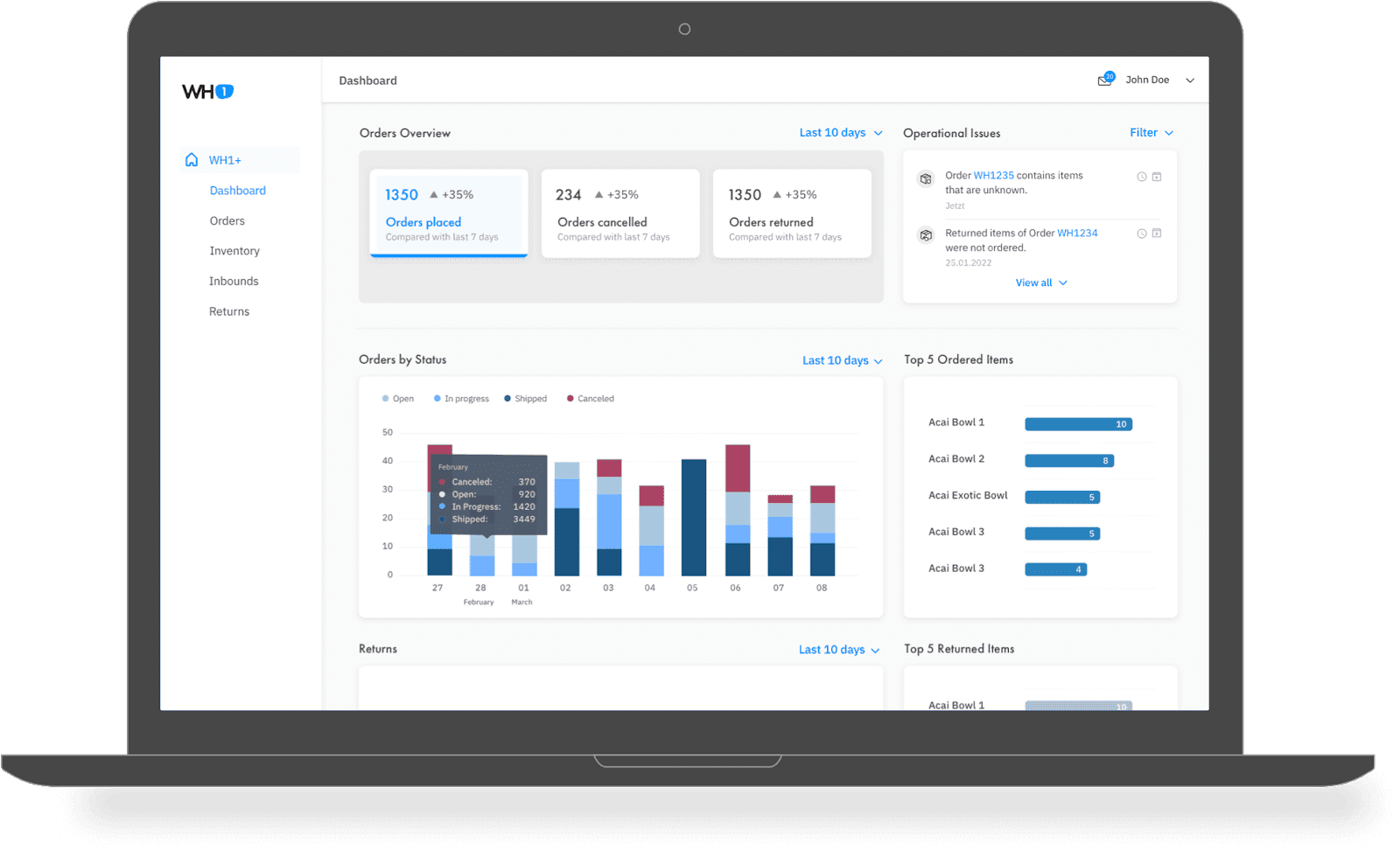 Sure, offering a well-functioning API is very important for choosing a fulfillment service provider – but there is more to the right partner than that. Smooth and efficient order fulfillment can become a competitive advantage for you if the framework conditions are right. At the same time, implementing external fulfillment processes is a truly monumental task – both for the outsourcing company and for the corresponding service provider. An experienced service provider team that supports you throughout the entire planning and implementation of the outsourcing process is a great advantage. When choosing a suitable service provider, you should pay attention to its range of services and discuss all possible contingencies with them in advance. Can special requests be accommodated? Can the service provider react flexibly to seasonal peaks in e-commerce? How scalable are the fulfillment processes? What's the provider's error rate in fulfillment? Can they offer special conditions for shipping costs? Keep these and more are factors in mind when looking for the right partner.
The market for logistics and fulfillment service providers is particularly large and decentralized. Fulfillment providers such as Warehousing1 can be a lifesaver in this crowded field. With a network of over 1,000 partner locations in Europe and the USA across all industries, the company ensures flexible and scalable on-demand solutions for e-commerce fulfillment, contract logistics, distribution, and warehousing. Warehousing1 guarantees to identify the perfect fulfillment and warehousing solution for every kind of business. If that sounds interesting, you can schedule a free consultation here.
Better outsource sooner rather than later
Outsourcing e-commerce fulfillment can have different reasons for different companies and strategies. Whether to take charge of fulfillment yourself versus outsourcing your entire fulfillment is a question that e-commerce companies should already ask themselves at an early stage. We all know these stories of unicorn-like companies that started from the bottom and tell stories about how the founders spent hours and hours packing parcels by hand, using an old printer in a garage. But does that actually make sense? Well, for some brands, yes. Maybe. 
But for most e-commerce businesses, the smarter choice is to start with a pro/con-list about outsourcing their fulfillment, even at an early stage. Especially because you may quickly reach the point where it's not possible anymore to do it all yourself. That is when you need to hire logistics professionals, build up a warehouse and fulfillment center, implement an entire controlling system, and a lot more. Or you just outsource the whole process and leave this work to a professional service provider, saving you a lot of time and money. When you tackle the issue too late in your growth story, this can have very bad consequences, such as delayed shipping or order mistakes. Studies from Statista and getconvey.com show, a quick delivery is important for customers of all ages, and delays could lead to the least wanted outcome: unhappy customers.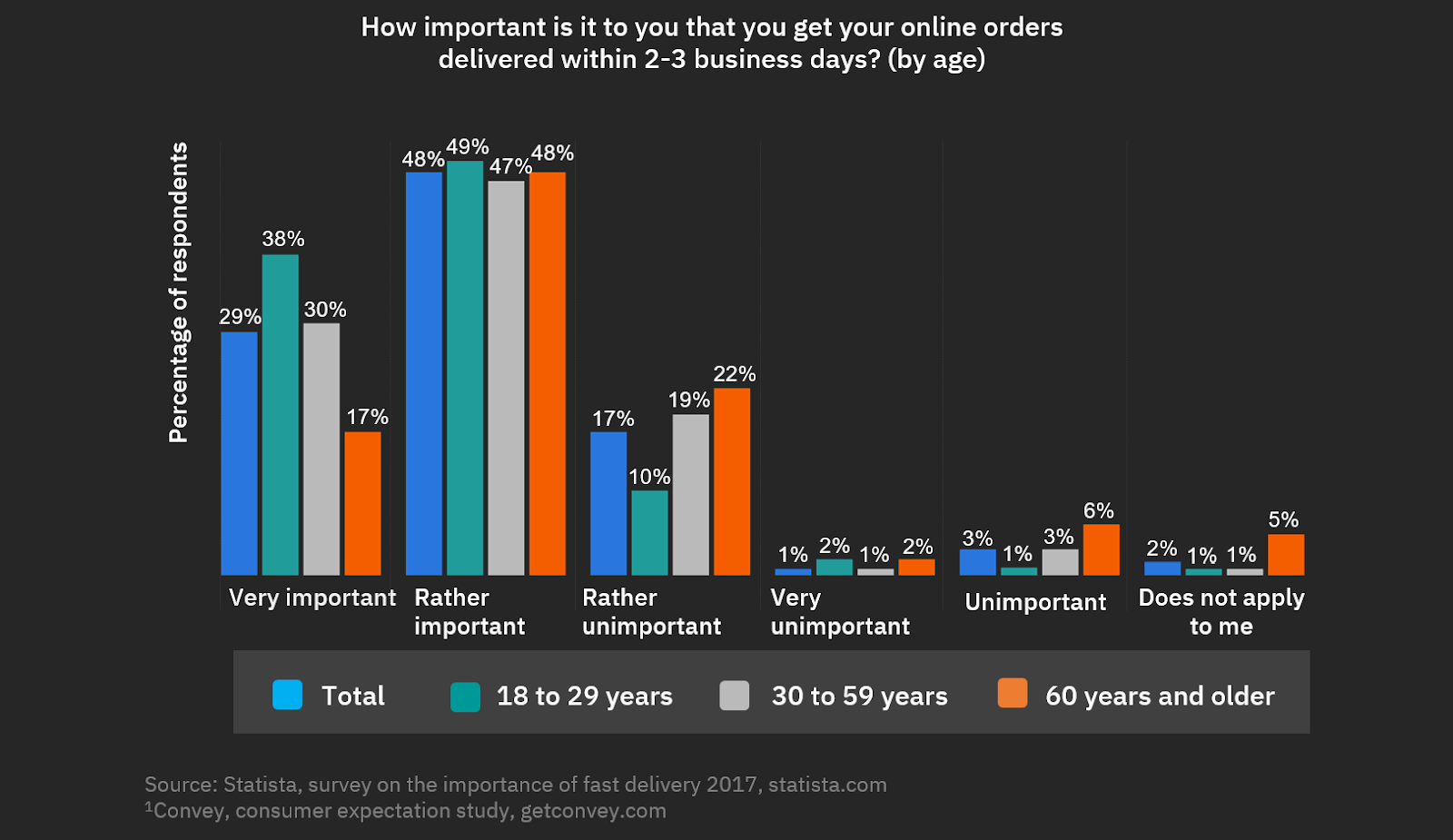 Thus, we highly recommend evaluating the opportunities that outsourcing your e-commerce fulfillment offers, even in an early stage. You will have more time to focus on your core business: Driving up sales and making your customers happy. And not trying to figure out how to run a warehouse…
Avoid seasonal peaks when outsourcing your fulfillment
When starting the process of outsourcing your e-commerce fulfillment, we highly recommend avoiding seasonal peaks. Seasonal peaks, such as Christmas, Black Friday, and Cyber Monday or the slightly newer Singles' Day, always mark phases with a high order volume, high revenue – and a lot of stress. In order to avoid negative consequences during these profitable peak phases, such as delayed shipping, you should avoid starting your outsourcing efforts during these periods. Instead, you should target a time at least four weeks before a seasonal peak to have your whole setup on track. By this time you should have completed the entire research process, requesting different offers, moving to a new logistics facility, setting up the shop integration, and the final testing. To have the best possible logistics setup, we therefore recommend starting the preparation of the whole outsourcing project at least six to eight weeks before a seasonal peak.
5. Outsourcing is an ongoing process
Operating an online shop is an ongoing process, so are your logistics. So while your technical setup is evolving, your logistics partner also should follow. Outsourcing must be seen as a never-finished piece that has to be reevaluated from time to time.
When acting successfully and focussing on what you do best, your business (ideally) grows over time. But can your logistics partner grow with you? Is your logistics setup still on track in terms of fulfillment error rate? Are the shipments still fast and are the prices still competitive?
An on-track fulfillment framework makes your business crisis-proof and guarantees you flexibility – which is important, especially during volatile times. So, don't forget to challenge your setup from time to time, make sure that it is still what your business needs and leverage logistics as a competitive advantage and a driver for your customer's happiness.