Online business has a firm place in consumer behavior: Since 2018, the share of Germans shopping on the internet is almost constant at around 70%. In European comparison, this puts Germany in sixth place.¹
Let's take a closer look at the e-commerce market in Germany.

German e-commerce market: Online trade is booming
Sales in digital B2C commerce are expected to rise to 97.4 billion euros in 2022.² In the business customer segment, e-commerce is also still on the rise.
According to a survey by the market research company IFH Köln, B2B e-commerce in Germany generated around 1.3 trillion euros in 2019. B2B traders generate a large proportion of their sales with automated transaction processes based on electronic data interchange (EDI). In addition, they generated 320 billion euros via websites, online stores and EDI-free marketplaces.³
B2B marketplaces are becoming increasingly popular, especially as they are becoming more and more similar to the B2C marketplaces: They not only provide easier access to comparable price and product information – B2B users are also already familiar with them, thanks to their private shopping experiences. Accordingly, business buyers are looking for similarly convenient processes as those in B2C: from a simple checkout to convenient options for reordering products. ⁴
There is a lot of potential, and in the following you'll learn how to use your e-commerce setup to grow your business.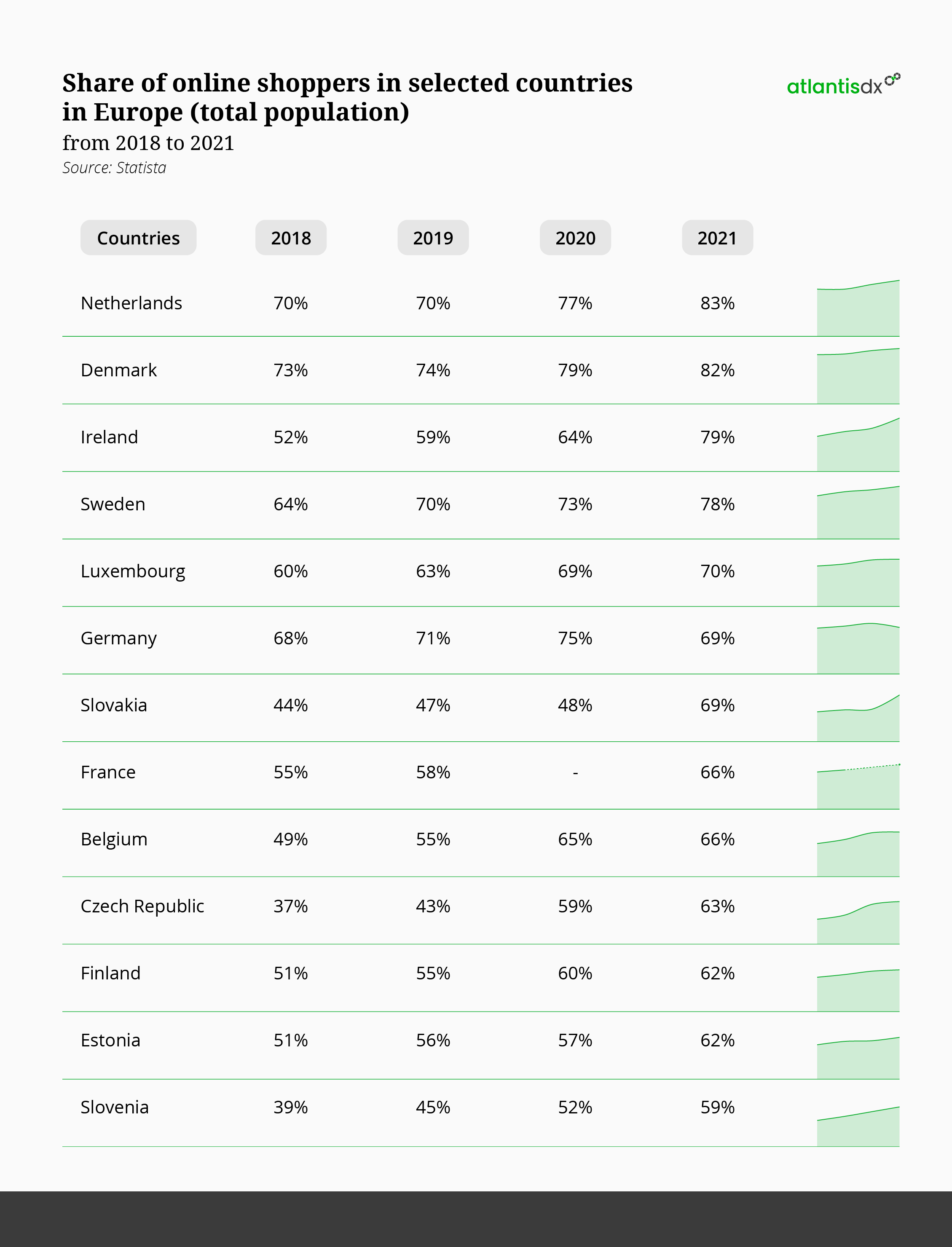 Let's get started with the top success factors in e-commerce
First, analyze your current setup!
If you want to set up your e-commerce business for success, you should check if your current e-commerce system is capable of the following tasks. Can you…
easily maintain and service the B2B-store,
connect relevant third-party systems (e. g. ERP, CRM, PIM)
exchange data from these systems bi-directionally,
efficiently manage and maintain interfaces (APIs)
calculate prices for individual customers and display corresponding shopping carts,
display a specific assortment,
personalize content and product recommendations on your site,
support B2B-specific payment processes,
map B2B-specific logistics processes,
implement B2B-specific returns processes and
provide the sales force with a professional tool?
If not, you should consider upgrading your setup.
How to modernize your e-commerce setup
When modernizing your store technology, it is advisable to work with a specialized digitization service provider. After analyzing the status quo, the second step is to select a suitable technology. Backend and frontend of your new store should be set up in a way that it meets your company's and customers' specific needs.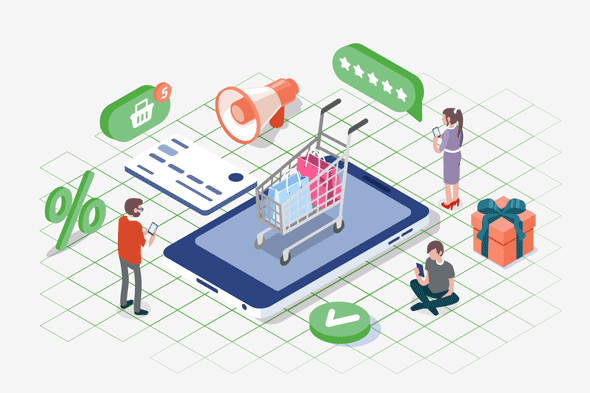 factor 1: operate shop-software on a solid foundation
Selecting a suitable technology is only half the battle. It is just as important to decide on an operating model that is a perfect fit. Whereas companies' operating technology used to be mostly installed on their own servers in the past, companies today can run their e-commerce software
– on their own data center themselves,
– or have it provided on-premises by a service provider,
– or receive it as a software-as-a-service (SaaS) solution from the cloud.
factor 2: integrate third-party systems

API-platform/gateway:
If your company wants to successfully operate e-commerce, you must provide all relevant information at the digital point of sale (POS) in a demand-oriented and consistent manner. This task is supported by an API-platform or a gateway. It connects the store system not only with third-party systems such as ERP, PIM, CRM, and logistics solutions, but also with marketplaces such as Amazon, Ebay, Otto, and Mercateo. Social networks can also be connected.
Headless commerce
As it becomes more and more the standard to shop online on different platforms, you should get ready for multichannel commerce: selling in a variety of channels. An optimal technological foundation is a store solution based on the headless commerce approach:
Unlike traditional store systems (which combine front- and backend), front- and backend are separate from one another. The advantage of this is that the store content can be played out in different frontends – such as an online store or an app – on a user-specific basis, while the same backend can be used for a wide variety of systems (such as content management systems, social media platforms, marketplaces and price search engines).
Middleware
A middleware networks all relevant systems with each other as a central link. A direct link would often be too complex and error-prone. For example, the middleware can consist of a database and a data integration tool that allows you to seamlessly sync Snowflake data to Salesforce.
factor 3: optimize B2B-functionalities
Even if the line between B2C and B2B is becoming increasingly blurred, technological development must catch up here. Given this background, operators of B2B stores quite rightly expect them to meet different, sometimes even functionally higher requirements than is usual in B2C online retailing. For B2B buyers, for instance, it is important to be able to filter highly complex product portfolios in a granular manner and also search a web store with the same precision.
Another important aspect is personalization. For this, it is indispensable to display assortments in a customer-specific way and to offer B2B buyers the possibility to configure products according to their needs and to receive individual prices. In addition, an offer function is also useful. Buyers should be able to request individual offers directly in the shop, based on the order value of their shopping cart. It should be possible to take discounts into account when creating the offer and to adjust the final price accordingly at checkout.
Before setting up or modernizing their store, companies should find out which ordering processes are common in their industry and what features their customers demand. With additional functions such as the creation of "favorites" lists, the compilation of multiple shopping carts and a quick order function, B2B buyers benefit from a further gain in convenience.
factor 4: conduct web analysis for customer-specific targeting
Today, only an individual approach adapted to the needs and preferences of the user (targeting) leads to e-commerce success. The key is user data: This includes search queries, pages visited, products viewed, products remembered, purchases, purchase cancellations, complaints, returns, regional aspects and analyses of the ordering process (funnel analysis). But what's the best way to collect all the desired information in a legally secure manner, evaluate it and use it for online marketing measures?
Tracking is the most important factor in collecting and analyzing visitor data as well as interactions on a website. It answers questions such as:
Where do your users come from?
What pages are clicked most often?
How long does a user stay on a page?
What does his customer journey look like?
How much revenue and how many leads can be generated at what cost?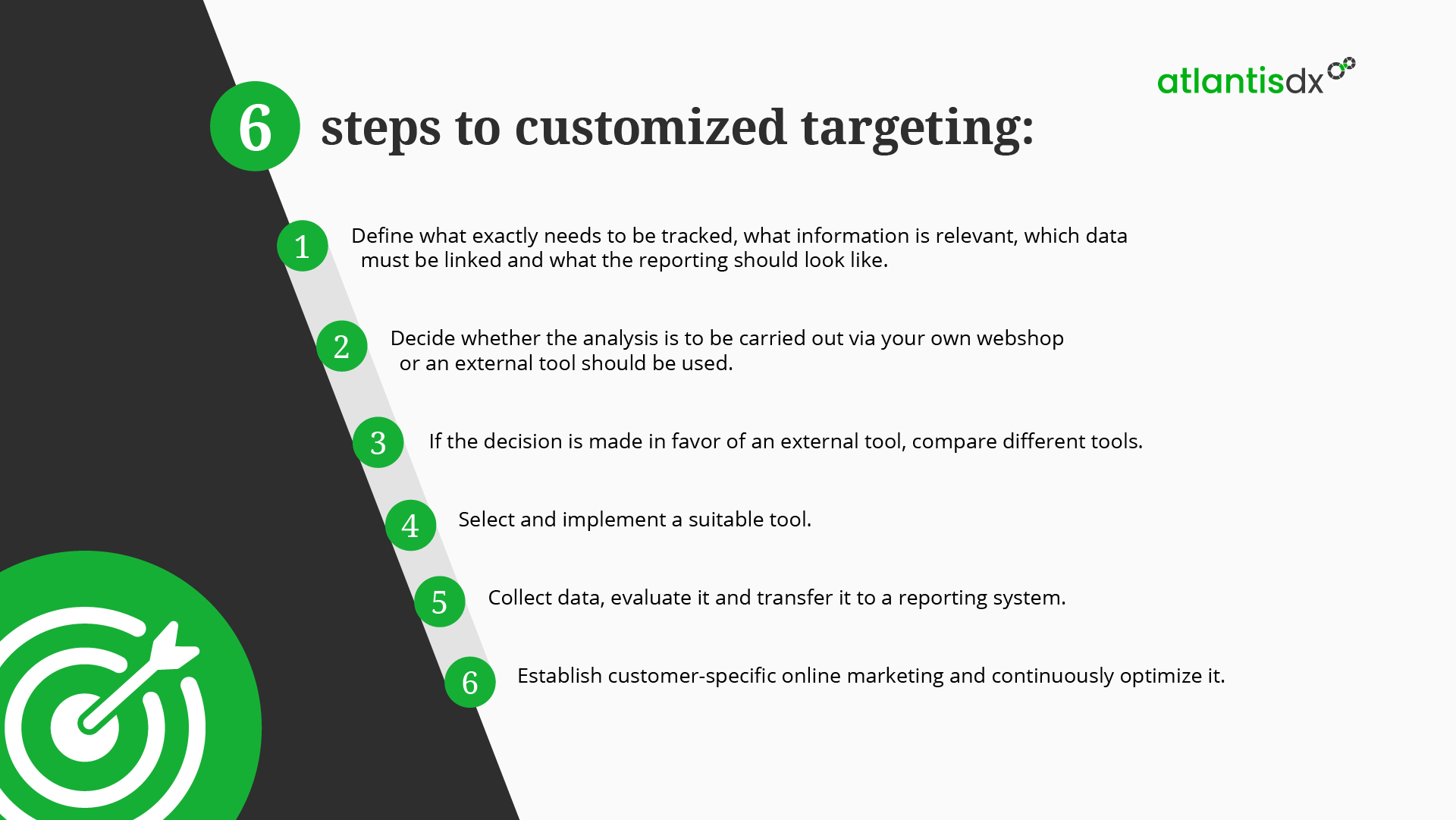 factor 5: use marketing automation
A marketing automation tool accesses the data stored in customer profiles and automatically triggers actions – adapted to the phase of the customer journey in which a lead or customer is located. For example, retailers can send newsletters and mailings in which they recommend products to the respective addressee that match previous purchases. Likewise, it is possible to make offers that correspond to personal preferences.
In addition, users benefit from integrated analyses and reports. These are particularly valuable when the marketing automation tool is integrated with the CRM system. The same applies to newsletters and download content: The provided content must be so good, that users give up their personal data for it.
There are two options for the practical implementation: Either your company sends out its newsletter from the new CRM system – many tools offer corresponding basic functionalities. However, in order to select target groups, personalize content and automate e-mail marketing, it is advisable to use a specialized newsletter or marketing automation system.
factor 6: pursue professional returns management
Today, professional returns management is a decisive competitive factor – especially in B2C commerce. But also in B2B commerce, a smooth returns process is essential for the business relationship. Since returns incur high costs, it is even more important to make the returns process efficient and customer-oriented with the help of defined workflows, automation and networking of all relevant systems.
Professional returns management ensures that the returns rate remains as low as possible. This is achieved primarily by ensuring that high-quality product information from a product information management system (PIM) is available in the online store. But customers can also help to improve the presentation of products in the web store: If, for example, several customers state during returns that the color of a product does not match the color displayed in the web store, it is time to post better photos.
factor 7: manage complaints (including service & support)
Complaints management – like returns management – is part of customer service. This makes it crucial for the success of an online store in a highly competitive environment. If a customer is dissatisfied with a purchase, for example because the quality of the goods does not meet his expectations, and then does not receive the anticipated service, it is very likely that he will turn away from the store for good.
Professional complaints management means providing the affected party with the easiest possible access to customer service, for example by allowing them to submit complaints via a service portal. It is helpful to provide contact information such as a service hotline and the corresponding e-mail address in a prominent place in the online store. When the complaint is submitted, a ticket management system comes into play: It provides service employees with all information about a customer, his orders and complaints centrally.
factor 8: adjust payment methods to countries and target groups
If you want to be successful in online retailing, you have to offer the right payment methods. After all, one of the most common reasons why customers abandon online shopping is that they can't find their preferred payment method. Therefore, before planning the checkout process, store operators should inform themselves well about how the targeted customer group prefers to pay and which means of payment are usually available.
In the business customer segment purchase on account predominates, while in the end customer segment, preferences vary greatly depending on the target country. German consumers, for example, prefer purchase on account, followed by payment methods such as PayPal, credit card, prepayment and instant transfer.
To find out which payment methods should be available in a country-specific online store, merchants are well advised to contact a payment service provider (PSP). They not only integrate the desired means of payment, they also advise companies on the implementation of national legal requirements.
factor 9: improve customer experience with AI-features
Experts agree that AI-based product recommendations are an important step towards personalized shopping experiences. In the past, intelligent technologies were so costly and resource-intensive that they were only an option for large e-commerce retailers. While commercially available store systems were capable of generating product recommendations, this tended to be a random selection of items based on assigned tags or product popularity.
Today, even smaller store operators can play out precisely tailored product recommendations automatically, based on sophisticated analyses of all relevant customer data.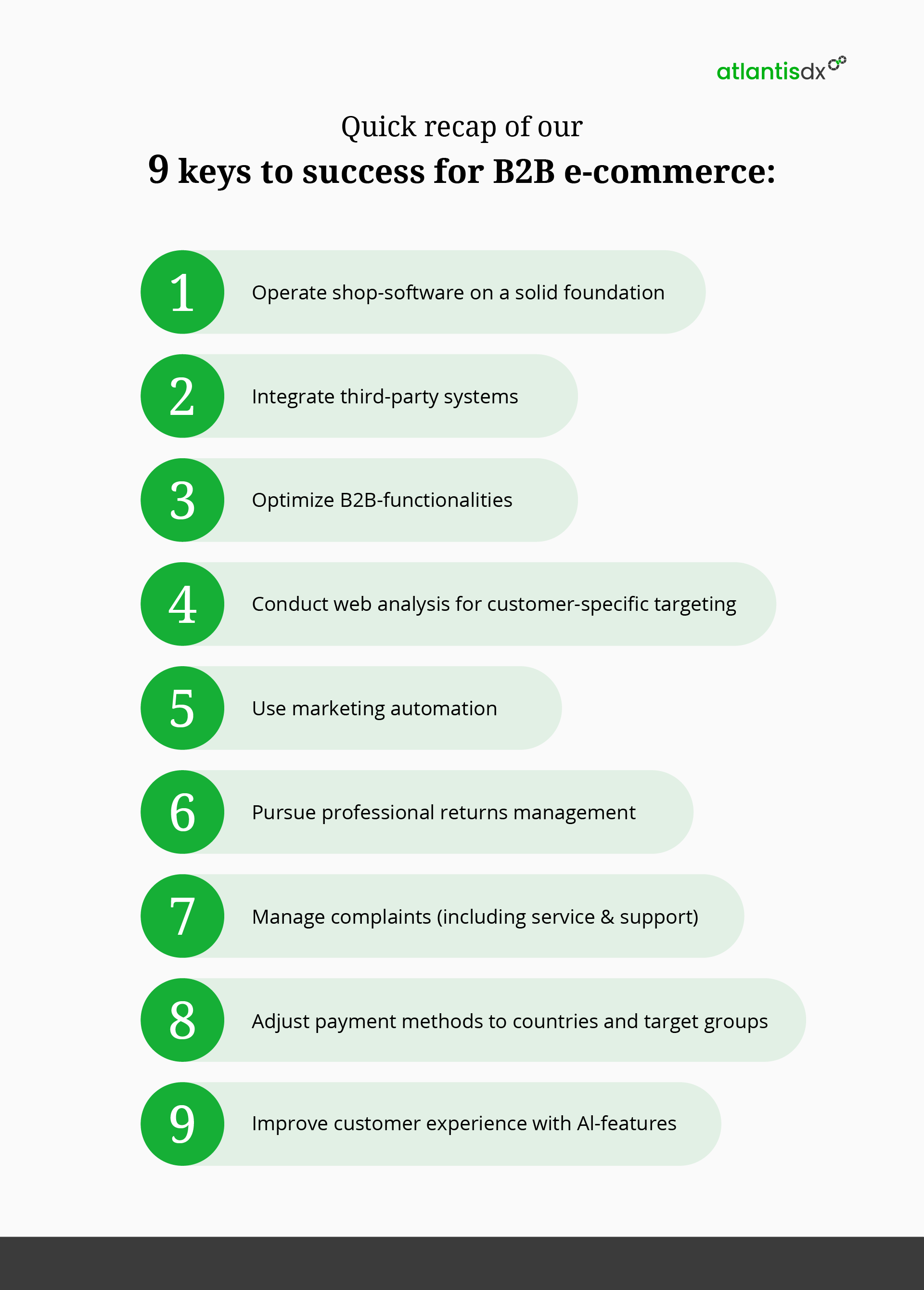 Plan ahead: Digital transformation for your B2B business
On the one hand, B2B stores must function perfectly from a technical point of view. On the other hand, customer-specific requirements must be mapped and supported in terms of processes. After all, shoppers will only remain loyal to you as a retailer if the user experience is right. To achieve this, your online store must not only be intuitive to use, but also visually attractive:
The most promising way of implementation is putting a DXP (digital experience platform) like ibexa to work. It combines three modules: content, experience and commerce, which allow you to build and personalize your users' digital experience.

It is equally important to track the purchasing behavior of all your target groups across channels in order to provide consistent information at relevant touchpoints (multichannel experience). This is much more difficult after the abolition of third-party cookies. But cookieless tracking with effective technologies opens up new possibilities, understand purchasing behavior. This is where AI-based tools can play an even more important role in the future.
Last but not least, it is advisable to keep an eye on target group-specific developments. For example, Millennials – the so-called Generation Y: people born between 1980 and 1997 – will naturally occupy more and more decision-maker positions. And with Generation Z, i.e. people born between 1997 and 2012, the next buyer group is waiting in the wings. A target group that attaches great importance to aspects such as sustainability and environmental protection.

atlantis dx is an IT service provider with extensive experience in digitization. Founded in Hamburg in 1994, the company now focuses on data & analytics, e-commerce, web solutions, and customer experience. This yields a broad service portfolio with innovative solutions from a single source. atlantis dx uses agile methods to implement sophisticated projects in B2B and B2C environments — from online stores and web applications to CRM systems and business intelligence solutions. Regardless of the task, one thing is always in the foreground: the best possible digital experience. Please use this form to contact atlantis dx.