Year after year, the statistics show that consumers are gravitating toward online shopping to get the things they want and need. As a result, the e-commerce industry is booming. For businesses to thrive, they need to adjust to selling their products in the online environment. Having a high-performing e-shop with features that focus on putting desired products in front of customers is a hugely important aspect of online sales, one that is often overlooked.
Luigi's Box thoroughly understands the complexity of making sales online. There is a new, so-called "Google Generation" – people who automatically navigate towards a website's search function to save time finding what they need – that is rapidly shaping the way online shoppers interact with e-commerce websites.
The growing majority of consumers don't want to spend hours browsing through an e-shop's entire catalogue to get what they want. They prefer to type something into the site's search bar and see exactly the products they are looking for. This means that the search feature of an e-commerce website is a crucial part of that company's online sales.
Luigi's Box recently published a study highlighting the importance of an e-commerce website's search feature. The collected data came from nearly 1000 e-shops across 14 different segments. All of the research was gathered in 2020, a breakout year for the e-commerce industry due to the impact of the COVID-19 pandemic.
Overall, the average conversion rate in e-commerce is 2.79%. However, when looking at the visitors who use a website's search feature, that percentage dramatically increases to 10-15%. The significant difference helps re-enforce the idea that those who use the search field actually intend to make a purchase.
Broken down by sector, one can see that the amount of visitors using search varies greatly. For example, in the books and games sector, more than 40% of all site visitors use search. On the other end of the spectrum is the fashion sector, where only 8% use the search field. In general, sectors that have clearly named products, like books and games or spare parts, have more visitors using search since they usually know exactly what they are looking for.
In contrast, segments that rely more on imagery, like fashion e-shops, tend to have more visitors that don't mind scrolling the page for their desired items since they use the image of the product to evaluate their purchase. Search in these segments is used more as a guide to see a list of relevant products rather than finding the exact item they want.

As you can see, having a working search feature on your website is extremely useful and virtually all e-commerce websites have one because of this. However, just having the search feature there but neglecting to focus on its usability can be very costly in terms of missed potential sales.
Generic search features often don't take into consideration slang, typos, synonyms or other common occurrences. This may lead to the dreaded "No results found", which can be a death sentence to your potential customer sales as about a third of all search users will leave the website if their search returns an undesirable result.

In addition, it's beneficial to note that site search users rarely reformulate their queries multiple times. On average, 2-3 search attempts is the limit before the potential customer gives up and takes his business elsewhere.

With the main purpose of site search being to save the website visitor time by leading them to the right products, it's also critical to explore ways to improve a site's search functionality. One specific way is to use an autocomplete feature which, as the name suggests, automatically completes the context of the visitor's query based on just a couple of keystrokes. The site search conversion rate using autocomplete more than doubled that of the conversion rate for sites without this feature, across all sectors.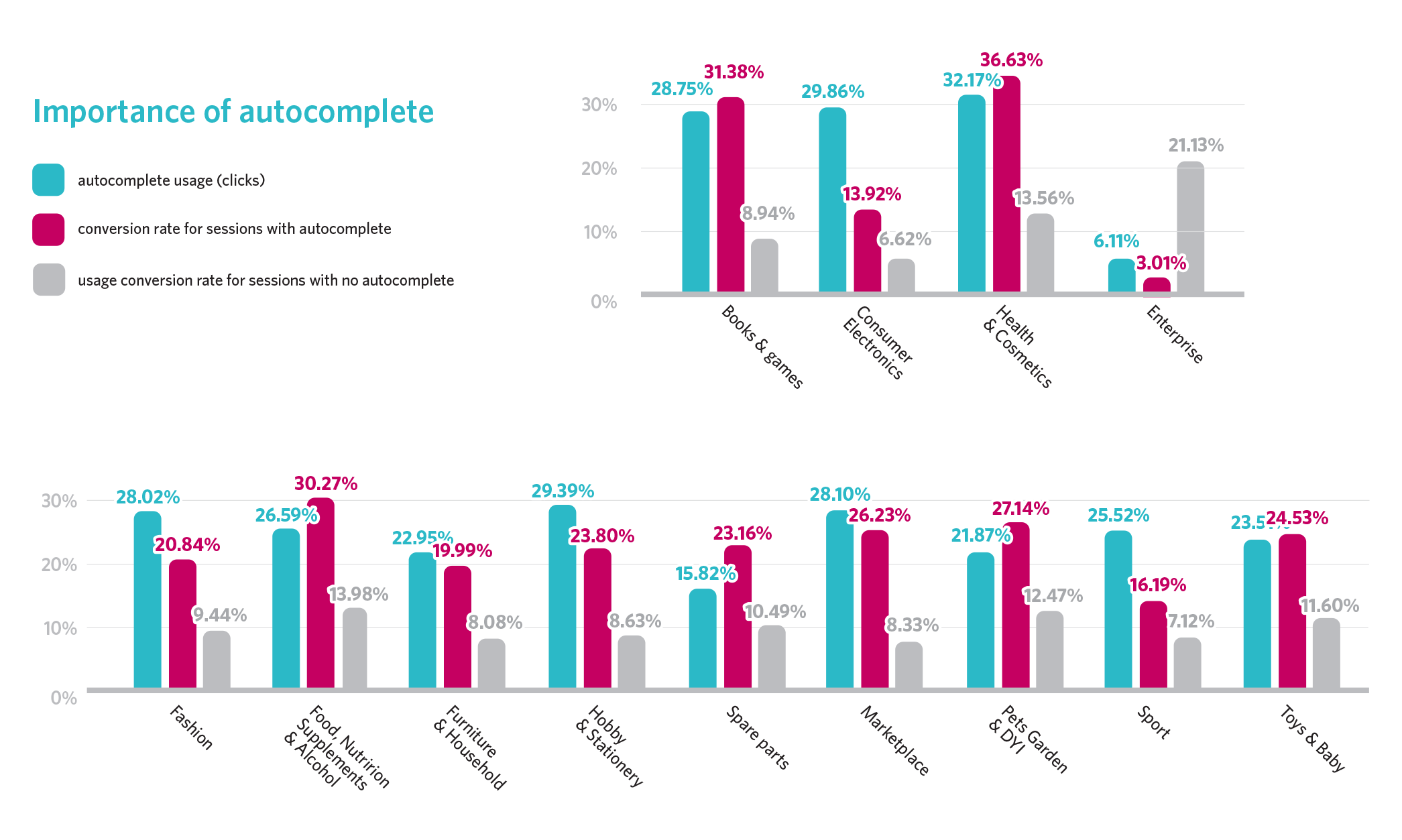 Luigi's Box research didn't stop there. It dives deeper into the importance of a website's search feature in relation to the device used (mobile vs desktop), conversions for queries with 3 words or more, the dreaded "no results" from a visitors query and its impact on conversions, and much more. If you're interested in learning more about how site search is a valuable feature on your website that should not be overlooked, you can find the Luigi's Box complete research study here.