We are living in a digital economy: 81% of people in Germany, the UK, France, Spain, and Italy shop online at least once a month, and 25% at least once a week. Only groceries and medication are mostly bought in stationary retail in the EU5 countries – all other product categories are mainly purchased online, according to a recent survey.
Changing perspectives, what does operating in today's digital economy mean for companies?
In 2021, Harvard Business School surveyed 1,500 senior executives from all around the world about the challenges of being a leading company in the digital era. 97% of the respondents agreed that companies nowadays have to undergo digital transformation and adapt to the new, digital demands in order to stay competitive.
When asked "What do companies need to succeed in the digital era?", the survey respondents highlighted the following four most important factors:
data-informed decision-making
customer focus
cross-functional collaboration
continuous learning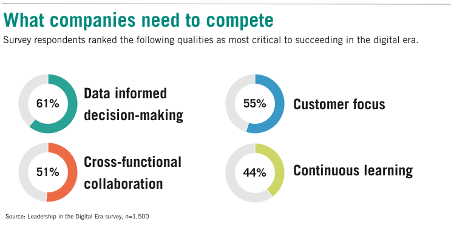 One of the industries that came into existence only due to the prerequisite of the society's digitalization is e-commerce. This means that e-commerce is a digital-first industry. For companies that want to be successful in e-commerce, it is crucial to have the qualities needed in the digital era. And adapting the findings from Harvard Business School to this fast-paced, ever-changing environment surely is as vital as it is challenging.
How can companies apply these findings to their day-to-day activities, including managing their e-commerce business – and especially Amazon? What are the challenges they are facing? And: How can the companies solve these challenges?
Pain Points for Companies Selling on Amazon
The e-commerce platform from Seattle is the dominant online marketplace in Germany and the other European core markets UK, France, Spain, and Italy. Our study, the Amazon Shopper Report 2022, shows that 98% of surveyed consumers know Amazon and 89% have at least once purchased a product there. This underlines the importance for brands of using Amazon as a sales channel: If the customers are on the platform, merchants should be there as well.
There are, however, some challenges for merchants on Amazon which correlate with the factors needed for success in the digital era according to Harvard Business School:
Crucial data not available
The first pain point, mainly related to data-informed decision-making, is that crucial data is often not available for vendors and sellers on Amazon. Most Amazon consumers purchase products by typing a keyword into the search bar – however, merchants don't know how visible they are in the search results compared to their competitors. Learning about the share of one's own and the competition's visibility is important for understanding the structure of the product category and being able to set up a growth strategy.
Incorrect product content
Challenges regarding customer focus arise from the fact that the product content on Amazon is often displayed incorrectly. The unwanted content changes happen either due to backend errors in the Amazon catalog or other merchants offering the same products and overwriting the original content. The result is a bad customer experience and most probably no sales.
One big challenge in cross-functional collaboration is the multitude of tools, systems, and accounts needed to steer and analyze an Amazon and e-commerce business. Usually, the sales, marketing, and content teams have their own tools to work on their part of the Amazon business – leading to intransparency between the teams. Data cannot be shared easily and instead of working on one big project together, every department is seemingly having its own little project. The result: the big picture goes missing.
No reviews & questions data
The last pain point, related to the factor of continuous learning, is that there is no structured reviews and questions data available on Amazon. This customer feedback is market research free of charge: It gives valuable hints on what customers like and dislike about a product, how it could be improved, and how customers use it (maybe differently than intended). These insights are difficult to aggregate and analyze in bulk on Amazon.
Digital Solutions for Amazon Merchants
Vendors and sellers on Amazon struggle to make use of their full potential and often lack the ability to meet the digital demands. To embed the four factors identified by Harvard Business School into their day-to-day business, companies ideally need one software (referring to pain point 3) that is capable of solving these challenges. By encompassing all data and necessary functions in one tool, brands have better chances to successfully manage their Amazon business in the digital era. There are quite a few tools that help merchants to save time and grow faster on Amazon. Remdash by Remazing is one of them and here's how it offers solutions to tackle each of the challenges mentioned above.
With a Share of Voice feature, you can monitor your brand's visibility on organic and paid placements, and identify your competitors based on relevant keywords.
Content Management System & Automated Content Protection
Brands need a Content Management System (CMS) to create and store their Amazon content. Like this, there is a single source of truth in their software tool which makes it easy to check and correct the content. An additional functionality that only Remdash offers is the worldwide unique Automated Content Protection. The software tracks the content accuracy of the products – stored in the CMS – daily and automates the case upload which is needed if the content is displayed incorrectly. In just a few clicks, the content looks as it is supposed to again.
Combining all relevant Amazon data on a product group level and visualizing everything requires a huge setup and maintenance workload. Software tools with customizable dashboards let their users aggregate all the data they need in one place and visualize their most important KPIs. Optimally, teams should be able to share data and dashboards – and like this streamline their activities.
Reviews & Questions Dashboard
With software such as Remdash, brands cannot only track all of their historic and new reviews but also immediately respond to questions. Downloading and exporting, structuring, and filtering the consumer feedback provides an overview of the sentiment and makes it possible to learn from it and improve the products.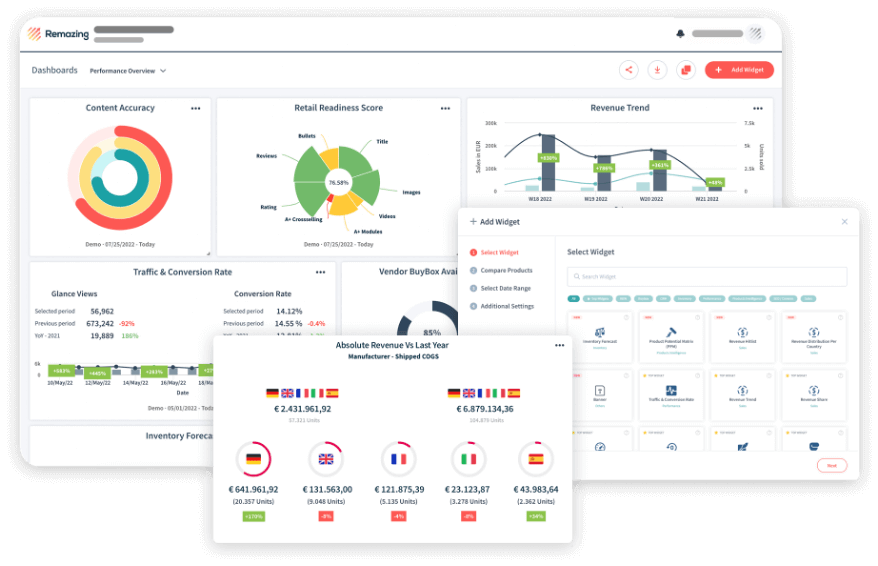 Best Practice: Automated Content Protection on Amazon
An example on how a tool can help improve a company's day-to-day e-commerce business is the following case study of Leifheit and Remdash. It shows how companies can use software solutions to meet the challenges on Amazon and thus make data-informed decision-making easier.
As mentioned above, product content on Amazon is often changed without the influence of the selling company – this is due to Amazon backend errors or other merchants overwriting the original content. For e-commerce teams, this results not only in hours of manual work to spot and fix the content changes but also in serious economical consequences: losses in the ranking, loss of labels as "best seller" and loss of sales. Content maintenance is thus a central problem for Amazon merchants. Unfortunately, Amazon itself does not offer a solution.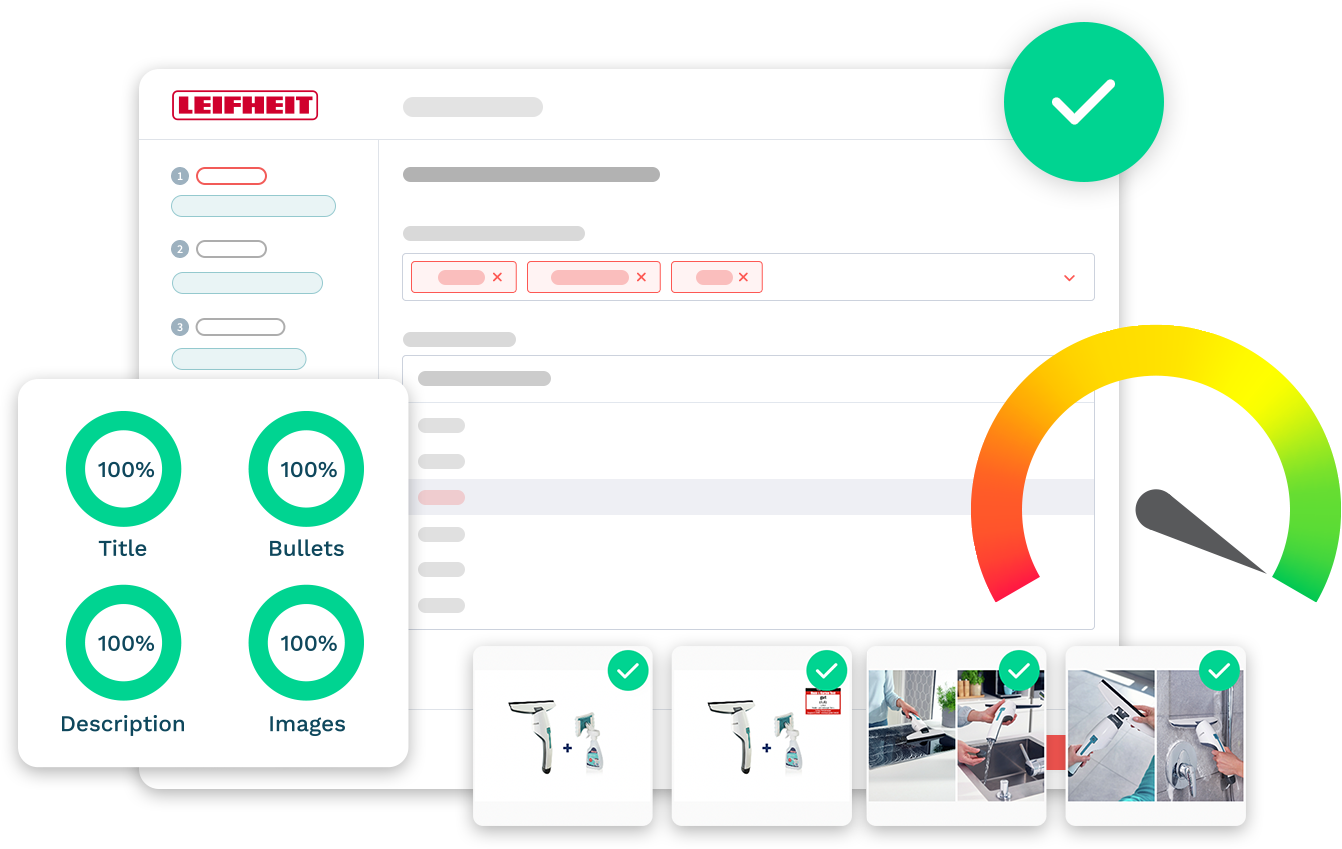 With Remdash, Leifheit can easily and quickly ensure that their products are displayed on the platform as they intend. The software tool automatically analyzes, among many others, the product descriptions and images on Amazon at least once a day and makes a comparison with the intended content stored in Remdash's database. "We save around 20 hours per week with this feature, resulting in more than 1,000 hours per week," says Anna Katharina Backes, E-Commerce Specialist at Leifheit. "Without Remdash, we wouldn't have the chance to monitor our products on a European level in real-time, trigger the changes so quickly and thus avoid ranking and sales losses."
Conclusion: Digitalization is a Must
Regardless of whether a company decides to work with Remdash or another tool, the results of Harvard Business School survey clearly show that doing business online successfully becomes increasingly more complex, as the digital space evolves. Together with its challenges, these developments provide many opportunities for both new and well-established brands. Digitalization is an unstoppable progression and as commerce, social life, work and many more areas of society shift into the online world, the venture into the digital space is no longer just worthwhile but rather a necessary step. Amazon and e-commerce in general hold much potential and although challenging, should not be feared, given a company seeks the right support, for example through software solutions.
***