One of 2020's biggest lessons was that while everyone stayed home, ecommerce celebrated levels of unprecedented success. Amazon certainly was one of the main beneficiaries of the situation, and to examine how the saga continues this year, Neticle analysed the online reputation of Amazon.de.
The large ecommerce service had more than 800 thousand public mentions on the German internet during the first four months of 2021, and especially many in the second half of January and the first half of February. In this analysis, text- and media analytics company Neticle mostly concentrated on Amazon's shopping and delivery service, as the streaming, music and other services are also huge on their own and have different attributes. However, sometimes these cannot be separated, and of course Amazon.de promotes Prime Video and Amazon Music as well.
A little more than 5% of Amazon's mentions came from news sites, the rest was from social media. The most important platform was Facebook, but Amazon was also heavily featured on YouTube, Pinterest, Twitter and Instagram.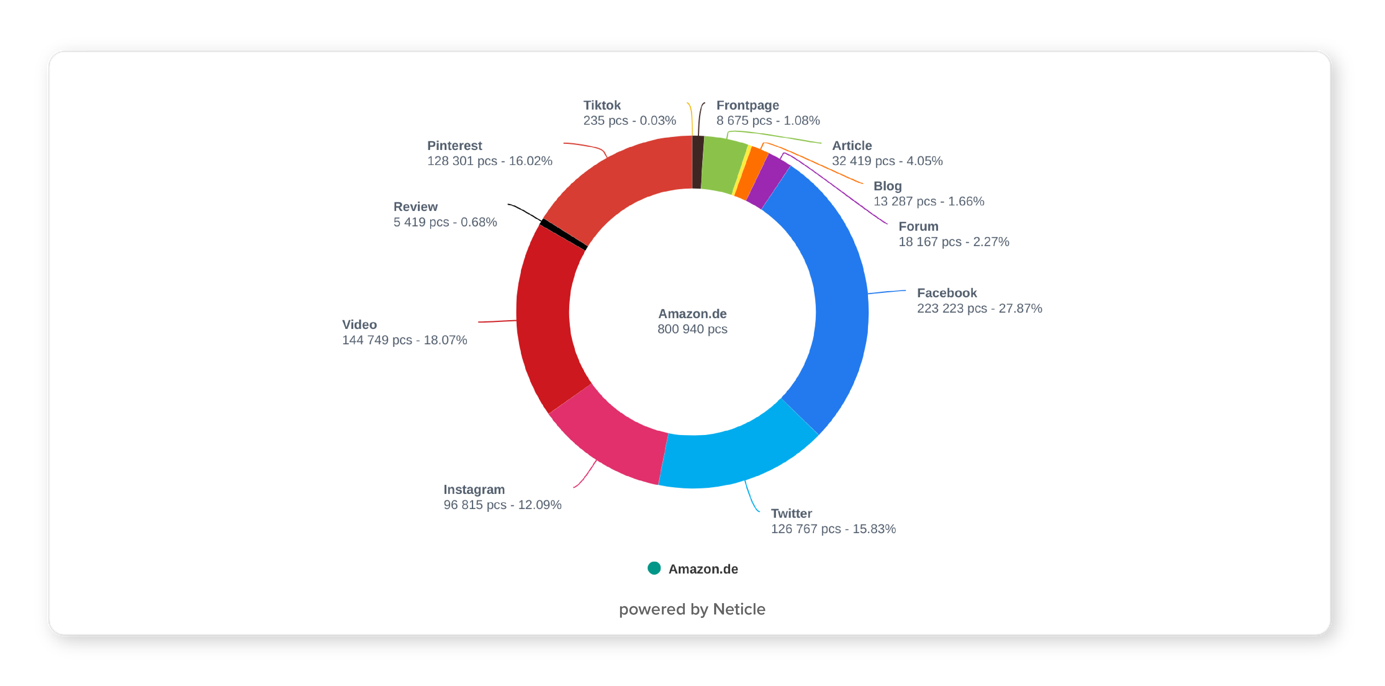 TikTok accounts for a mere 0.03% of the mentions, however, these few videos were in fact the most engaging pieces of content during the examined period of time, with several hundred thousand views. These TikTok videos always featured a product that the person had ordered from Amazon and tried it at home and/or showed it to their audience, like skincare for acne, a "pocket" motorbike, reversible octopus plushies, or lip injections.
Amazon's online reputation was great during these four months: 24% of their mentions had a positive overall sentiment, while only 10% contained stronger negative emotions. This reflects in the key attributes as well: all the ones in the top ten list were dominated by positive sentiments.
That is perhaps not surprising with "Kostenlos" – when something is for free, customers tend to be happy about it. But "Preis", the number one key attribute was also overwhelmingly positive, meaning that Amazon's customers were really satisfied with the online store's prices. The other top attributes that people were exceptionally happy with were speed, convenience, and availability.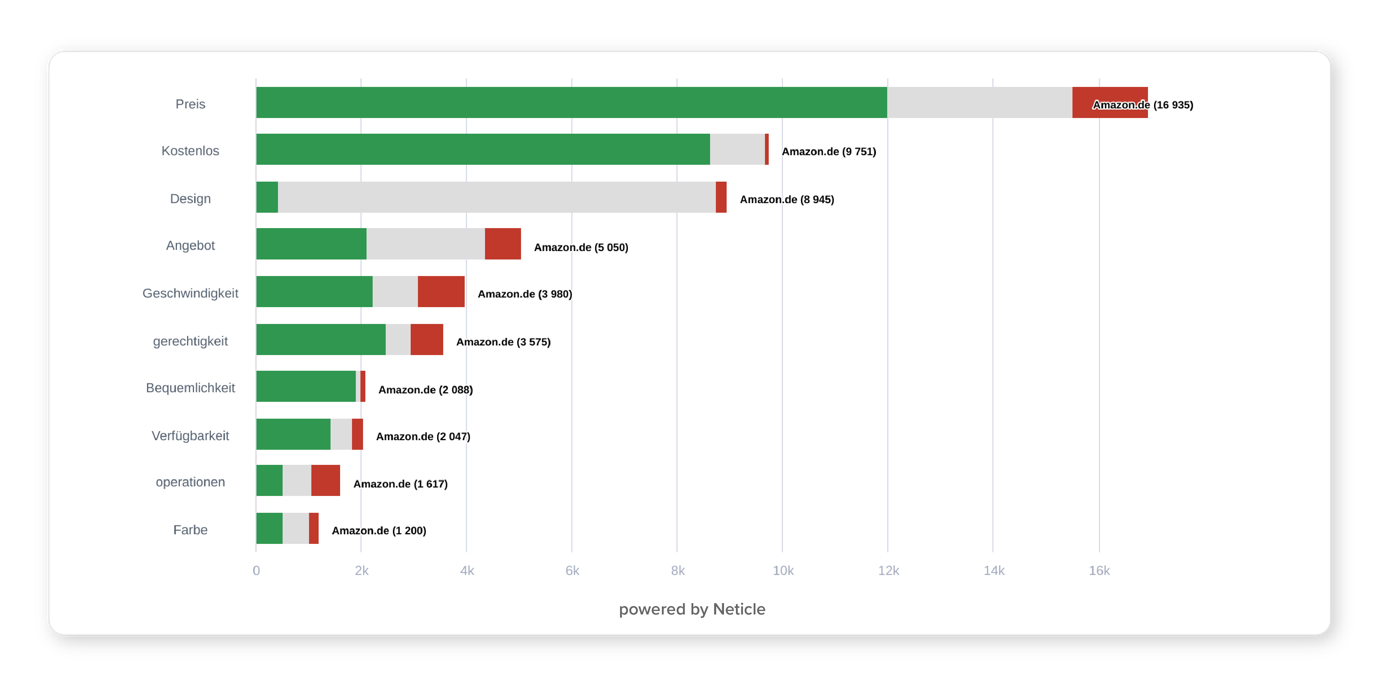 A significant portion of Amazon's mentions consists of links and affiliate links – especially in the descriptions of YouTube videos where vloggers almost always list things like their equipment for filming, or the products they're using or wearing that they purchased on Amazon. In fact, Amazon is mentioned this way on the internet more than in any other kind of context.
These news stories made people talk
The biggest mention peak in Germany in relation to Amazon happened on the 3rd of February, when Forbes' fresh list of the richest people in the world came out. The richest person turned out to be no other than Jeff Bezos, founder of Amazon, who announced at the same time that he would be stepping down from the role of CEO and become executive chairman instead in late 2021, giving the floor to Andy Jassy. Social media reacted to this news with sarcastic humour: the most shared mention of the day was a Twitter post by the funny fake news portal Der Postillon, who wrote that Bezos was leaving because he had had enough of the terrible working conditions at Amazon.
On this note, though in a less funny approach, Bernie Sanders posted a video on Twitter in March about Bezos denying decent wages and decent conditions to Amazon employees while he's the richest person on Earth. This tweet had many retweets in Germany, too.
Amazon was mentioned together with some of the world's largest tech corporations the most, as it is of course one of them, and there are several global trends in which they play a role together. Some funny examples include this popular tweet posted in January following the GameStop short squeeze, showing how out of place GameStop would be next to Tesla or Amazon; or this one suggesting Amazon should have distributed the COVID-19 vaccines along with a YouTube tutorial on how to inject them, and the pandemic would have been solved much sooner.
The number one brand in the mentions is eBay, though, Amazon's main competitor. People often posted links to products on both of them, or just generally talked about buying things on either of these platforms.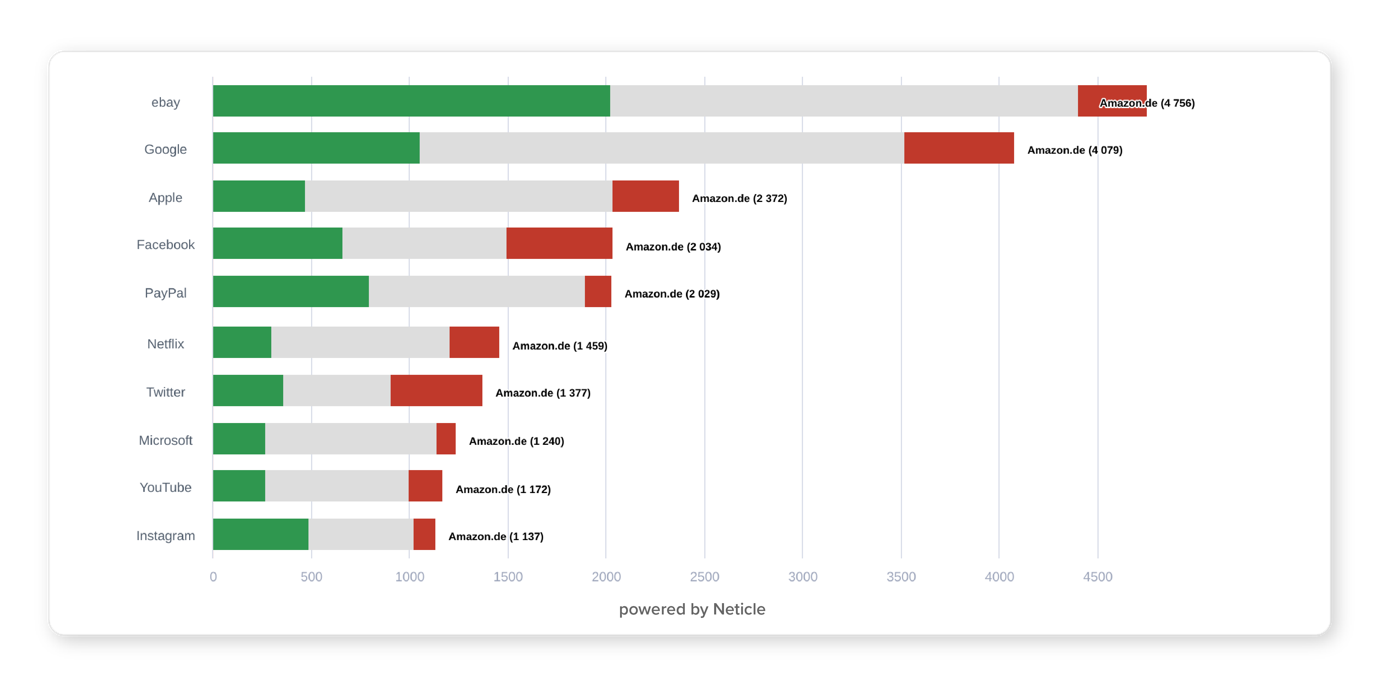 Simple, fun messages were the most effective
Amazon.de often promoted Amazon's other services beside ecommerce on its own channels, such as their Facebook page, Instagram page or YouTube channel. In fact, their most popular post on Facebook was related to Amazon Prime, their video streaming service, and the fourth most popular one was about Amazon Music. They also promoted premium shipping along with Prime with a photo of a cake that looked like an Amazon package – this post was hugely popular both on Instagram and Facebook. At another time, they asked followers to describe their latest order in emojis, that resulted in thousands of comments – though not all of them contained happy emojis.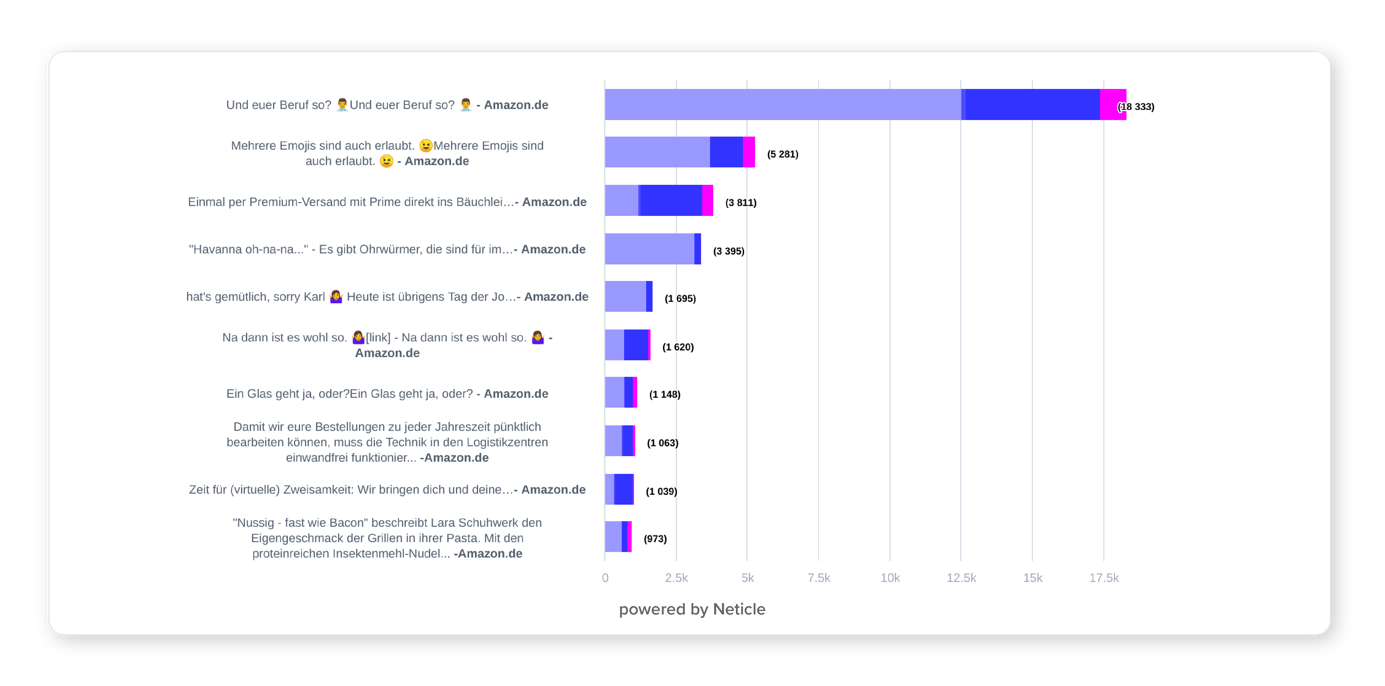 The most viewed video (with 230 thousand views) on their YouTube channel during this time was this one, highlighting the fact that they have really low prices.
On all of their communication channels, Amazon.de mostly adopted a funny, casual tone of voice that followers preferred – it is clear that their more informative, slightly more serious posts always generated less engagement than the humorous ones.
Amazon.de has its own German app in the Apple App Store, and Neticle collected the reviews from there and from Google Play's Amazon app as well. More than 5400 reviews were written from January to April, and the feedback in them was mostly positive or neutral up until the end of March. Then, on the 23rd, the opinion index took a huge plunge because of complaints of the Android app crashing, shutting down and needing reinstallation. The app received some more negative feedback on the 6th of April after an update. After this date, the number of negative reviews gradually decreased.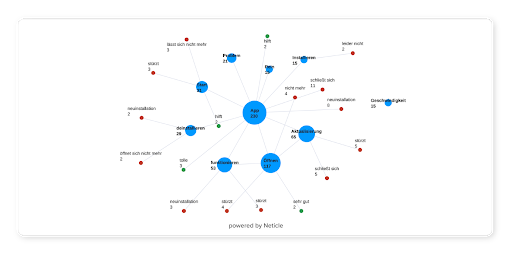 Convenience beats everything
It is difficult to deny Amazon's dominance and popularity, even if sometimes there are a few problems with ordering through the application, or a couple of deliveries not arriving on time or exactly as expected. The analysis of online opinions on the German web has clearly shown that the majority of Amazon.de's customers are satisfied with the prices and the speed of delivery, and enjoy the convenience of finding everything imaginable in one place.
Lots of people recognise the threat that such a huge global corporation means to smaller, local stores and businesses – especially when there's news of the CEO becoming the single richest man on Earth –, but this still won't keep the majority from shopping at Amazon, especially as so many popular YouTubers and influencers are promoting the store with affiliate links or are just genuinely talking about products they've bought from there.