What is checkout marketing?
In checkout marketing companies display offers in the form of coupons on their checkout page as a reward for the customer's purchase. Customers can select their preferred coupon for another partner shop. Thus, partner shops can generate new revenue, whilst the publishing shop can boost its after-sales profit. Checkout marketing offers a variety of benefits which will be explained below.
Benefits for customers and participating shops
Checkout marketing represents an affordable and especially new opportunity for companies through which additional customers can be found and further revenue can be generated. For publishing shops extra profit is generated as soon as a customer selects a coupon on their thank you page. This offers companies a great and easily accessible opportunity to boost their profits without the cumbersome task of sourcing the advertise partners. Checkout marketing is a new opportunity besides the established channels of Google, Facebook, Amazon & Co.
Companies are completely free in terms of how much money they want to invest into checkout marketing. There are no fixed costs, setup fees or monthly fees. With daily budgets and maximum bids the advertisers are fully in control of their costs and can adjust the spend at any time.
The loopingo algorithm automatically optimizes the ad delivery. This, in conjunction with all other targeting measures leads to outstanding results, e.g. double digit conversion rates.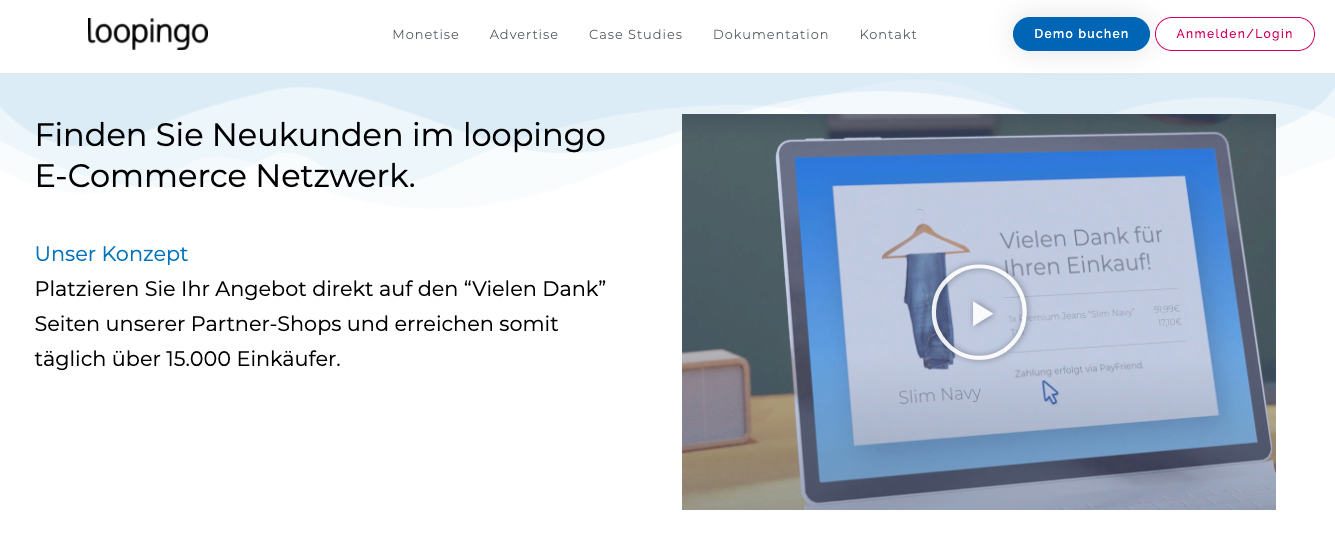 Checkout marketing combines the benefits of Push and Pull marketing. Normally push marketing mainly creates awareness without being overly successful in terms of generating direct revenue. Pull marketing on the other hand leads to very measureable direct results, but seldomly expands the customer base (that hasn't been looking for these products in the first place).
Checkout marketing ticks both boxes: It is a discovery and awareness channel that delivers measurable results in a defined period of time. By actively involving the customer in the selection process, checkout marketing delivers results that can easily compete with established pull marketing channels like Google Ads.
Additionally checkout marketing increases customer happiness because people receive a free gift with no strings attached after their purchase. They are offered an additional value of their own choice without being overwhelmed by too many opportunities. The offered coupons are specifically tailored to fit the customer's interests and needs.
Potential pitfalls of checkout marketing
If the checkout page doesn't look trustworthy, customers might refrain from downloading any coupons out of fear that the offers are fake.
Another problem can be missing information about the offered coupons. This can impact on the conversion performance because customers didn't have enough information prior to downloading the coupon. Additionally, customer satisfaction might be decreased because they selected a coupon they cannot use. Advertisements should therefore be described clearly and enough information should be provided. 
It's very important that the offered coupons truly represent an added value for the customer. Attractive offers will trigger more downloads, but also a higher sense of satisfaction. Customers may feel more valued and have one more reason to return for their next purchase.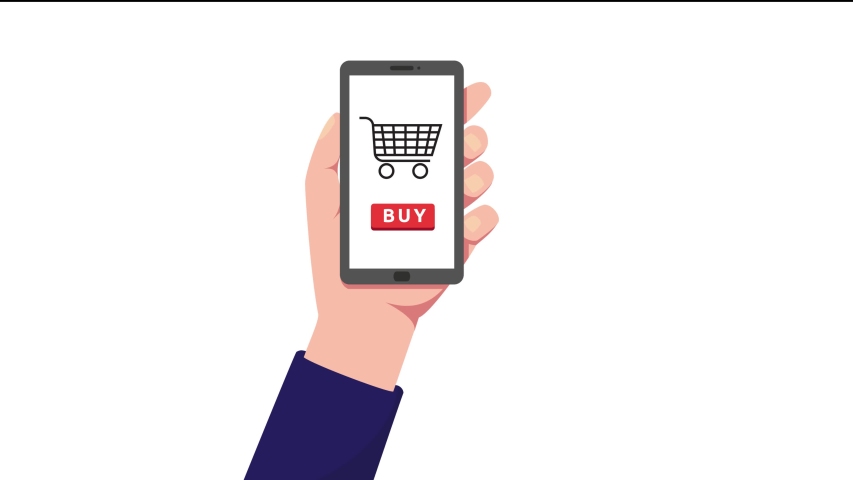 How does it fit into the marketing mix?
Unlike other deal or couponing platforms, checkout marketing is based in the Mid-to-upper funnel of the purchasing process. Here performance marketing meets discovery. On coupon platforms the majority of users arrives with a clear buying intent for a certain shop or product and is only looking for a certain coupon. In contrast to that, checkout marketing inspires customers: They are proactively offered coupons from different shops and industries they might not have been aware of before.
In summary, checkout marketing is a push channel that creates additional revenue.
Case Studies of smaller and larger companies
Little Lunch offers organic soups in Germany and Great Britain. Their idea was presented in the TV Show "Die Höhle der Löwen" which is similar to "Shark Tank". Up to now they are the most successful Start-up of the show.
Joining our network in February, Little Lunch has been achieving great results right from the start. In the first 3 months the Cost-per-Order (CPO) averaged at 3,54 €. The calculated profit of the loopingo integration on the checkout page amounted to 1.150 €. With 825% ROAS and a Conversion Rate of 8,5% Little Lunch truly profits from joining our network.

DOG FIT by PreThis® is a company specializing in food supplements for dogs. Through our network they were able to achieve great results, even though the target group is very specific. Their campaigns achieved an average CPO of less than 4 €. The campaigns exceeded a ROAS of 1000% and a Conversion Rate of 10%.
Further information about both case studies can be found on our website.
Finally: Why is it cool to be part of the network?
loopingo helps companies to acquire new customers and earn additional profits. Customers are rewarded with additional values which makes them more likely to come back for their next purchase. 
The network provides a leap towards more independence from the established advertising players (Google, Amazon, Facebook, Microsoft, Ebay) by offering an additional source of traffic and most importantly revenue.
Being in our 4th year, we've only just started: loopingo is improving every month and more and more partners are joining the network, thus increasing the potential reach for campaigns. Interested in joining the network? Just visit loopingo.com to create your own loopingo account or to book an online demo.