Let's dig into what Germans like about cross border e-commerce. Do they like it? How do they shop? Do they trust it? Let's find out.
If they decide on this form of shopping, they often choose large, world-known online stores with established opinion. Most Germans (55%) prefer shopping on websites that are in their native language. Only 20% of consumers admit that they trust out-of-country and German stores equally. From over 61 m online shoppers, only 12% are genuinely active cross border e-commerce shoppers.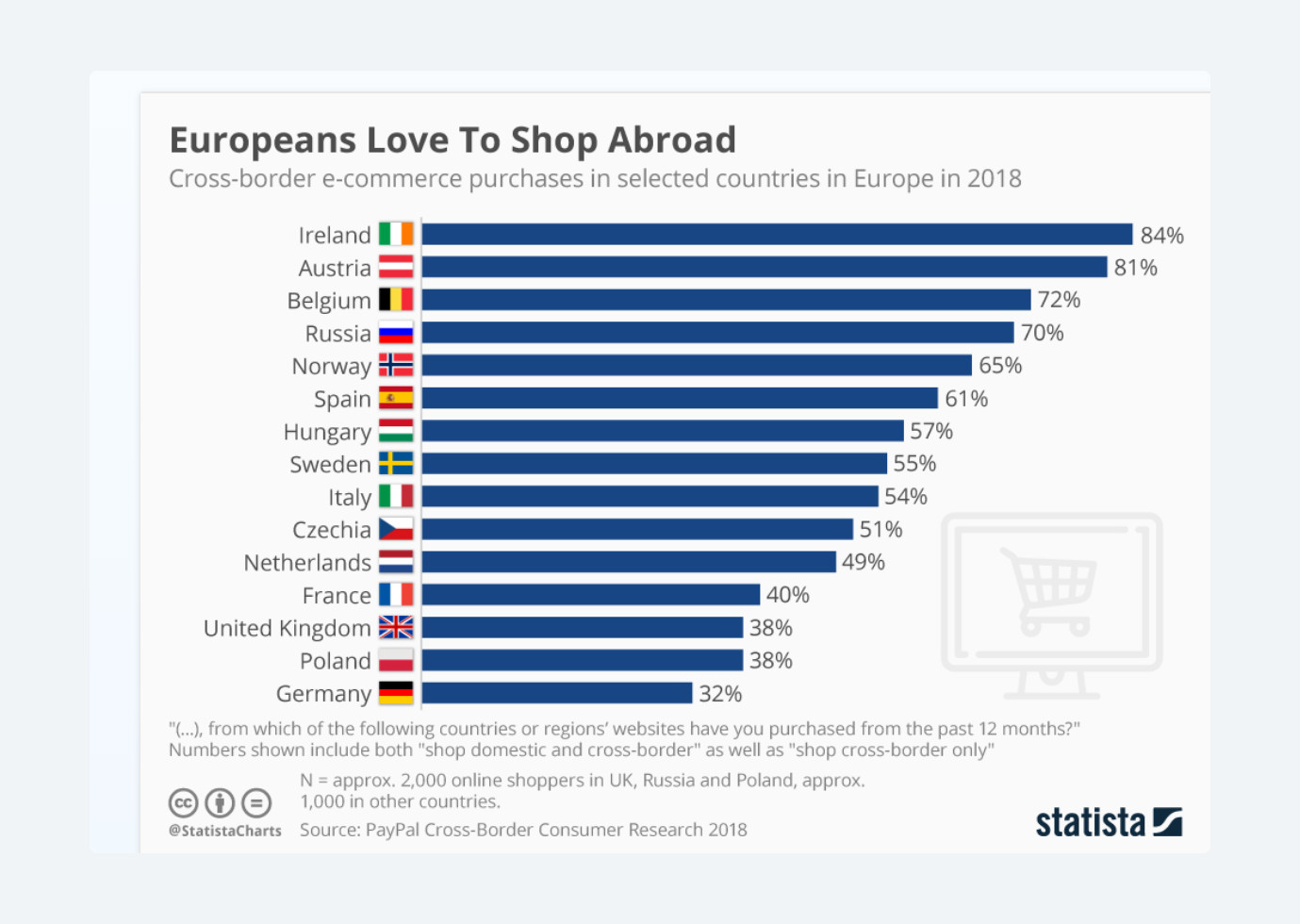 https://www.statista.com/chart/15638/cross-border-e-commerce-penetration-in-europe/
What are the most important cross-border markets?
The biggest part of German's e-commerce shopping comes from The European Union, and the second place belongs to China – 44% of CBEC is from here. 32% of German's e-commerce shopping comes from the United States. In this place, it is worth to mention that 67% per cent of Geman retailer has no online presents. That may be the reason why Germans decide to shop cross-border even if they are not a big fan of it.

Why do Germans buy at CBEC?
Germans are very demanding consumers. They like to do research before they buy, compare product prices, parameters, appearance. Why do they decide to shop online from abroad?

Low price
What do most Germans buy online? Clothing, CDs, DVDs, books and games. These are not very expensive ones, so that is why Germans are likely to buy it in e-commerces. They are known to compare product prices before making a final decision. Price comparison websites are a fixed point of their purchases. Thus, it is worth that the product was well described and competitively priced. These are consumers who will not buy a pig in a poke. They need to know what they are paying for and want to spend as little as possible.

Flexibility
In 2019 m-commerce (e-commerce from a mobile) stood for 40% of sales. This is a big number. Before they buy, they do research anyway. The most popular products that they buy using a smartphone are clothes and books. M-commerce for shopping from abroad stands for 14%.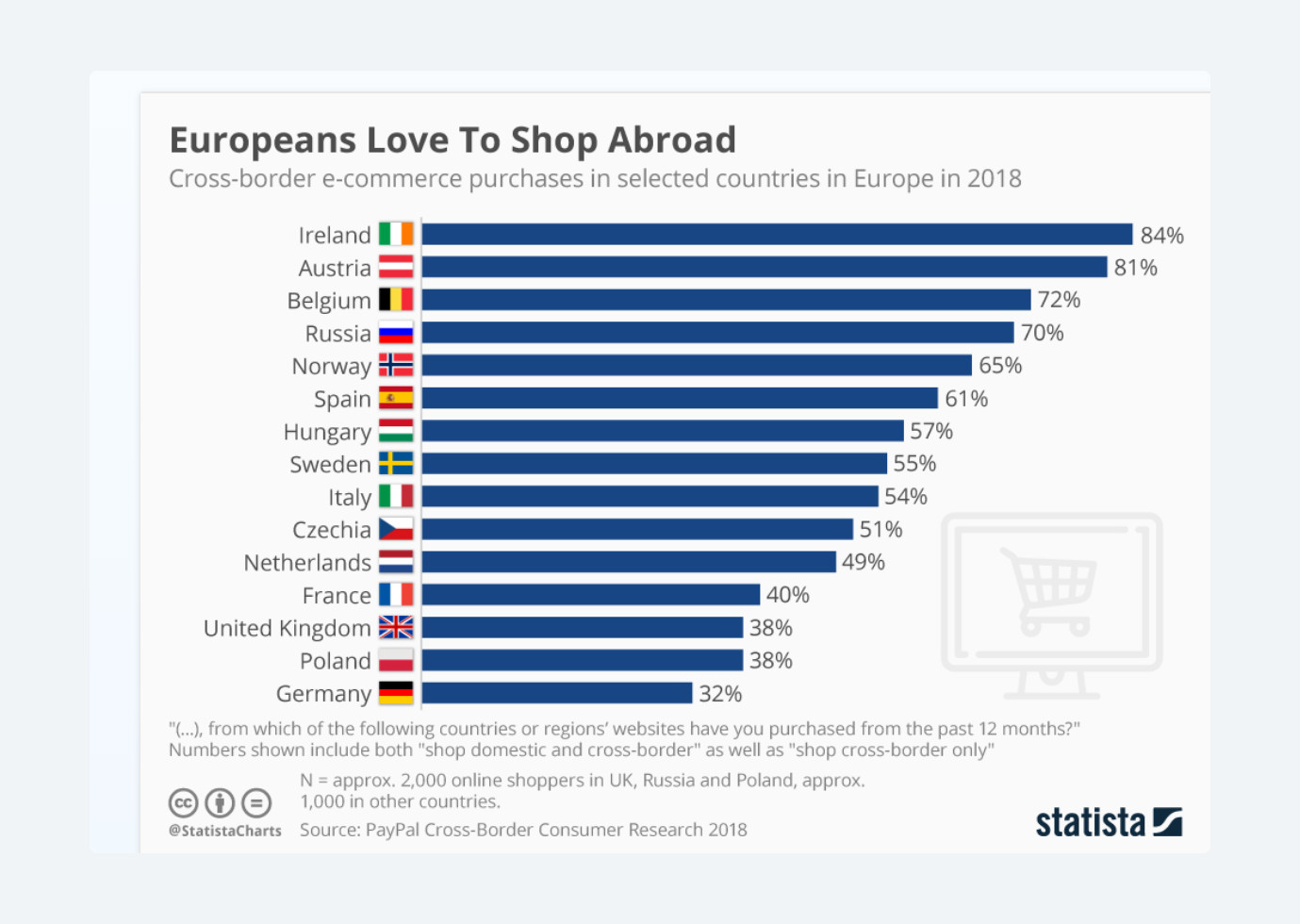 https://blog.lengow.com/e-commerce-in-germany-2019-smartphones-and-cross-border-gain-in-importance/
Besides flexibility in the device from which the purchase is made. Germany also appreciates the return option. Very often, in the case of cross border purchases, the possibility of a refund lasts longer than the standard 14 days. They use it very often. In 2018, Germany returned 487 million items. They returned 70 % of fashion shopping.


https://cross-border-magazine.com/expensive-returns-perceived-barrier-cross-border-shopping/
Delivery methods are the next flexible aspects of online shopping. The possibility of flexible pickup dates and place of delivery are options that many Germans use. In this aspect, it is not so essential for them to whether the company is local or from abroad. It is important that the quality of products and after-sales services meet their high expectations. If the store offers only one shipping method, most likely the German consumer will not buy there. He will look for a more extensive selection of delivery methods and choose one with pleasure.

Plan it – do it
Germany is strategists. They like to plan purchases and do some research before buying. To decide on a specific product from this store, it must be present on many platforms to make chances higher. There is a reason why Amazon, Zalando and Otto are in the top three of German e-commerce. These are platforms that offer the customer ability to find products from many retailers. There is also a reason why one of the most visited websites is the price comparison website and the store in one – Idealo. Its average conversion rate is 42%, which gives the opportunity to reach customers not only German sellers but also those from outside of the country. Provided they know the German language well. 


https://www.cbcommerce.eu/germany/
Safety first
Safety is very important for German consumers. The strict nature of Germans only reinforces the fear of providing their data online. They have issues with online card payments, too. Currently, more and more often, while shopping, Germany decides to pay with Paypal. This is the only service of this type that is slowly gaining trust in this country. The invoice remains its popularity, while online payments by credit cards will lag for a long time behind them. It is worth knowing this type of psychological facts about citizens of the country where you want to send your products. It is much easier than to meet customer expectations.

The most popular payment methods in Germany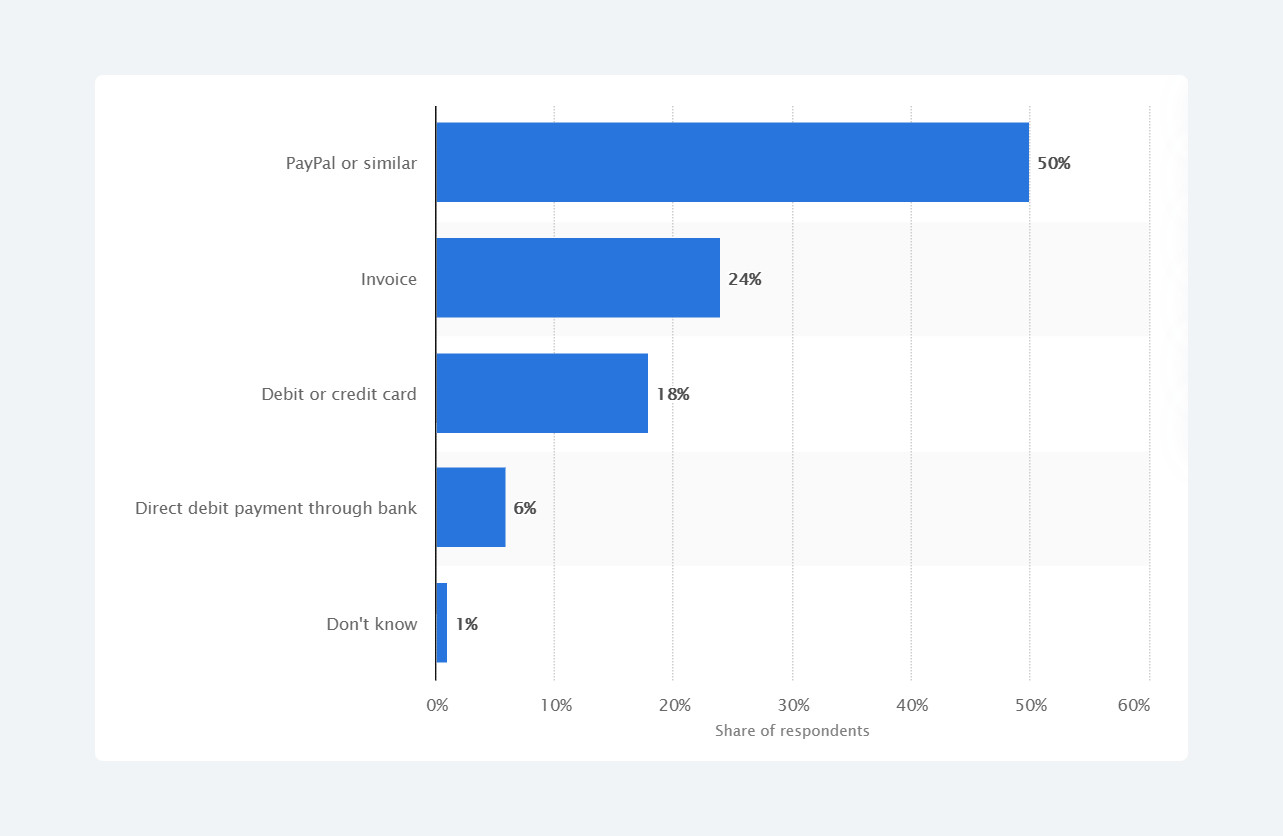 https://www.statista.com/statistics/434341/e-commerce-popular-payment-methods-germany/
German promotion means consistent promotion
We know that the flagship German export product is BMW. This car and the way it is advertised accurately describes how products should be advertised for a German consumer. Short and concise. Germans don't care about bragging about a given product. They must know all the necessary information about it – parameters and its real function. Only then they will think over the purchase.

To sum up shortly
Cross border e-commerce is not a favourite option for most Germans. Nevertheless, they are slowly getting more convinced about it. It is worth knowing which aspects to emphasize if a store outside Germany wants to reach such consumers. The nature of the Germans says a lot about their shopping method. They like to compare prices, do research – they are not emotional consumers. They focus on knowledge and information, not on promotional promises. They also have a problem with providing their data online, which is why Germans rarely set up accounts in stores. Knowing all these aspects helps stores outside Germany reach German consumers and gain their trust.