Having seen IKEA's outstanding results in the DACH region, it is time to find out how Austrian furniture retailers XXXLutz and mömax (which is also owned by the XXXLutz Gruppe) perform in the online world. As all three companies have stores in all DACH countries now, it was time for media analytics company Neticle to collect their ups and downs from the past three months.
Just like IKEA, mömax and XXXLutz also had the highest number of mentions in Germany, and the least amount in Switzerland, but the proportions are quite different. IKEA's outstanding numbers in Germany are nowhere to be seen with mömax and XXXLutz, and while IKEA still had a decent amount of mentions in Switzerland, the other two brands only had a handful (144 and 64) there. It's important to note that mömax only opened its first two stores in Switzerland this August, so the time to build up a significant online presence has not yet been long. Austria, the country of origin for mömax and XXXLutz is where the mention number is on the same scale for all three brands, but IKEA still performed better.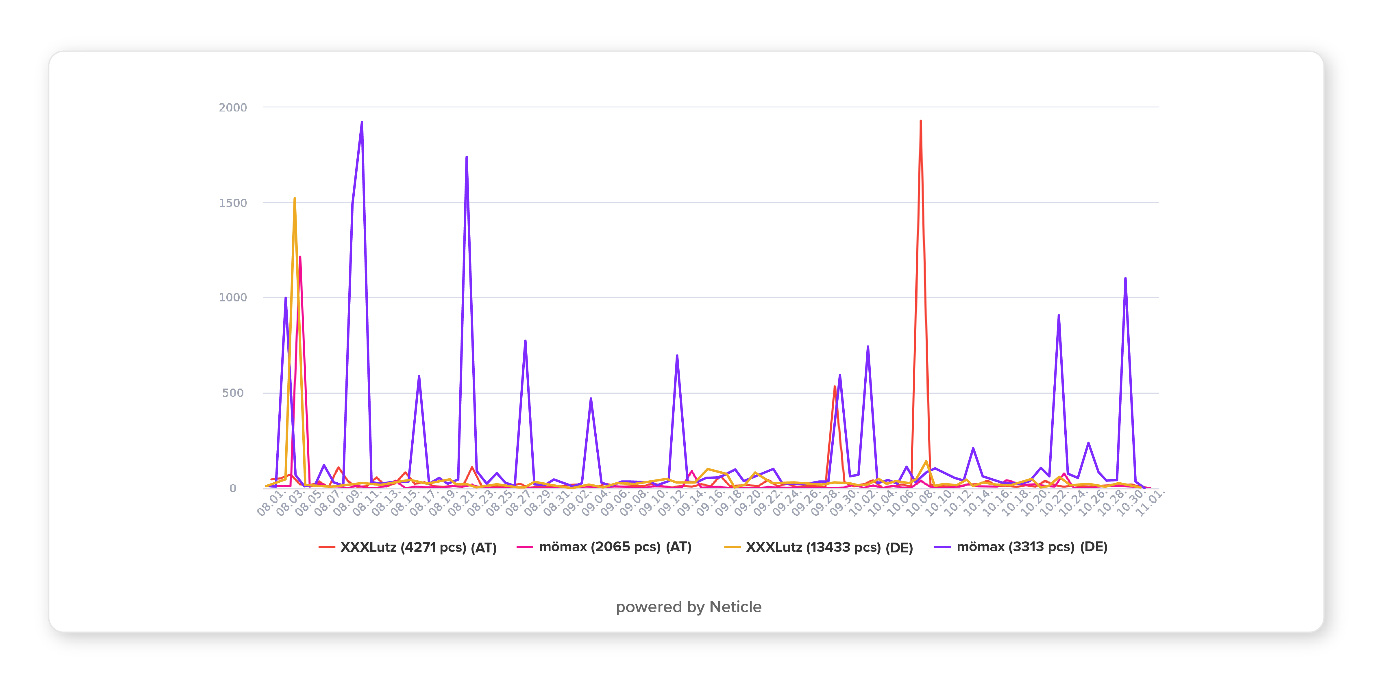 The larger German market also resulted in more mentions
The highest mention peak in Austria was on the 8th of October, caused by a giveaway on XXXLutz Österreich's Facebook page, where the prize was free Schnitzel for a year in XXXLutz's restaurant. Mömax also had a giveaway of Bessagi products on the 4th of August, which resulted in the second highest mention peak of the examined period in the country. The highest peaks in Germany were due to Facebook activity as well: on the 11th of August, XXXLutz posted a "letter salad" asking which three words users would see first. Then a little later, on the 22nd, another funny post resulted in tons of comments. Mömax Deutschland announced the same giveaway on the same day that we had previously seen from mömax Österreich, and it was very popular here as well.
Facebook is still the key platform here, but articles matter
Except for XXXLutz Switzerland, the most important platform for both stores in all three countries was their own Facebook page: 80-95% of mentions were posted there in Austria and Germany. The main difference compared to IKEA is Pinterest, where over half of the Swedish store's mentions came from – the platform appeared here as well, but only in German mentions (5-7%). Articles appeared more prominently only in Swiss mentions.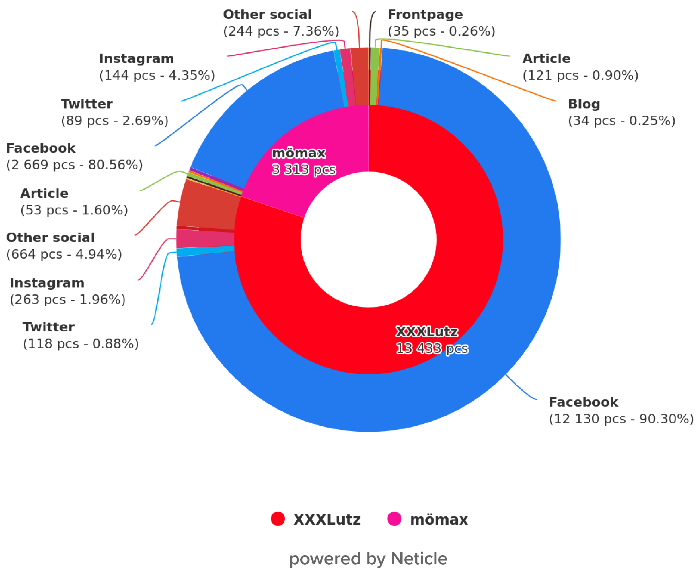 Germany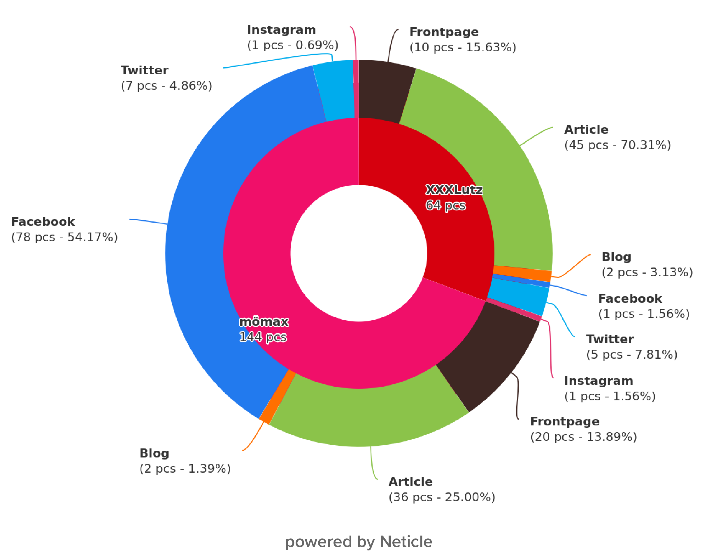 Switzerland
Though articles weren't heavily featured in the share of platforms, the time mömax in Germany potentially reached the highest number of users was due to one: on the 4th of October, Bild reported that a series of buildings – a mömax store among them – in Alt-Saarbrücken caught on fire, and a 17-year-old arsonist was the alleged perpetrator.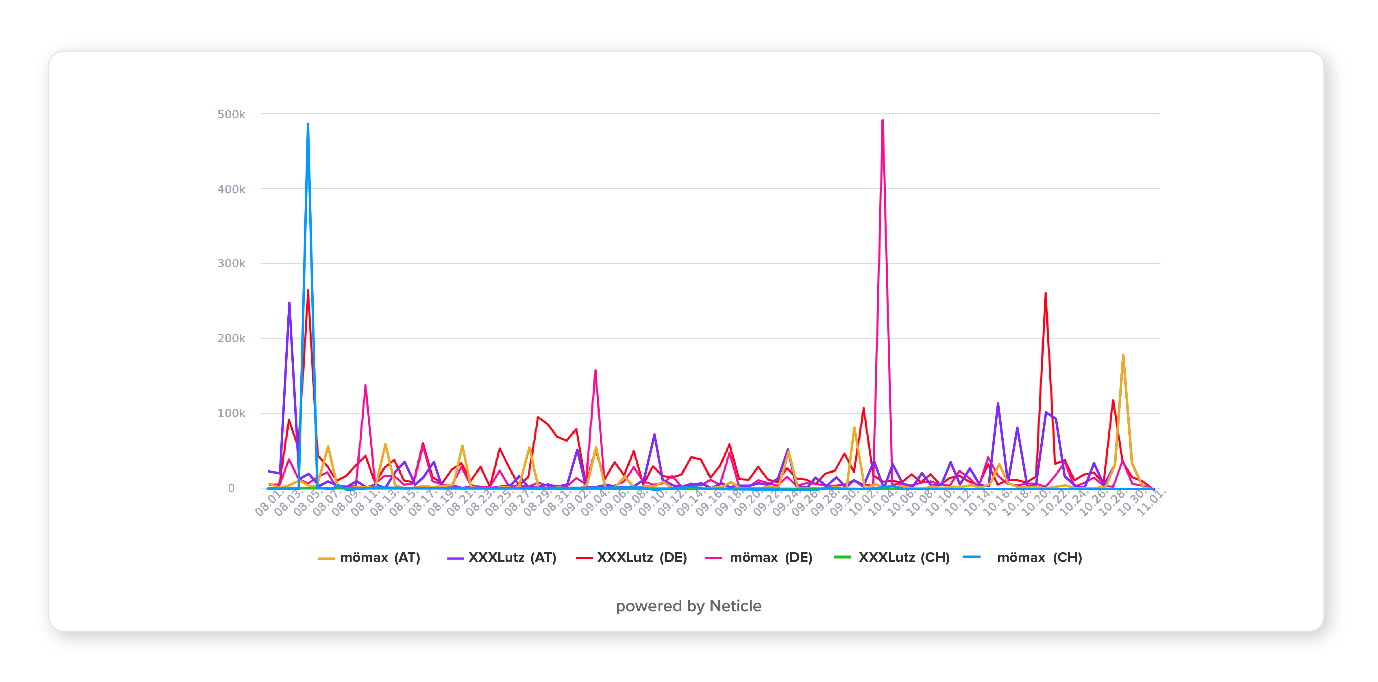 Unique events often resulted in higher reach than the usual content
XXXLutz Österreich had the highest potential reach on the 3rd of August, and that was also due to a number of articles: orf.at, Salzburg24.at and several other news sites reported that XXXLutz would not sue the Republic of Austria in connection with COVID related restrictions. They had previously loudly criticised the fact that stores with less than 400 square meters were allowed to reopen after Easter, but larger stores weren't, even though DIY megastores with garden centres over 400 square meters opened again in mid-April. Mömax Schweiz also reached a high number of users in August, thanks to a Blick.ch article on the furniture chain's first stores in the country. They introduced mömax as an IKEA clone.
Keeping users engaged doesn't have to be sophisticated
In Switzerland there was only one day (the 22nd of September) with outstanding interactions (likes, comments and shares), and that was because of an Instagram post by SRF news about the opening of the first two mömax stores. The highest interaction peak in Germany was due to a Facebook post on XXXLutz's site asking users about which chore around the house they hate the most (the answer is all of them, if you were wondering). XXXLutz did much better than mömax regarding interactions in general: mömax's highest interaction peak (caused by the Bessagi giveaway) would only be XXXLutz's fourteenth highest.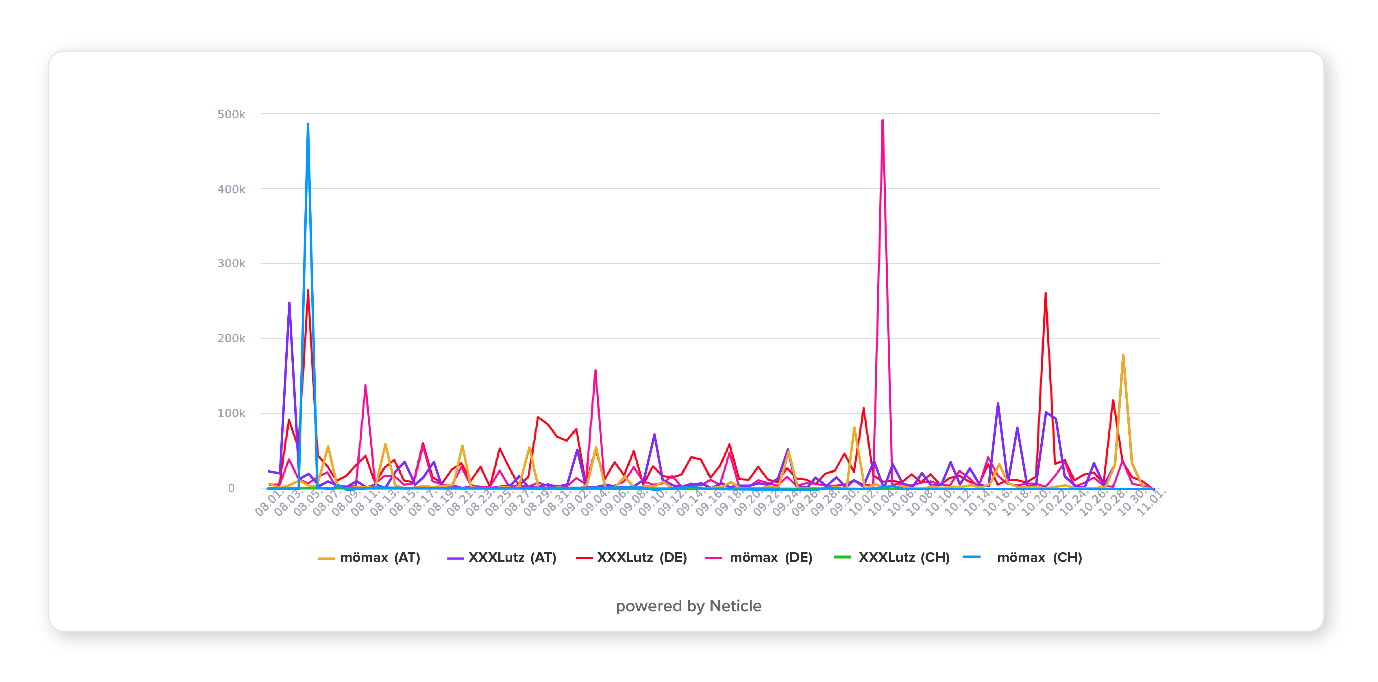 German users were very engaged in the conversation
Interaction numbers in Austria were quite low compared to Germany, and it was mostly the giveaways we've seen that generated a few rises in the data flow.
Hot topics were unique to each country
So what did users talk about the most? Austrian content was mostly dominated by the giveaways (Freue, Gewinnspiel), and searching for matching items/decor for the home ("passende"). Team is also on the list because of mömax's Facebook service Team, which is quite active, in the same way we previously saw with IKEA.
Key topics in Austria
German users on the other hand mostly talked about ordering online, but chair (Stuhl) also came up a lot with XXXLutz due to the campaign with the red chair.
Online orders were of the biggest importance to Germans
Swiss content's key topics were connected to the opening of new stores, especially because the CEOs of mömax Schweiz gave a fun interview about the process, telling stories about the difficulties they faced during COVID-19.
Overall, neither of the stores had any major crises in any of the countries so there's no need to panic – however, their communication is not very versatile with just one main platform and mostly traditional content. With a little more effort they could spice things up and drive more engagement – especially if they hope to keep up with IKEA in the future.