E-commerce is doing well around the world. But what about e-commerce in Italy, where COVID-19 hit which such a power?
By analyzing the Casaleggio Associati report, we want to show what e-commerce in Italy did look like before the pandemic and what are the forecasts for Italian e-commerce.
It is estimated that e-commerce will grow in popularity over time. Coronavirus has changed the market. While the tourism industry will record a sharp decline, e-commerce in sectors such as entertainment will rise. What about e-commerce in Italy? Let's dive in!
E-commerce in Italy – background
Italy is the third largest economy in Europe. This country is also a leader in luxury goods' sales. No surprise since such brands as Armani, Gucci or Prada were born in Italy. There are many economic differences between the northern and southern parts of Italy.
The first one is considered more prosperous. Italy also is facing wits problems like corruption and unemployment, especially among younger citizens and women.
It is expected that in 2020 e-commerce in Italy will reach €19,4m. Brick and mortar stores faced a decrease of 11% – around 63,000 were closed during the last decade. Only 12% of Italian companies are running actively an online store, of which almost 80% operate in the consumer sector.
In 2019, the number of online businesses was 6,968. That's 20% more than in the previous year. On average, 41.5 million users were registered in online stores for December 2019.
When it comes to online shopping, Italians are above average – over 70% of Italians did online shopping in the last year. The average for the European market is 64%. Over 30 million of them made cross border purchases in 2019.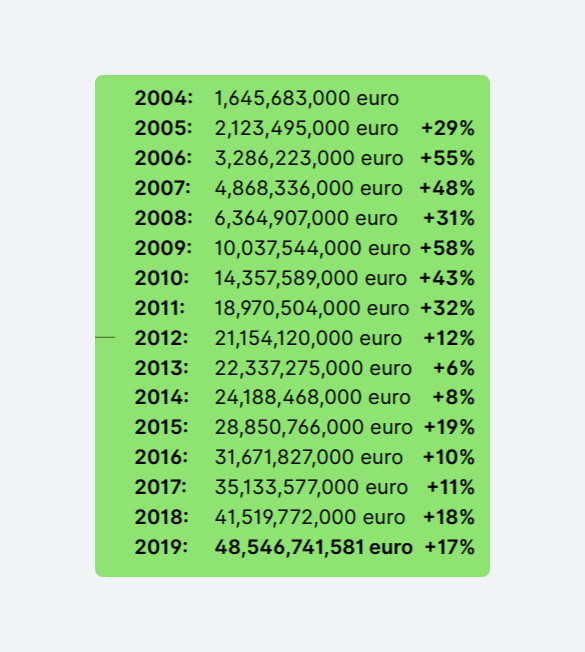 E-commerce turnover in Italy
Marketplaces in Italy
Half of the Italian companies are present in e-commerce marketplaces. 23% of their turnover comes from there, about 50% from company websites and 8% from social media.
Marketplaces most often chosen by Italians are Amazon (38%), eBay (19%), FacebookMarektpalce (12%), Alibaba, ePRICE, Zalando, and Tmall (all reach 4%). Most dealers (45%) are present at 2 or 3 marketplaces. 30% is present at only one.
According to data from 2019, Amazon recorded a net profit exceeding 3 billion. Amazon Prime also enjoyed popularity – 150 million subscriptions around the world. Italian customers are part of these global preferences.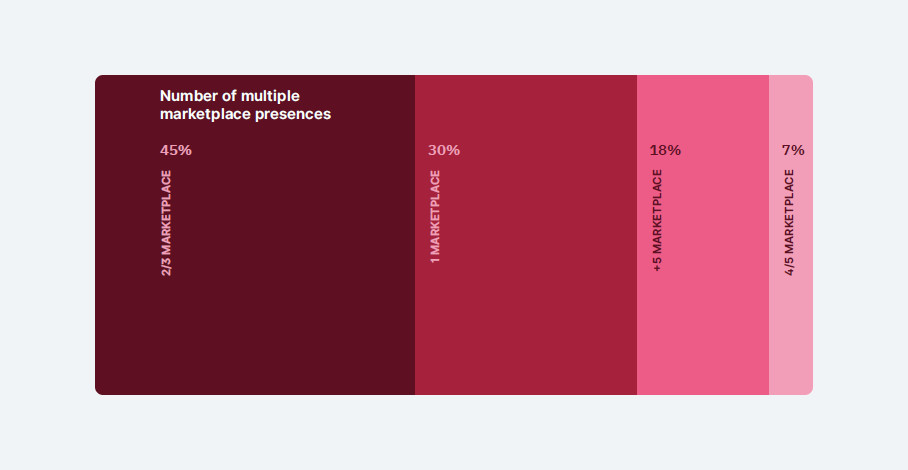 Cross-border selling
Over 60% of Italian companies sell their products abroad. They adopt various strategies to get the greatest access to foreign markets.
Half of them have chosen websites in several languages, 6% choose sales on marketplaces and 5% believe in AI focusing on automated marketing processes. Below you can see Italian e-commerce's ways of increasing sales abroad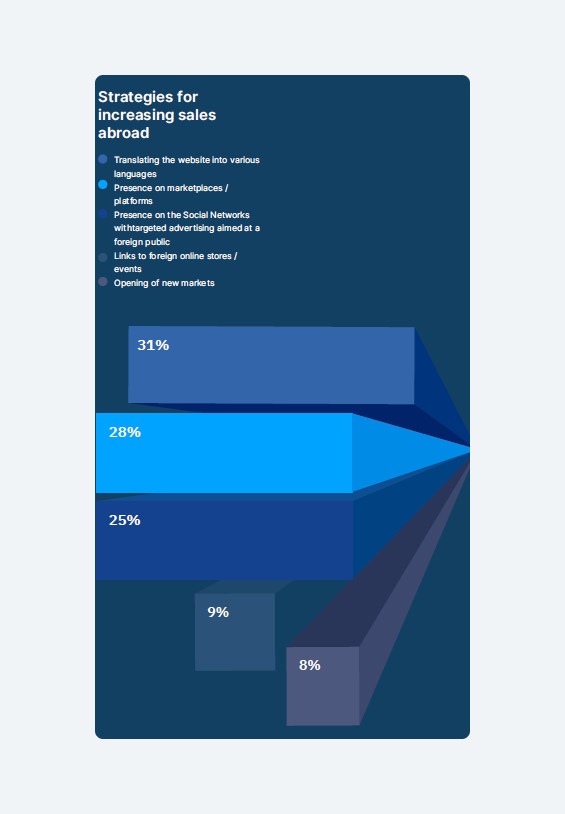 Most Italian companies sell in France (21%), Spain (19%) and Germany (18%). 14% sell to the UK and the USA.
Logistics
In Italy, ¼ of shipments are B2C parcels, although it is forecast that the number is now much higher. 86% of standard deliveries are served by Amazon and Italian post, while express deliveries are the domain of the two and the Italian courier company Bartolini. When it comes to time-defined delivery, the Italian company Milkman leads the way.
Coronavirus has made contactless and click and collect deliveries more popular, and people just demanded it to feel safer. That is why Amazon, Italian post office and InPost provided parcel locker.
Collaborations between sellers and suppliers are also popular. For example, Carrefour promises that shopping will arrive at the door within half an hour, all thanks to cooperation with Glovo.
Digital payments
Italian companies admit that this year clients again chose to pay with bycredit cards (28%). The second most popular method was the digital wallet, followed by money transfers (19%). Some methods such as Satispay, which was originally intended to be used only in stationery shops, are now also available on e-commerce sites, too.
Many companies are starting to follow Amazon and offer their customers instalment payments, e.g. Scalapay, which allows customers to pay for their purchases in three instalments. There are 43 providers of processing payments in Italy. Paypal covers most transactions (67%).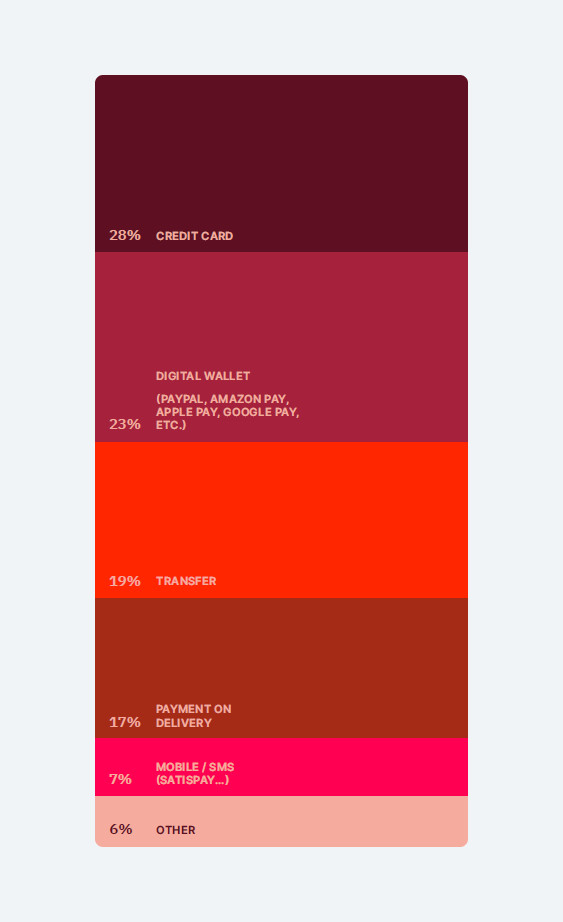 E-commerce in Italy during the pandemic
The coronavirus pandemic surprised the global market. In the first 20 days of the spread of the pandemic, a global decline in e-commerce visits has been noticed. Over time, more and more restrictions came into force, and people were locked up in homes. It reversed this trend.
In March in Italy, internet traffic increased by 60%. Over 70% of users spent more time on their smartphones than before lockdown. In particular, high traffic has been seen on the websites of large food retailers (over 250%!). Pages about tourism, car rental, hotels, etc. have lost their popularity.
Italians have appreciated the power of the Internet by discovering Netflix resources, using Google Classroom or Skype. All kinds of websites with online fitness classes, websites like Fresha.com, as well as online shopping, were also popular. 
The pandemic has and will continue to affect both stationery and online trading. As a result of the unexpected increase in interest in online shopping, logistics has undergone a significant test.
Big players on the market who continued their online activity cut the shipping costs or even reduced them to zero. This further increased customer interest and put logistics ahead of an even greater challenge.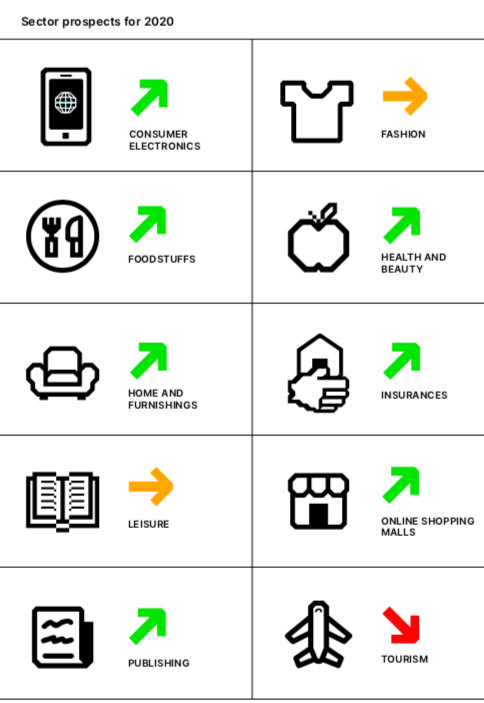 To wrap up
Italian e-commerce is doing well, even after the pandemic. Most of the global e-commerce trends are also Italian trends. Forecast for the rest of 2020 are good, Italy e-commerce will develop in many sectors. It sounds promising, especially for the Italian economy, which has its ups and downs.
If you want to expand your knowledge you can read the full report here or download here.