Without a doubt, 2020 has been a bit crazy for all of us and for the e-commerce world too.
According to Europe 2020 – E-Commerce Region Report, we have analysed the entire European market to give you a nutshell of what this year has brought e-commerce so far and what are the forecasts.
We chose one country from each region, and discussed it in detail. Also, we will touch upon aspects that concern the entire continent.
Overview of the European e-commerce market
The European market is a very vibrant one. It consists of very demanding and different markets. Thanks to this fact, it has a lot to offer. It gives the possibility of expansion and witnessing many interesting and informative e-commerce activities.
There are 34 countries on the European market. Almost 90% of the residents have access to the Internet, 67% of which shopped online. Looking at GDP, Europeans have money to spend. Overall GDP for the old continent  in 2019 was € 13tn.
The European market can undoubtedly be called mature. It is very important to remember that despite its maturity, it is very diverse. Consumers from individual countries have different behaviour and habits.
Comparing even on a larger scale – east vs west, these differences are visible. Western Europe is the leader in e-commerce. These are great achievements of the UK.
In 2019, 83% of Internet users shopped online. This figure is only 10% less compared to the whole of Europe. In Eastern Europe, B2C e-commerce turnover was 70%. For comparison, in Eastern Europe, only 36% of Internet users shop online.
This is a visible difference. You can see these discrepancies even more clearly when you look at each country closely. You can see it very well in the chart below. It presents e-commerce turnovers, growth rates and levels of e-commerce GDP.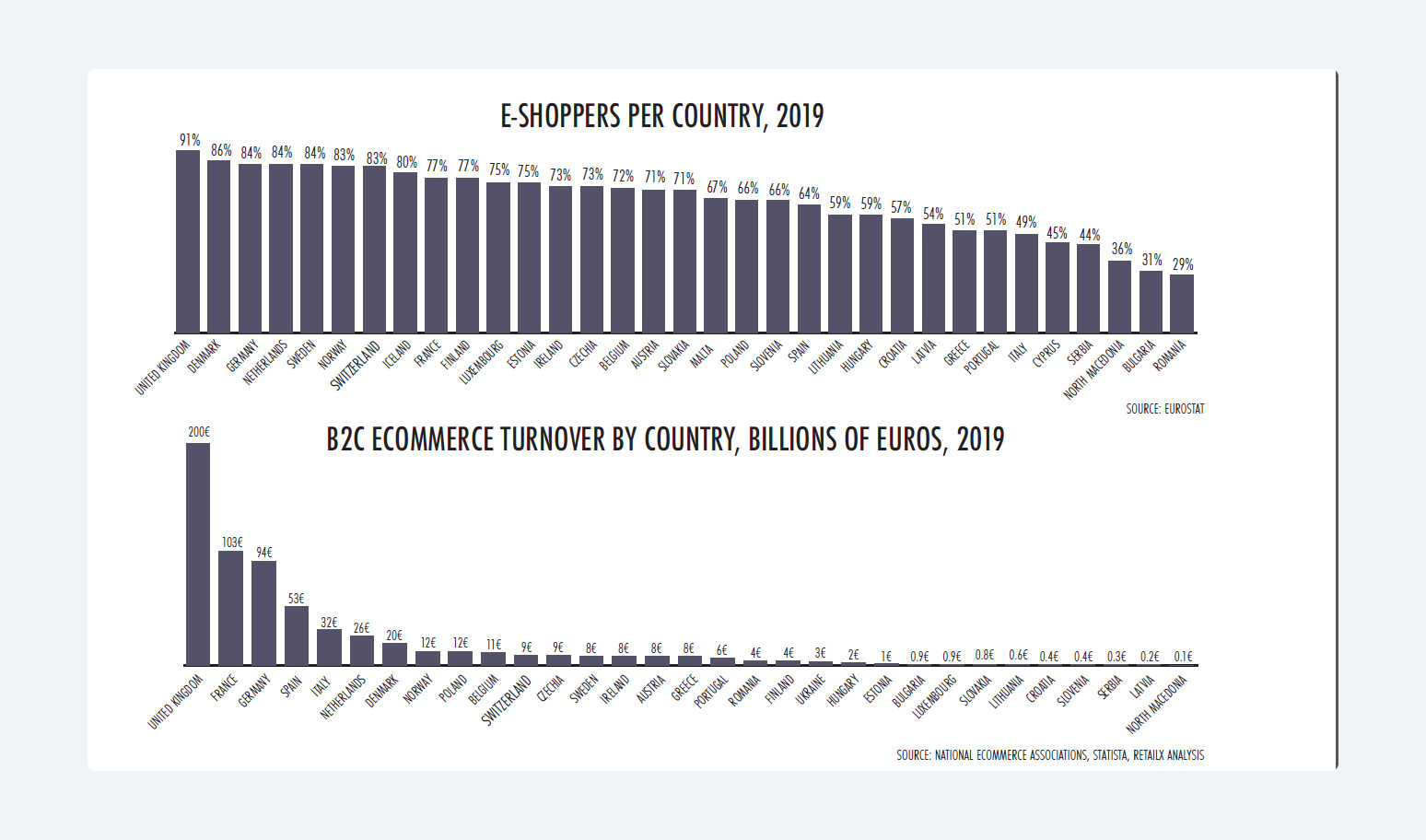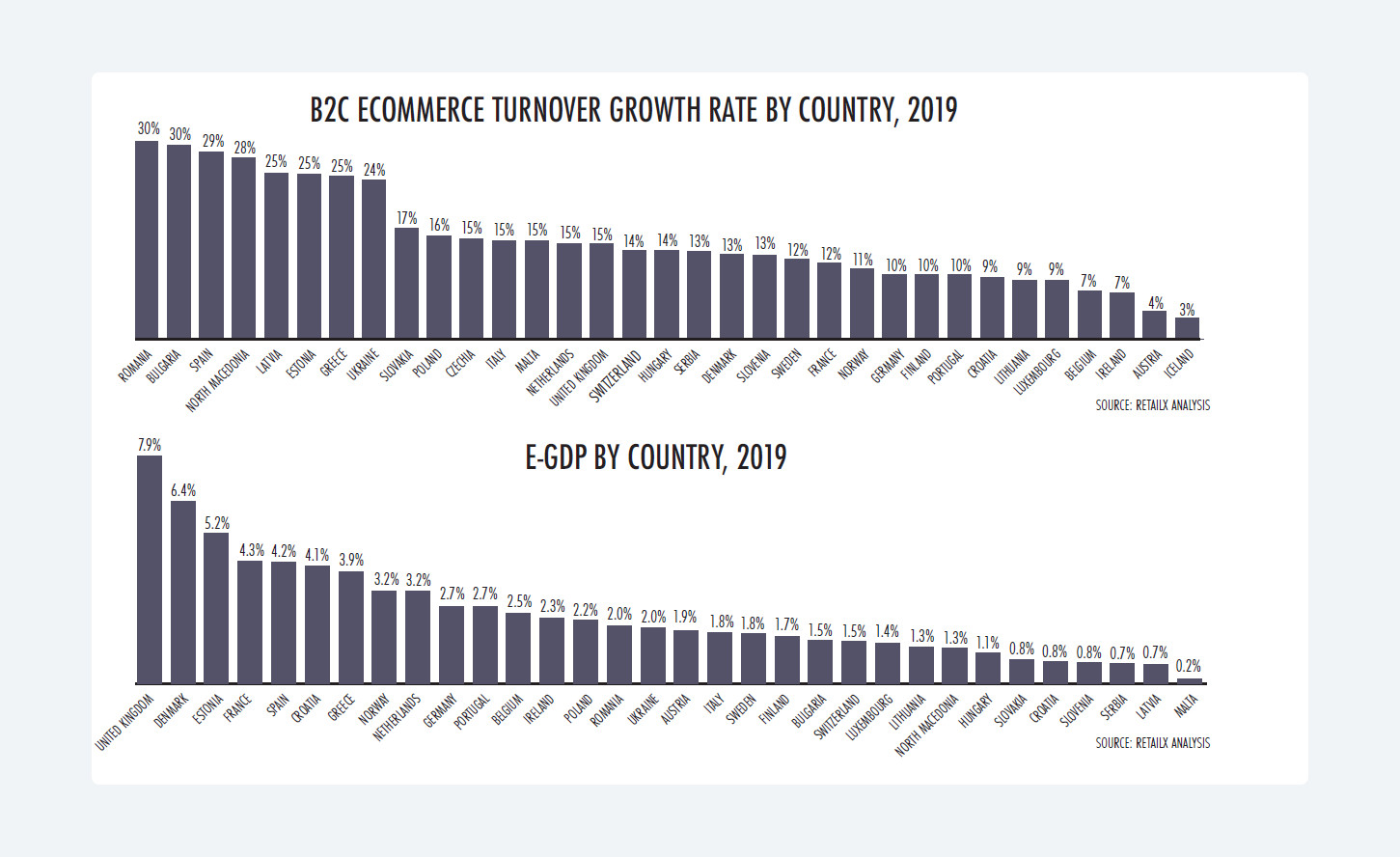 It is impossible to discuss 2020 in e-commerce (or in general) without discussing the topic of the COVID-19 pandemic. It forced sellers to be very flexible in many angles.
The increased demand was a challenge not only for sellers but also for the entire logistics. In the moment of closure and isolation, people slowed down and began to appreciate the world around them more, making the issue of ecology even more important. Consumers have put pressure on sellers to produce and deliver as green as possible for long time.
This is an essential aspect in Europe. Perhaps because as many as five countries with the highest share of renewable energy in the world ranking are in Europe. Let us consider it a good omen.
Looking into the future, we are sure that e-commerce will have to deal with the effects of the coronavirus, Brexit which remains unresolved in many aspects (including trade), and switching into more ecology gear. It is forecasted that revenue in the  e-commerce market will reach US$391,841 m in 2020. We'll see if these good predictions turn out to be true.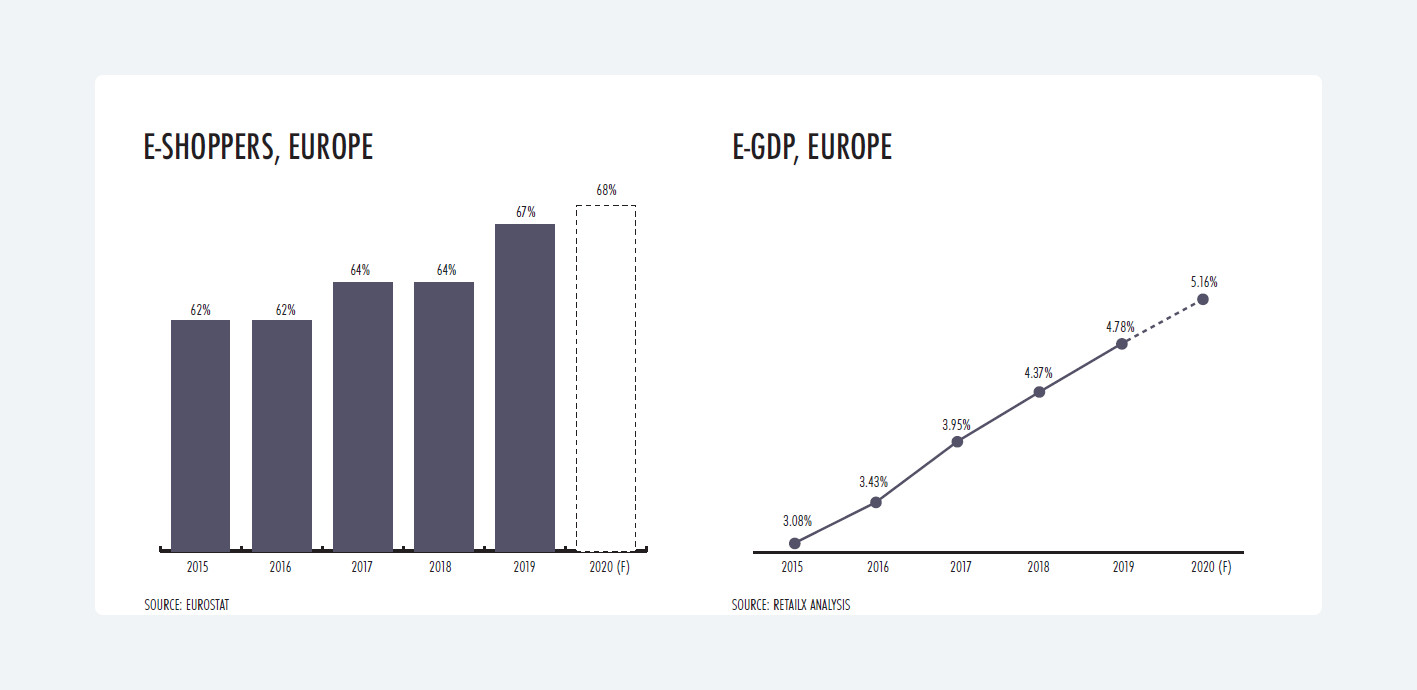 One continent – five regions 
In the report, Europe is divided into five regions: Western, Eastern, Southern, Northern and Central Europe. The charts below show the differences between such issues as the largest number of online buyers or e-GDP.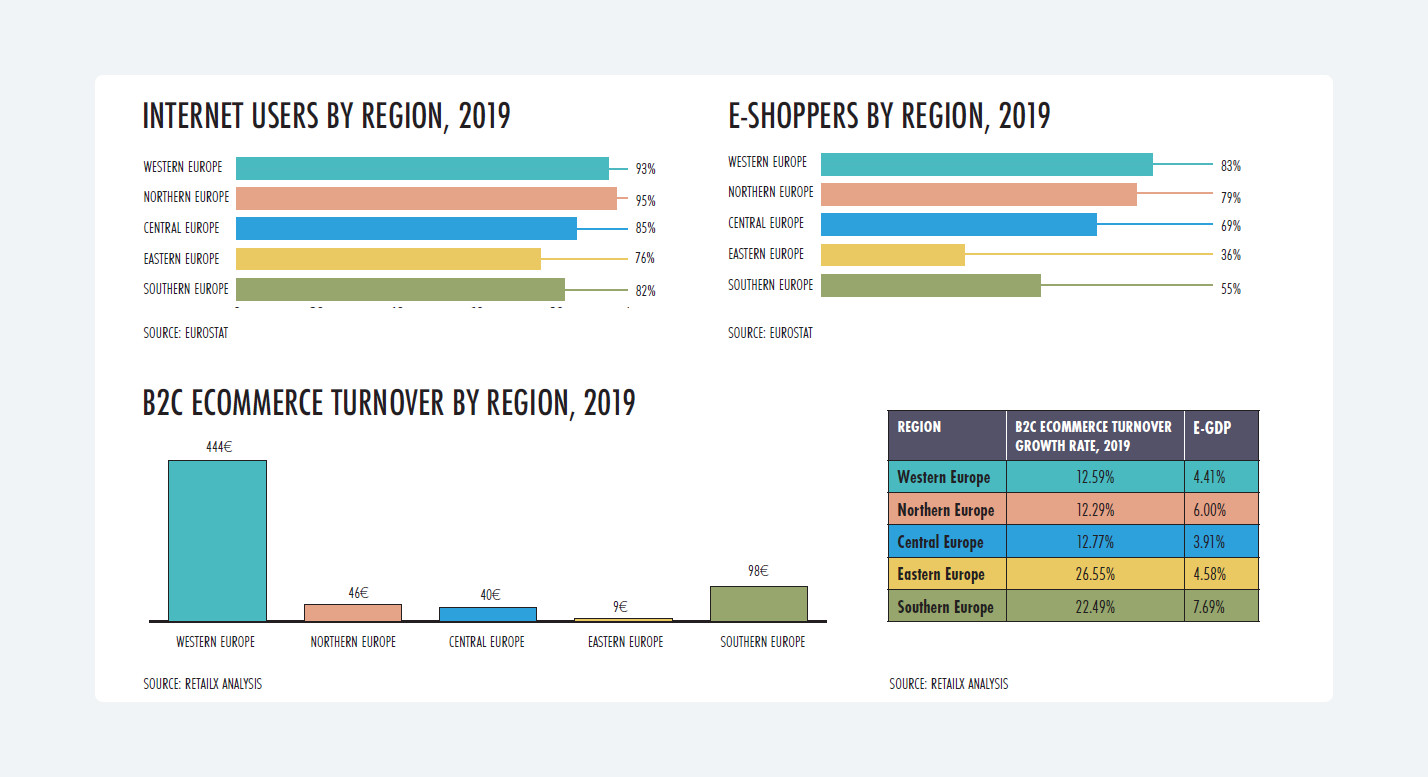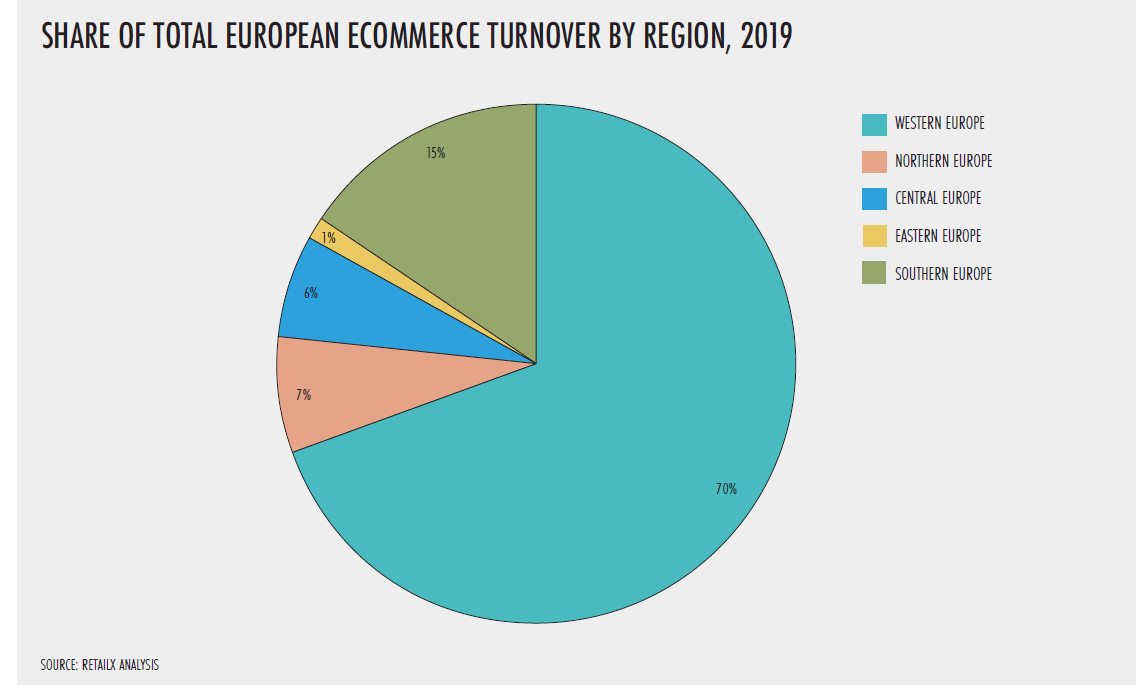 Western Europe – Germany 
Germany is one of the most prosperous economies in the world. In 2019, GDP amounted to €3,466tn. In terms of e-commerce, it is also still doing very well. Last year, e-GDP was almost 3% (2.71%).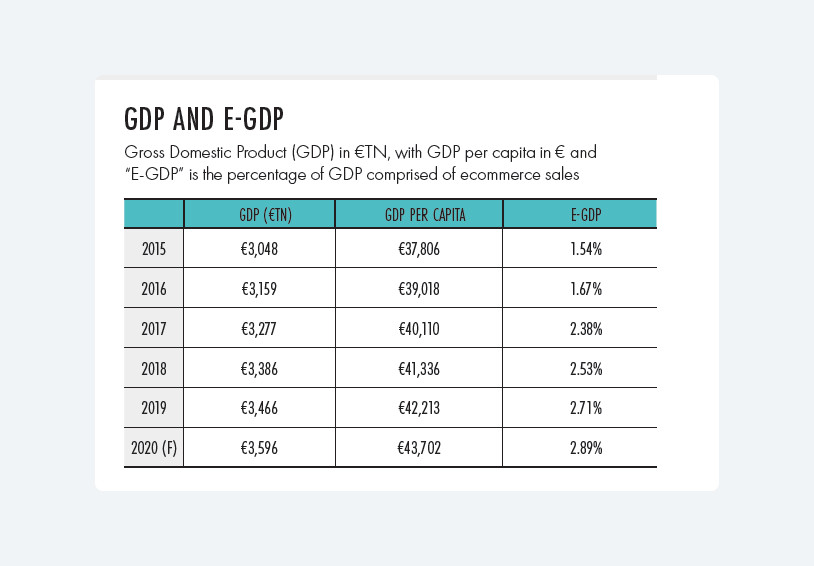 Percentage of Germans with access to the Internet is at a very high level – 94%. More than ⅘ of them shop online. 

2020 is predicted to be a good year for German B2C e-commerce. Over 10% growth rate is a very promising forecast.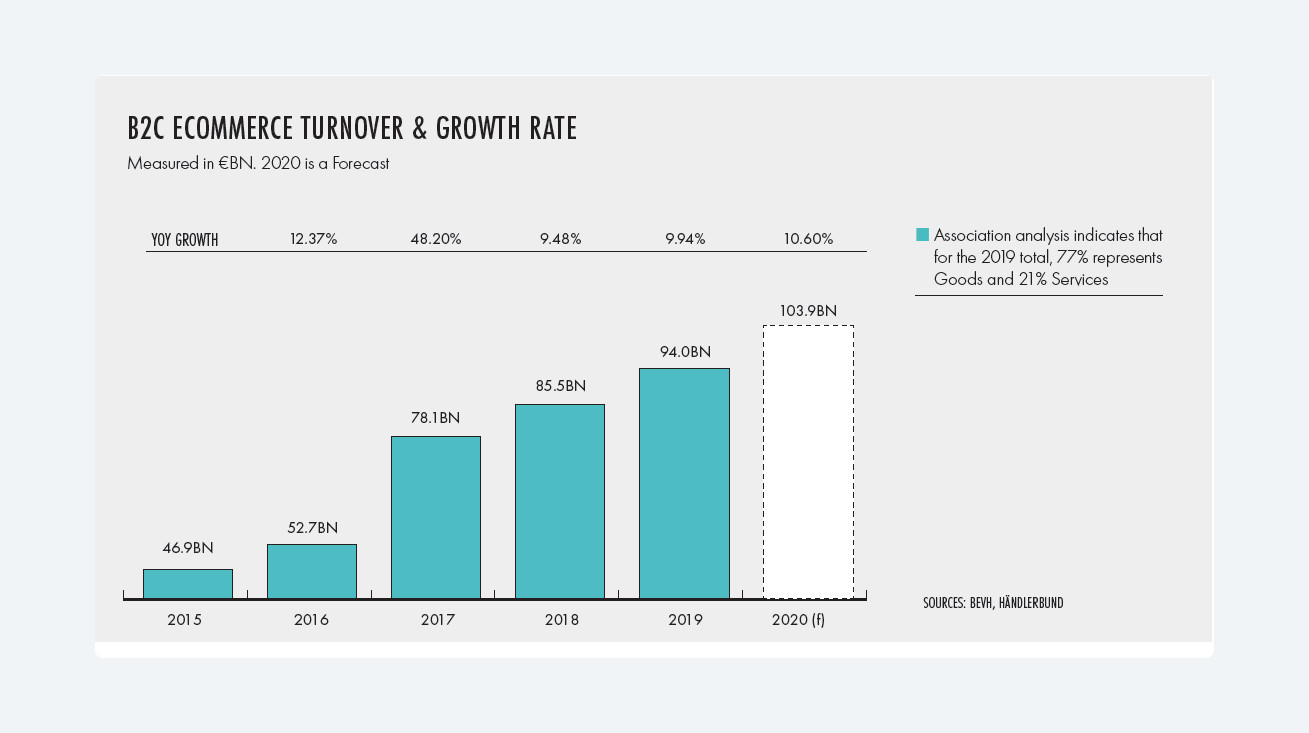 When it comes to customers, Germans are demanding ones. It is important to them to choose both delivery time and delivery place. What is a symptom of globalization – Germans have become convinced of digital payments. Until now, they have been faithful to payment by invoice.
Marketplaces rule German e-commerce and web traffic. Amazon grabs almost 1/3 of the shares in this ranking. On the other hand, retailers account for 77% of the TOP 100. The most popular segment in 2020 is forecasted to be Electronic and Media – US$22,363m.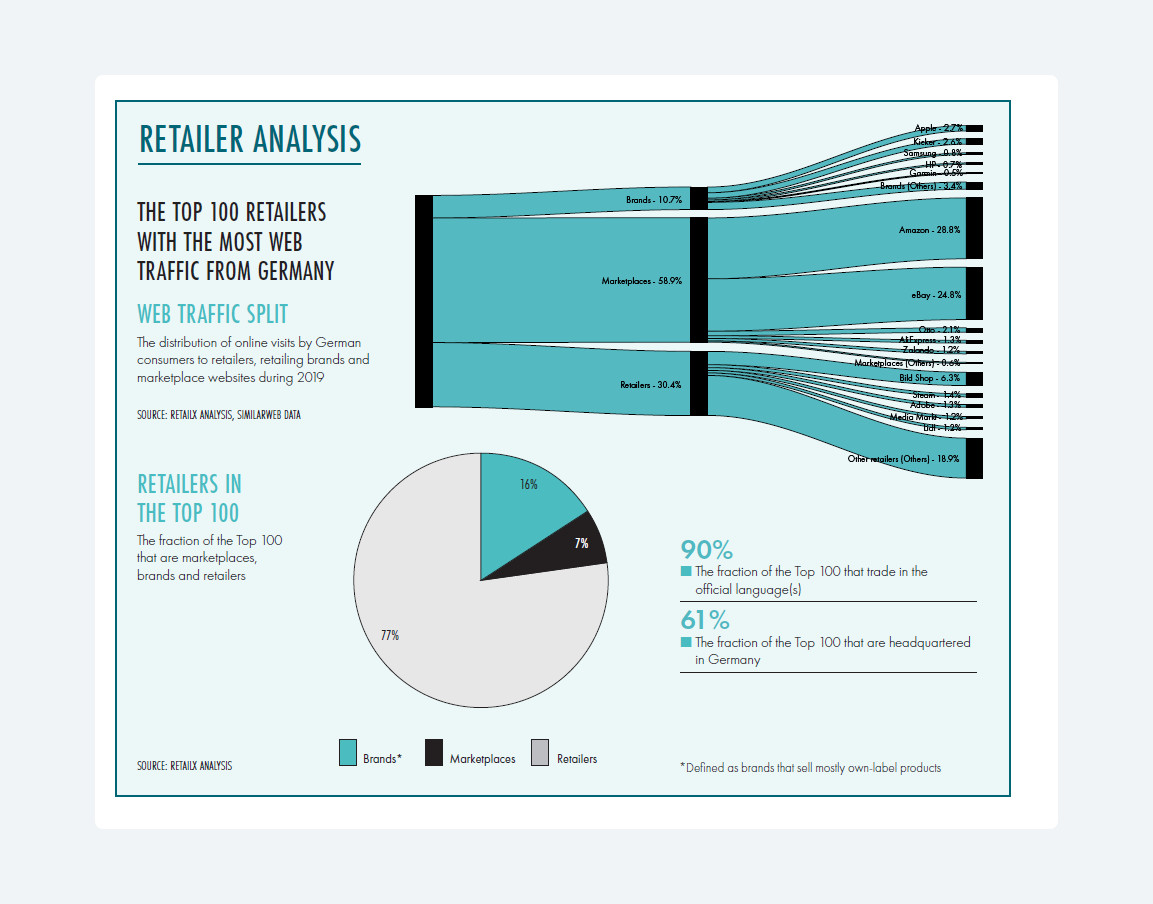 Eastern Europe – Ukraine
The GDP in Ukraine is forecasted to € 148bn, while e-GDP has a share of little over 2% (2.10%).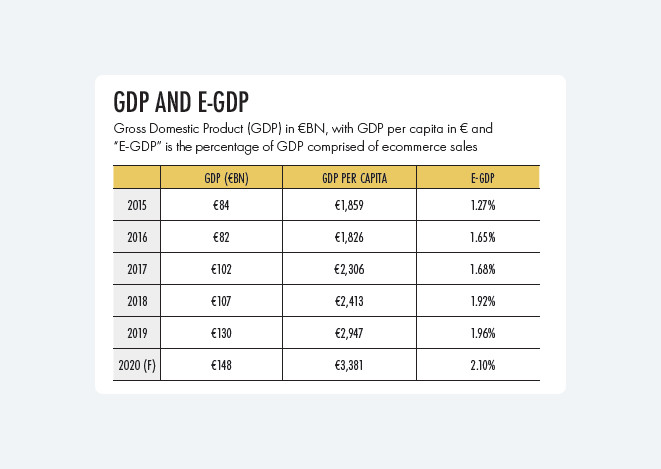 Ukraine's population is decreasing. Over 70% of Ukrainians have access to the Internet, and the most popular category among online shoppers is Fashion (58%), IT and mobile devices (50%). 

E-commerce success is in Ukraine, too. Over 20% of growth rate is a very good result.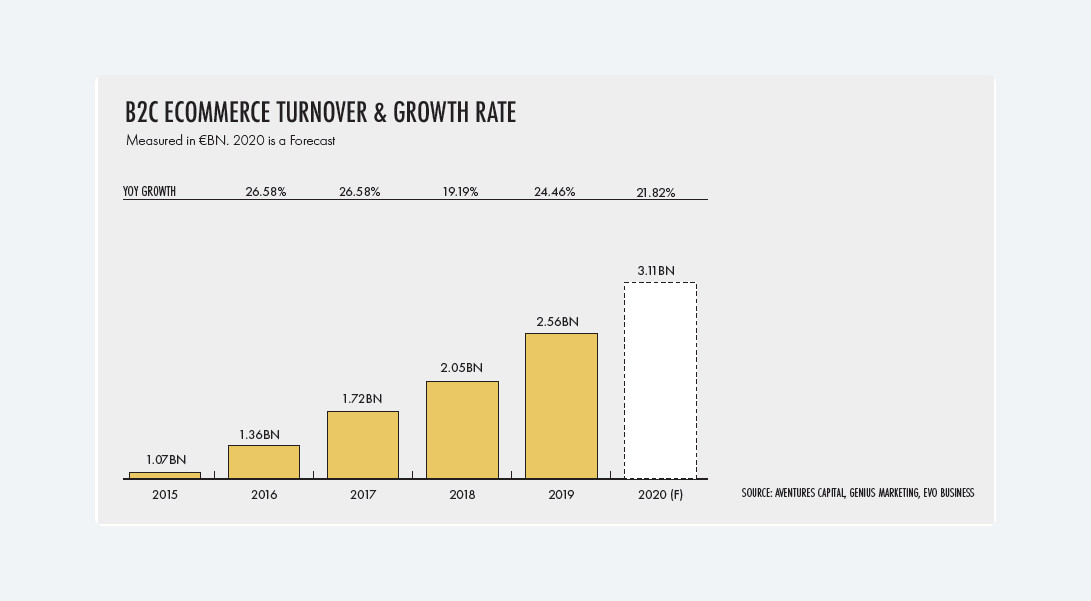 When it comes to online shopping preferences Ukrainians are speaking with almost one voice. 70% prefer cash payments and 58% prefer collect in store.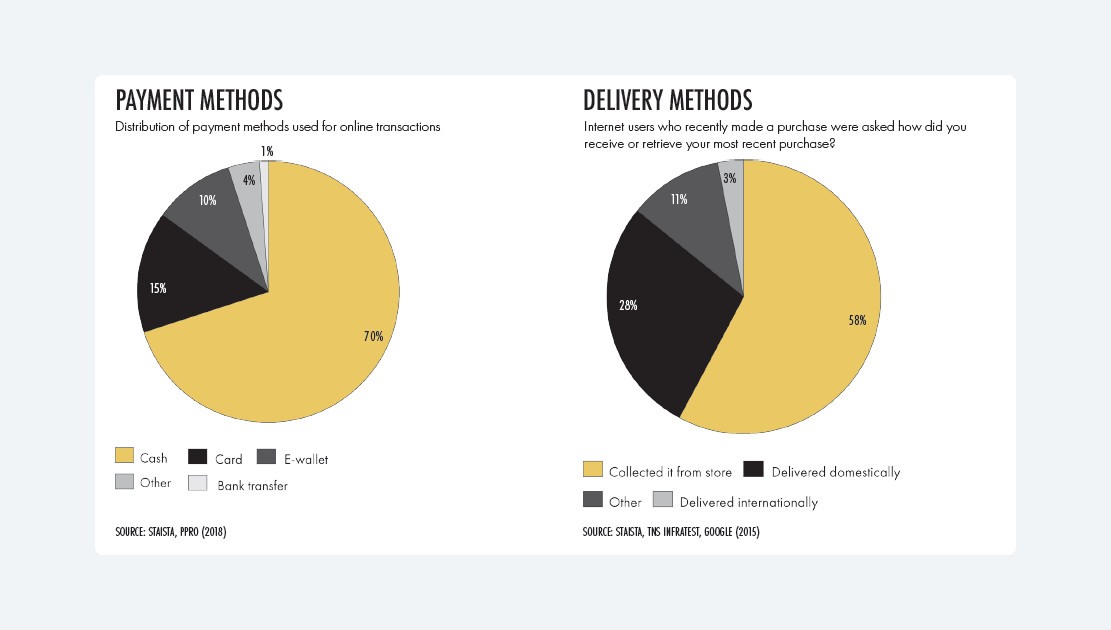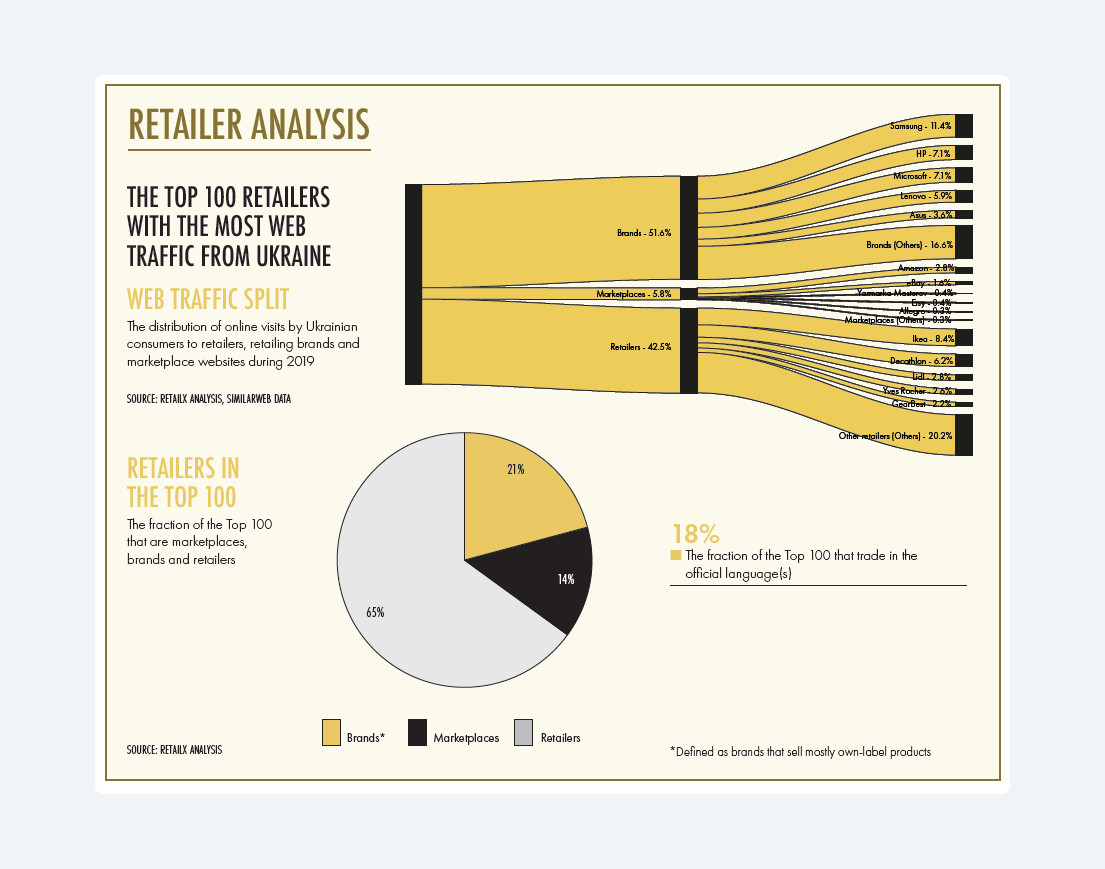 Brands are the leader when it comes to web traffic in Ukraine, accounting for more than a half. Marketplaces are of marginal importance – less than 6%. 
Central Europe – Poland
In Poland GDP reached €525bn in 2019, while e-GDP exceeded 2% (2.22%).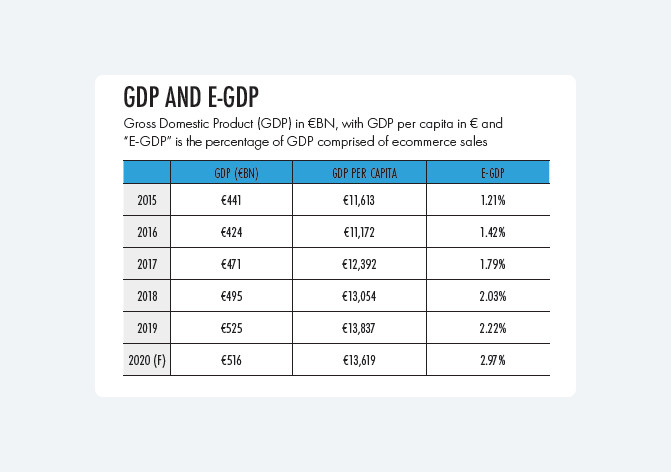 The population of Poland is predicted to decrease. There are 86% of Internet users (forecast for 2020) of which 70% is predicted to buy online. 

B2C e-commerce in Poland is doing well. The growth rate increases year by year and in 2020 it is expected to double its growth rate from 2019. 
Poles don't have one favourite payment method. They like to pay directly through the bank, by PayPal or similar and by debit/credit card. In the case of delivery methods they have two favourites.
Poles prefer delivery by courier to home or workplace and delivery by post to home or workplace.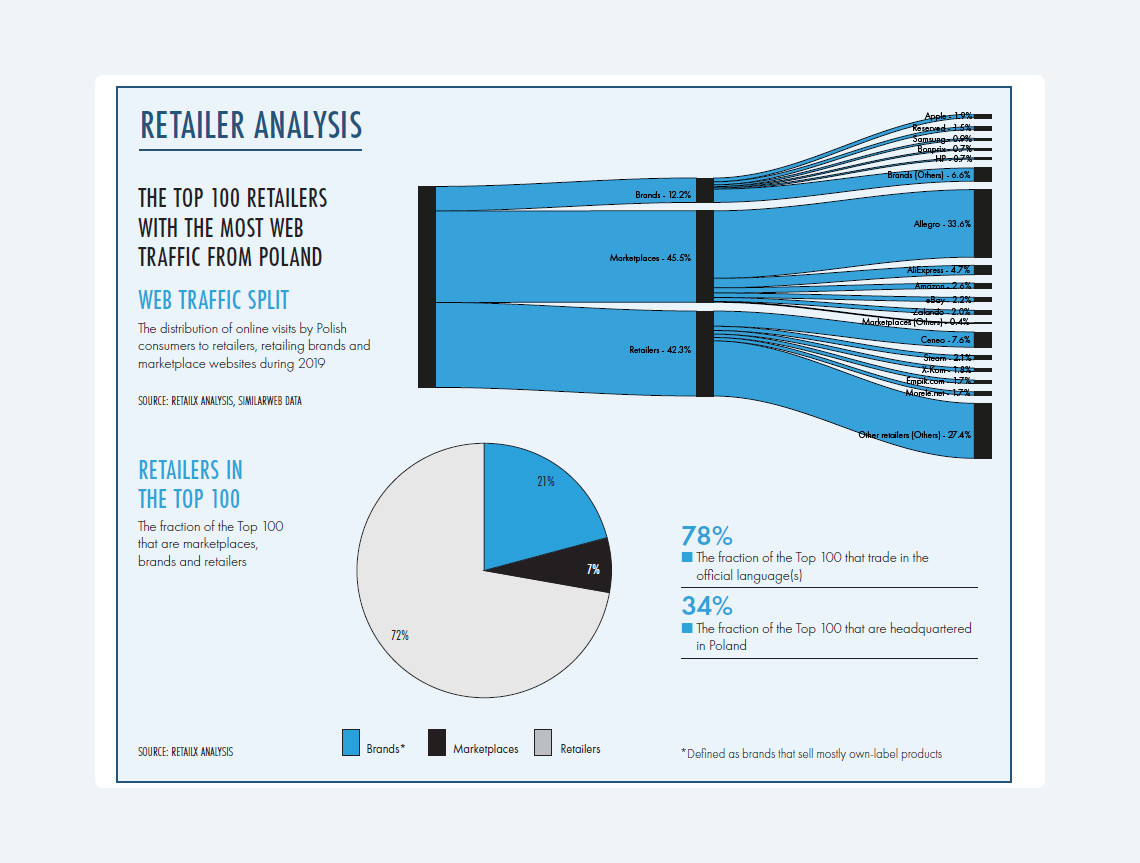 Both Marketplaces and Retailers generate similar web traffic – about 40%. The biggest share has Allegro – polish marketplace which ranked 109th in Global Traffic Ranking.
When it comes to the sector – Fashion takes it all with a projected market volume of US$5,138m in 2020. 
Northern Europe – Sweden
In Sweden GDP is getting higher year by year such like e-GDP share. There is forecast to reach almost 2%.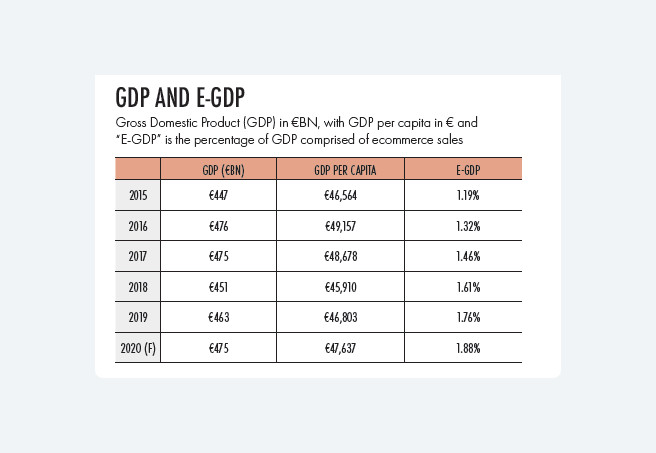 Population in Sweden is going to increase. What is very interesting, it is forecasted that by the end of 2020, 100% of Sweden population is going to have access to an Internet connection.
It also influences online shoppers, by the end of this year, 86% of Internet users in Sweden will be buying online. 

When it comes to B2C growth rate in 2020 it is speculated to be lower than in previous year but it is still a high number – almost 10%.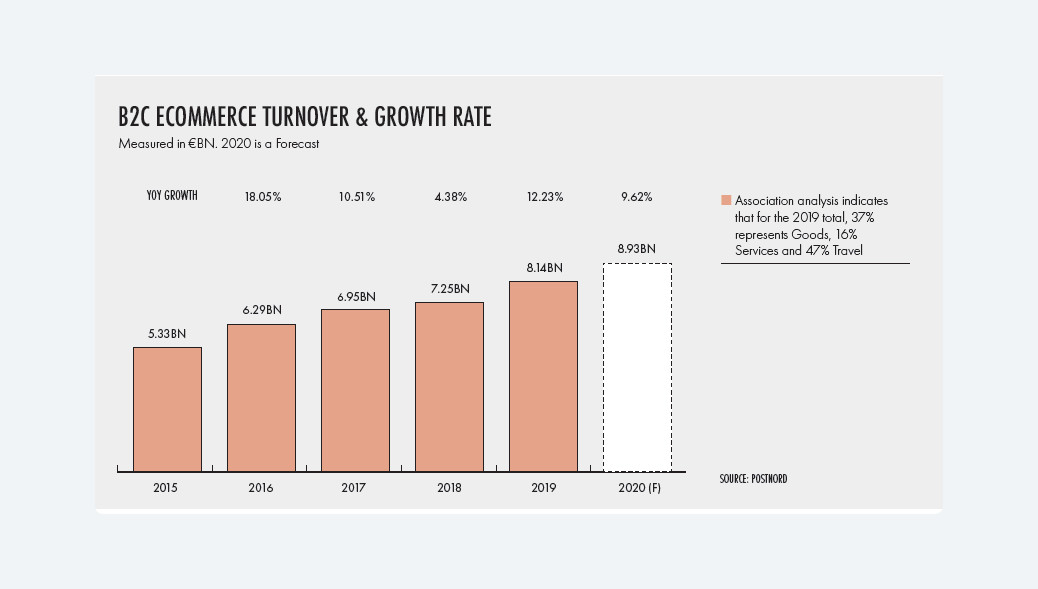 Swedish favourite payment method is payment by invoice – 35%. Second place belongs to cards.
For Swedish, it is the most comfortable to collect their package from pickup location (65%). Only 19% of Swedish prefer postbox delivery.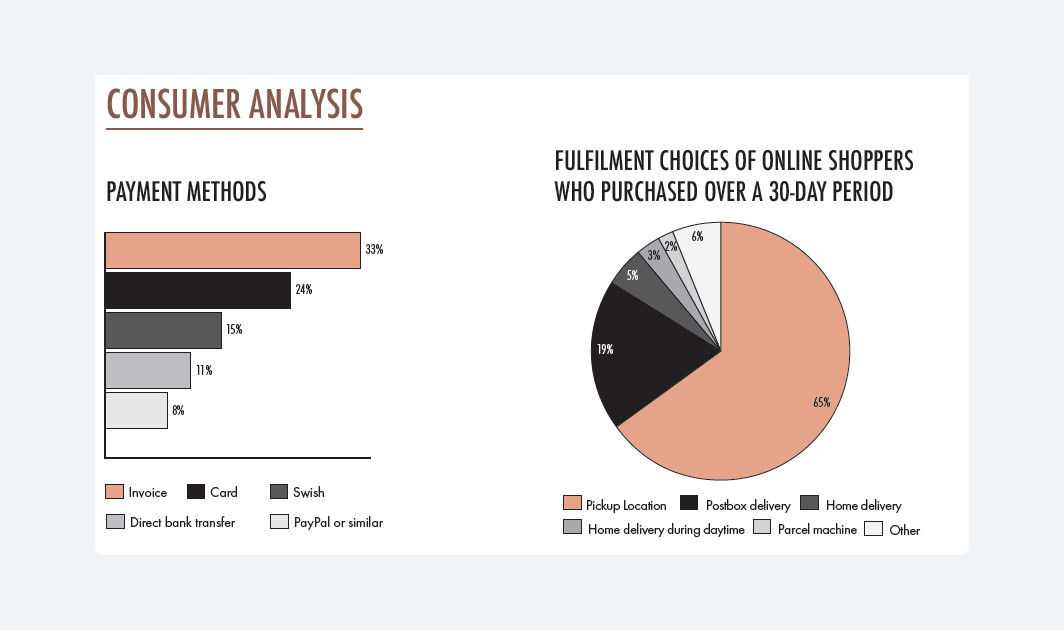 Retailers are ruling the web traffic (61.4%). There is no one clear winner, but still, together they own over half of the web traffic. The fraction of retailers in the TOP 100 amounts 73%. The largest segment in 2020 is predicted to be Fashion – US$3,253m.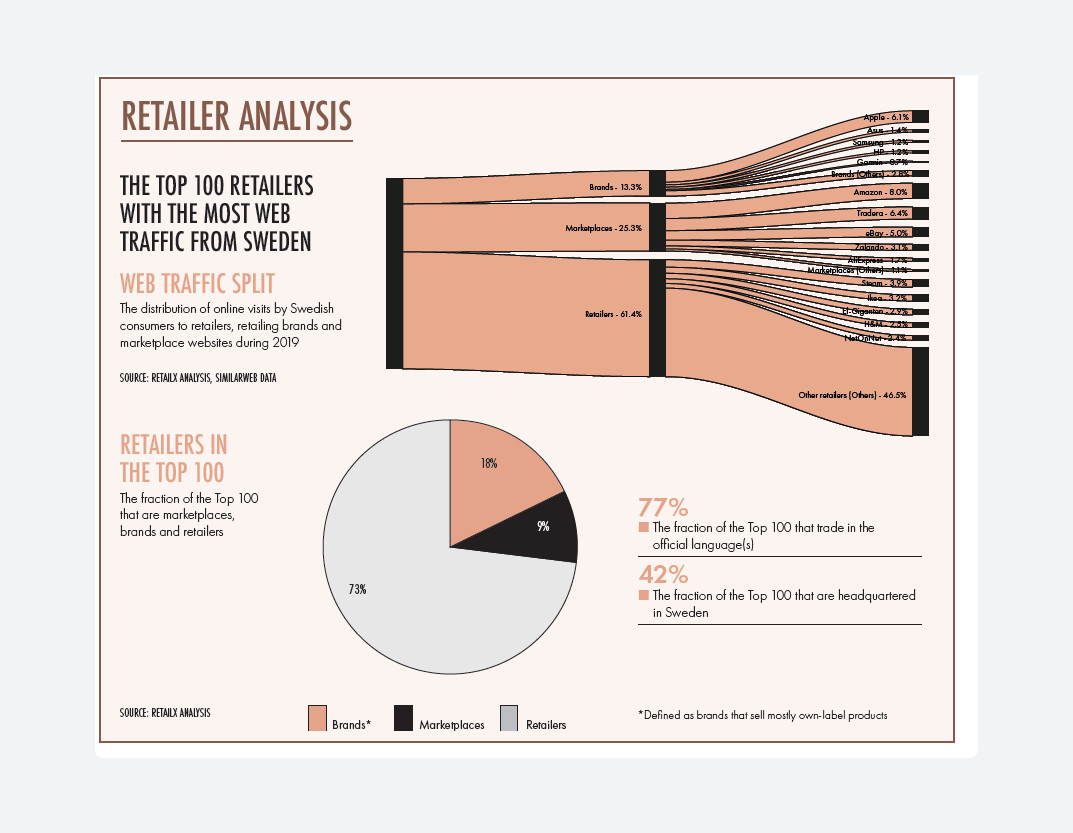 Southern Europe – Italy
In Italy GDP is forecasted to reach €1,808tn in which 2.02% stand by e-GDP. It is a good score, especially when you take a closer look at 2015 and 2016 where the e-GDP share was 0%.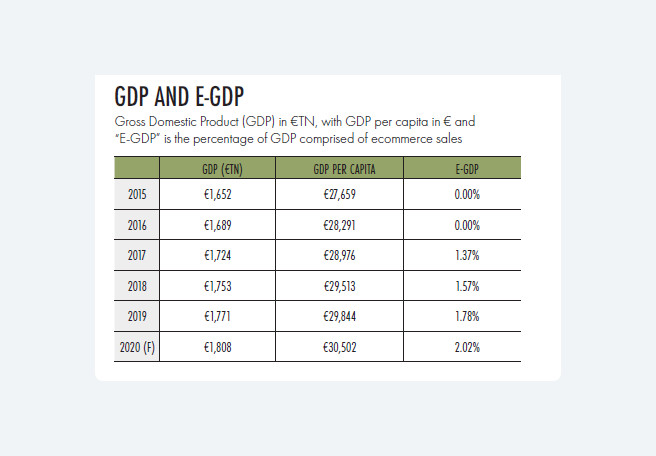 For the past several years the population of Italy has been falling. However, an increase is expected in 2020. Both number of Internet users and e-shoppers is forecasted to increase. 

In the case of B2C turnover it is forecasted to reach €35.48bn which means over 15% of increase.   
Favourite payments methods of Italians is PayPal or similar – 55%. 34% of consumers prefer debit or credit cards.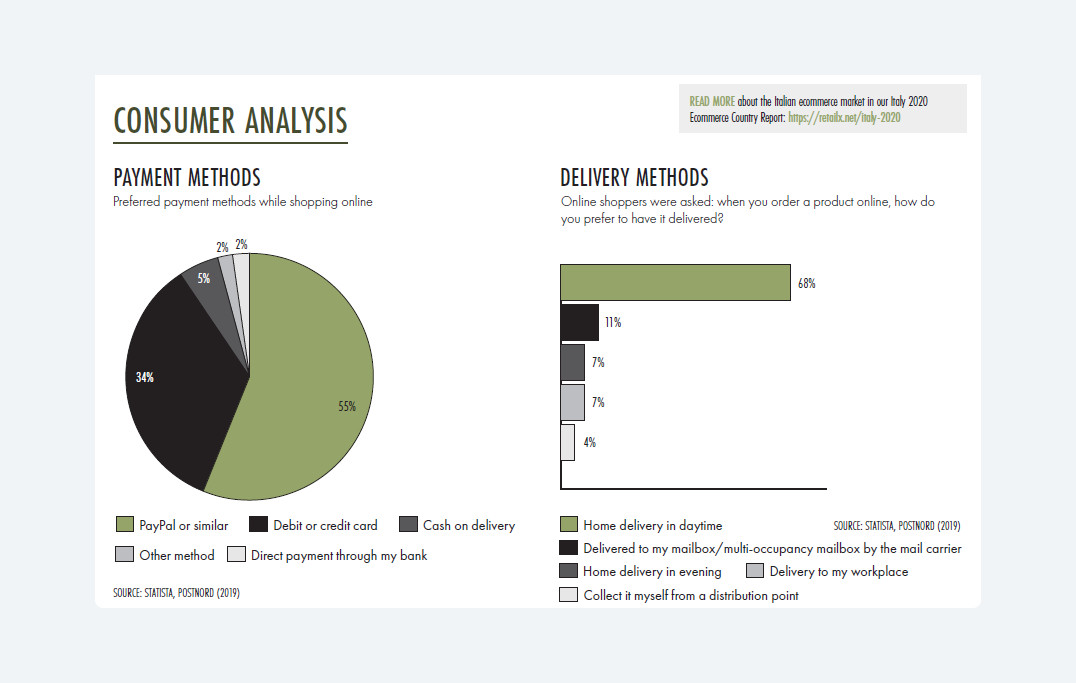 There are marketplaces which rock web traffic. They own over half of it. Amazon is the most popular one – 37% of online users visited this marketplace. Electronics & Media segment is predicted to be the largest one – with a market volume of US$5,424m in 2020.
Final thoughts
2020 has been challenging for e-commerce all over the world. During the past few years, it has developed quickly, and it is not going to stop its expansion. E-commerce is getting more popular over Europe, no matter which part. Without a doubt, the future is bright for this market.
If you want to read more about the European e-commerce market and get some insights from business people from around Europe, you can download the full report here.