The customers are different around the world. Although you can define your target quite precisely in terms of age or gender, the geographic and cultural issues can significantly affect the way of marketing communication as well as the presentation and sale of products.
What about German customers? What are their shopping habits? Would they enjoy features such as customer portal? What is the most important aspect to them when buying? We covered all details and collect in the nutshell. Enjoy!
Shopping Preference
Germany has several rules that they follow when making purchases. One of them is the best quality at the lowest price. That is why they are big fans of price comparison websites. This is the starting point of any purchase. Every German consumer does decent research before spending money.
Cross-border shopping
German customers are not big fans of cross-border shopping. In 2018 almost 70% of consumers shopped domestically only. However, Germans are slowly opening up to other destinations. So far, the European Union is their favourite.
Then come China and the USA. The majority of these purchases are made via computer. Germans buy mostly cheap products from abroad like clothes, accessories, consumer electronics or toys.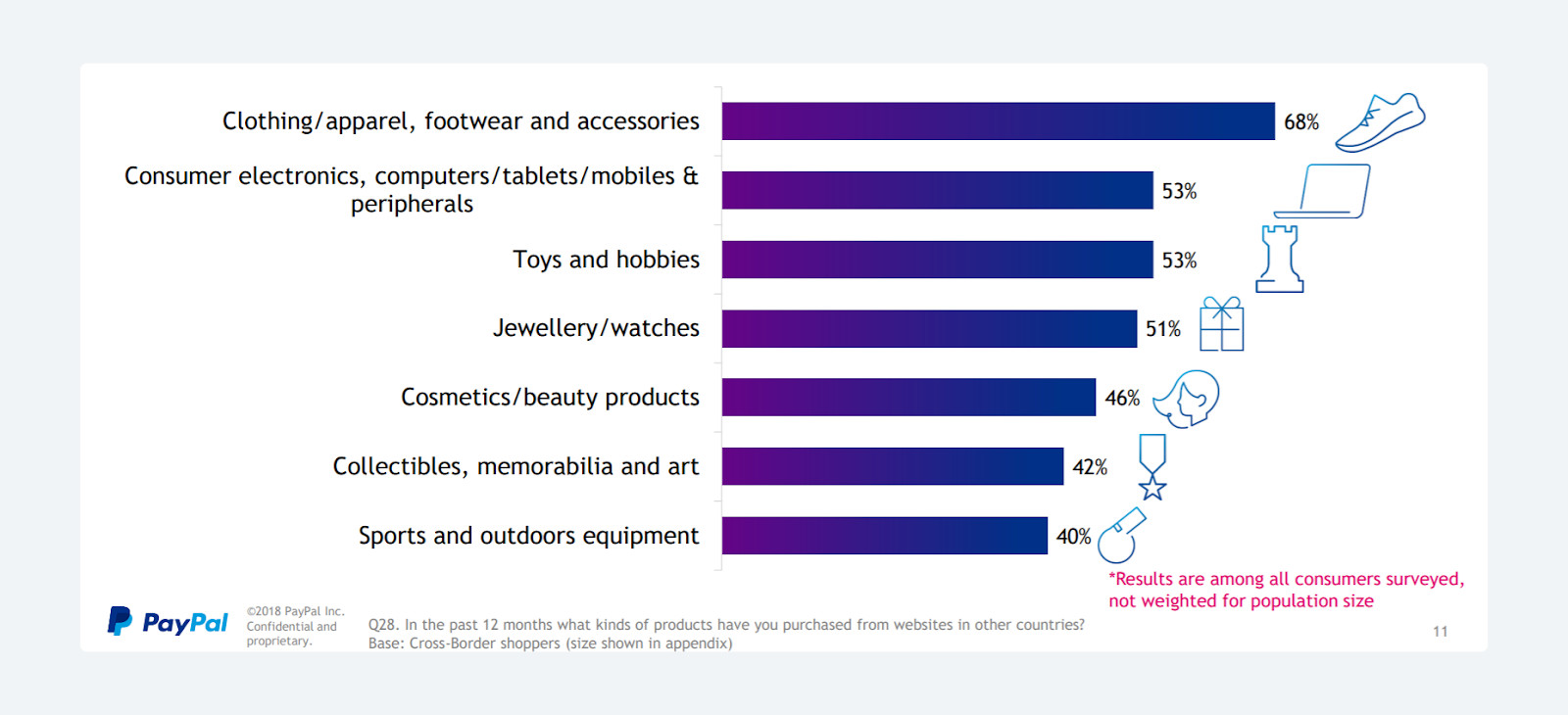 source: https://www.paypalobjects.com/digitalassets/c/website/marketing/global/ z/global/media-resources/documents/PayPal_Insights_2018_Global_Report.pdf

The main reason why Germans are getting convinced about cross-border is better pricing and availability of items that are not easy-to-get on German sites. To encourage them more to stay on the website and buy something, you should provide a German-language website. They prefer doing shopping in their native language.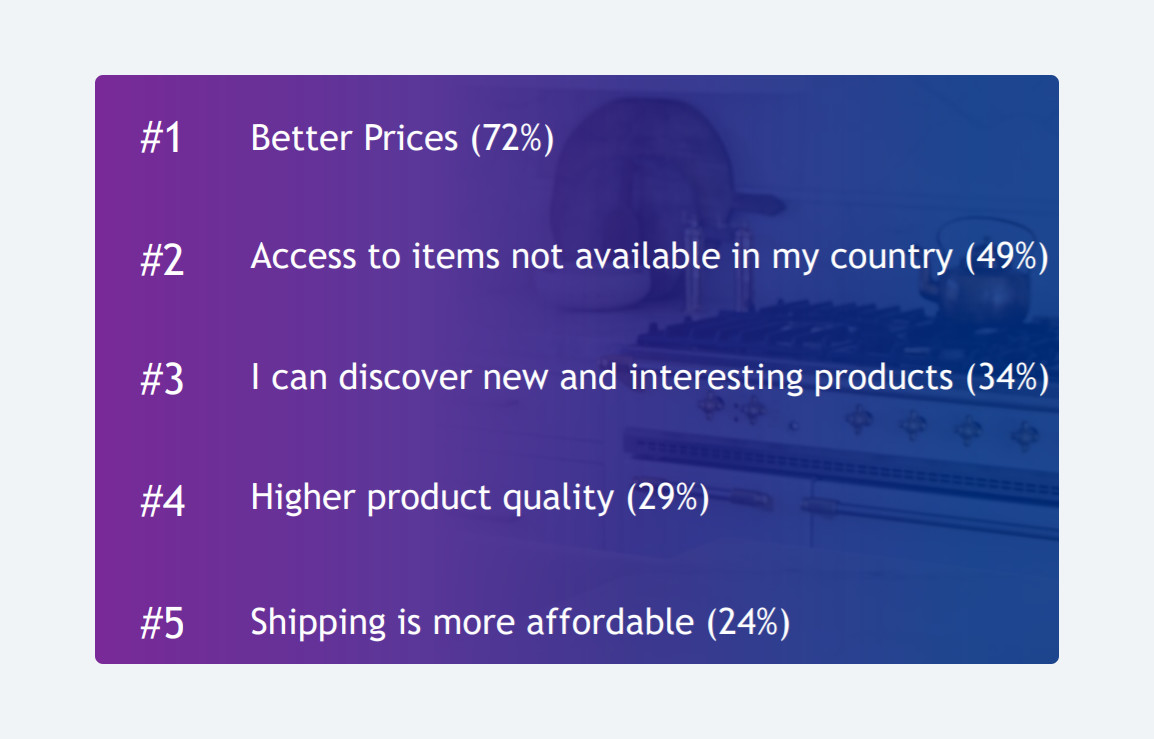 source: https://www.paypalobjects.com/digitalassets/c/website/marketing/global/ z/global/media-resources/documents/PayPal_Insights_2018_Global_Report.pdf
Payments and delivery
Open invoice is a must in Germany – it has been a leader of payment methods for years. It still has potential but right now PayPal or similar methods are leading. Germans are also getting slowly convinced about credit but still, the vast majority don't even have one!
In case of delivery – it should be fast so courier companies like DHL or USP are very popular. They also choose postal services very often. In this country it is good to give your customers options – it can increase customers satisfaction even by 79%.
Cultural aspects
When it comes to cultural aspects – they can be very valuable while deciding about marketing communication or advertising. It is good to know what issues are important for society and what should be highlighted during ads campaign.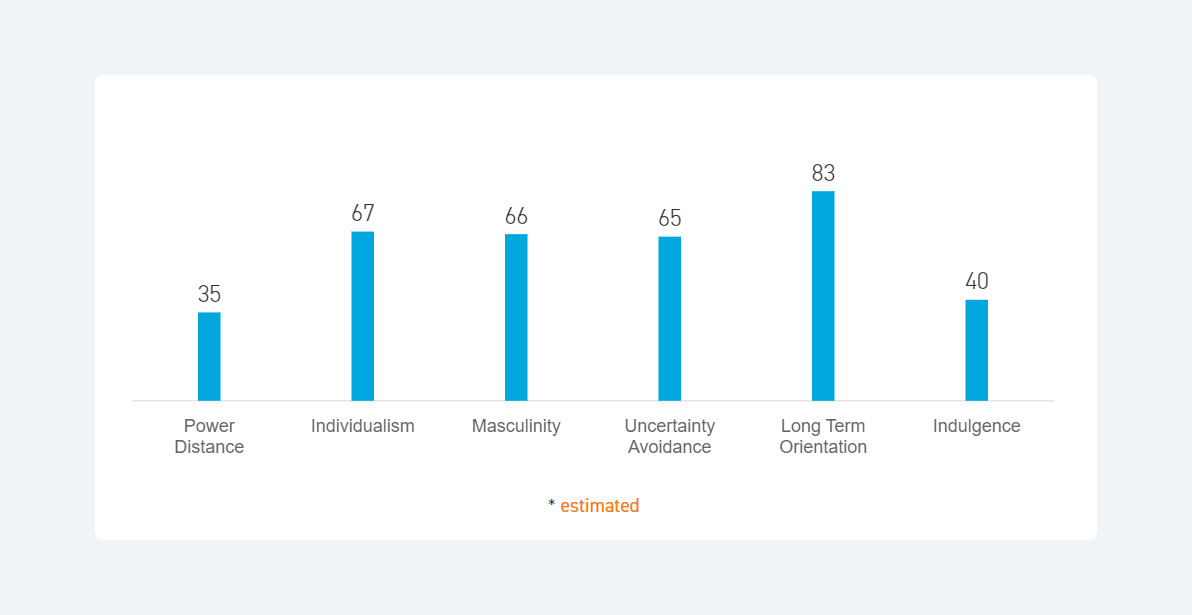 source: https://www.hofstede-insights.com/country-comparison/germany/
Power distance
Germany is a very decentralized country. Which means power distance won't score high here. It is worth emphasizing that the right to co-decide here is quite broad, therefore – it is worth taking into account when designing brand communication with recipients.
If your company enters the German market remember that for communication to be effective it should be direct and participative. Germany strongly supports the middle class, therefore basing a marketing campaign on the image of power or the very notion of it may not be the best received.
Individualism
It reflected people consideration of themselves. Whether they prefer to call "I" or "We". Rate 67% means that German belongs to Individuals. In practice, it means that people care for themselves and their closest family. Collectivist societies are on the other side of the spectrum. They are made up of groups that look after each other.
German society is a classic example of individualists. Families are small, based on a parent-child relationship. Bonds with an extended family are not a priority. Germans are huge fans of self-realization and prefer to tell even the most painful truth in the spirit of learning from mistakes.
Masculinity
The basis here is what driven people – competition and wanting to be the best, (Masculine) or simply enjoying your life and taking care of others (Feminine). A high score means masculine society and 66 is perceived as one. That describes German society as competition-driven. They live to work and the best results are required of them from the youngest.
Achievements at work build a large part of their self-esteem. Social status is built up with material things such as cars, watches and technological innovations. It is precious knowledge while creating a marketing campaign. Emphasizing being the best, having what is best in its category. This is what will attract the German consumer. Look at the German cars' ads. This is a perfect example to prove this rule.
Uncertainty avoidance
The avoidance of uncertainty is the way society approaches the fact that the future is not 100% known to us. There are two extreme approaches – trying to control or "what goes around comes around attitude". Germany, with its result (65), is in the first category. They base their decisions on deduction and knowledge.
Whatever is to be done must be carefully considered. This only confirms the previously mentioned passion for pre-purchase research and price comparison websites. It is also significant in terms of products presentation – Germans prefer a product description related to technical data, not a story of what they can achieve with your product.
Long term orientation
This dimension illustrates how society approaches tradition and all aspects related to the past, and how it looks at the present situation and the future. Normative society, i.e. that achieves a low score, values ​​traditions and known social norms.
They look at the changes unsure. On the other hand, those societies that achieve the best results here (Germany), look to the future with hope, encourage people to work and learn in its name. We called it pragmatic.
In pragmatic societies, which Germans for sure are people believe that the truth depends on many conditions like context or situation. They know how to adapt traditions to present times and show a strong ability to save or invest money for the future.
Indulgence
This aspect shows how people deal with their desires and impulses. A lot of control is characteristic of Restrained societies.
On the other hand, almost a no-control approach is the domain of the Indulgence ones. German society is a classic example of a Restrained society. As representatives of this trend, Germany is characterized by showing a lot of cynicism and pessimism.
They control their desires and do not pay attention to their free time. They follow social norms and surrender lives to them.
There is no reason to highlight in marketing communication value of free time and or fulfilment of desire. It's not gonna work in Germany.
To wrap up
Germans are not the easiest customers, but they can appreciate when e-commerce meet their demands. Once you win their trust you can rely on their loyalty. So now you know how to win Germans' heart.
Let's get down to the business and transfer customer experience to a higher level. You can go back to this piece whenever you struggle with marketing and customer experience on the German market.