The success of an e-commerce business largely depends on the performance of the website – in terms of rankings (qualified traffic) and conversions (user experience).
Key parameters to explore include page load speed, site security, and other SEO optimization issues. This is especially important as you need to please both people and search engines. 
SEMrush has run hundreds of e-commerce websites through its Site Audit tool to uncover the most common e-commerce website mistakes and here, we'll help you to fix or prevent them.
Key SEO and user experience (UX) issues
The overall Health Score of the analyzed e-commerce sites is quite high, averaging 70% for both US and global sites. However, there are some recurring issues across the majority of e-commerce sites. So, let's dig deeper into them. 
PAGE LOAD SPEED
Page load speed is a big deal for both users and search engines. First and foremost, it's a huge ranking signal, but it's also one of the biggest issues affecting whether potential customers stay on your site or bounce right off. 
Overall, globally and in the US, e-commerce websites are doing quite well when it comes to page load speed. The median load time is around 0.6 seconds, and the overall trend is positive, although 56% of sites have a somewhat low page load speed. 
How to fix this issue:
Optimize large image files by compressing them.
Choose a better (as in faster) site hosting.
Use a CDN to increase your page load speed (which also makes your site more secure).
Minify JavaScript and CSS files, as done on 78% of e-commerce websites worldwide.
SITE SECURITY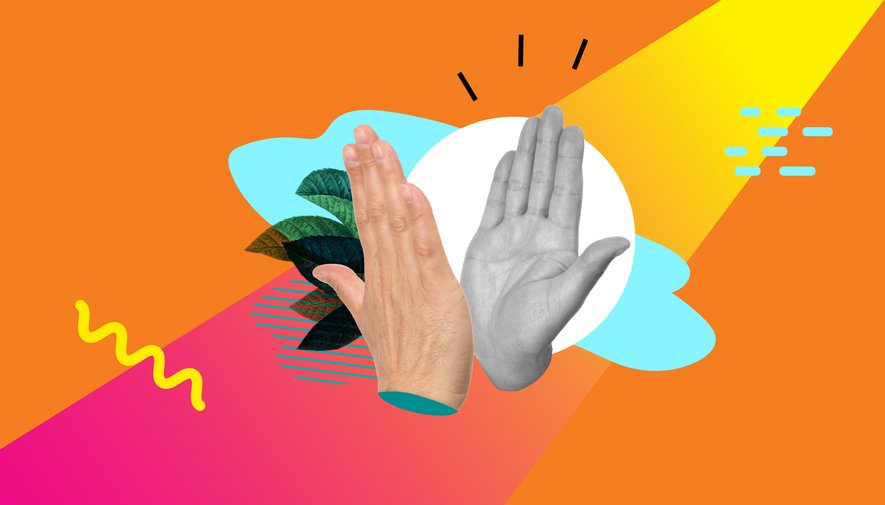 Site security is a key element of any e-commerce website, especially if you have a comprehensive checkout system with many payment options. Both Google and your audience have to be sure that you have all the necessary security checks in place.
In SEO terms, site security means having an HTTPS version of the site. This not only ensures encryption of your site so that users' details are secure, it also counts as a ranking factor. Globally, 95% of websites have HTTPS implemented. However, 71% of websites we analyzed still have links to HTTP pages rather than their HTTPS analogs. 
How to fix this issue:
You need to update your internal site links to the HTTPS pages as using HTTPS rather than HTTP is critical for e-commerce.
SITE STRUCTURE
Having a coherent site structure in e-commerce is essential, as crawler bots can only index the pages they can easily access. For you, coherent site structure means higher rankings, and so, more visitors and potential buyers. 
62% of sites return the 4xx codes that typically occur due to broken links. These can lead to crawlability issues and negatively impact your site rankings. 55% of websites contain pages that cannot be crawled at all, either because they have nofollow backlinks (55%), broken internal links (63%) or are simply too many clicks from the homepage.
How to fix this issue:
Simply audit your website and check for redirects, broken internal links, and double-check why you have nofollow internal links in place. 
DUPLICATE AND THIN CONTENT
Thin and duplicate content is one of the biggest deal-breakers for e-commerce sites from both an SEO and a user experience standpoint. If you have duplicate or thin content, Google will likely penalize or de-rank you, and your users won't get the information they need to visit your page or take further action.
Duplicate content is one of the most common SEO mistakes, discovered on around 70% of e-commerce sites. Many sites feature thousands of products, across  numerous pages. Adding unique content to each page may seem a daunting task, but the time and effort are worth it if you want to beat the competition. 
How to fix these issues:
Focus on your most important pages first, especially the category and product pages. You don't need to create walls of text – instead, write 250-500 words for each, and make it unique. This will also help you avoid the biggest issue – common to 98% of e-commerce websites worldwide – low text to HTML ratio.
If you cannot spare the time to create unique content at the moment, here's a temporary fix: use canonical tags to signal the main page to Google, or use robots.txt or indexing for pages that do not generate search traffic, whilst carefully targeting offending parameters.
METADATA

Meta title and meta descriptions give search engines and readers information about your page's content. Thus, metadata should be optimized to encourage users to click.
If your metadata is too long, Google will truncate your title tag and meta description in SERPs. In fact, 87% of all websites we analyzed have over-long titles , and a similar percentage have missing titles. This can affect your page's click-through-rate (CTR) as users might find titles confusing or misleading. 
Around 70% of the websites we analyzed had missing or duplicate meta descriptions. This content appears directly below the title tag in SERPs, and can also impact your CTR.
How to fix these issues:
A well-optimized title tag should be 55-60 characters long, descriptive, relevant, and include keywords to match users' search intent. 
The meta description length should be around 150 characters, and each description should be tailored to the page. In the meta description, explain exactly why a shopper should choose your site over the others, and include perks like free shipping and discounts to grab their attention.
IMAGES
Visual appeal is important for any e-commerce site's success. However, images can overload websites and decrease page load speed. So, keep image file size down to 1-2MB.
In addition, make filenames more descriptive for SEO purposes: instead of IMG4635.jpg, use product names and keywords, e.g. dress-white-discount.jpg.
You should also tackle missing ALT attributes, the line of code informing browsers of the image contents so SEO crawlers can read them. 84% of the analyzed e-commerce websites lacked ALT attributes, so optimize your site for image searches to get an advantage over your rivals.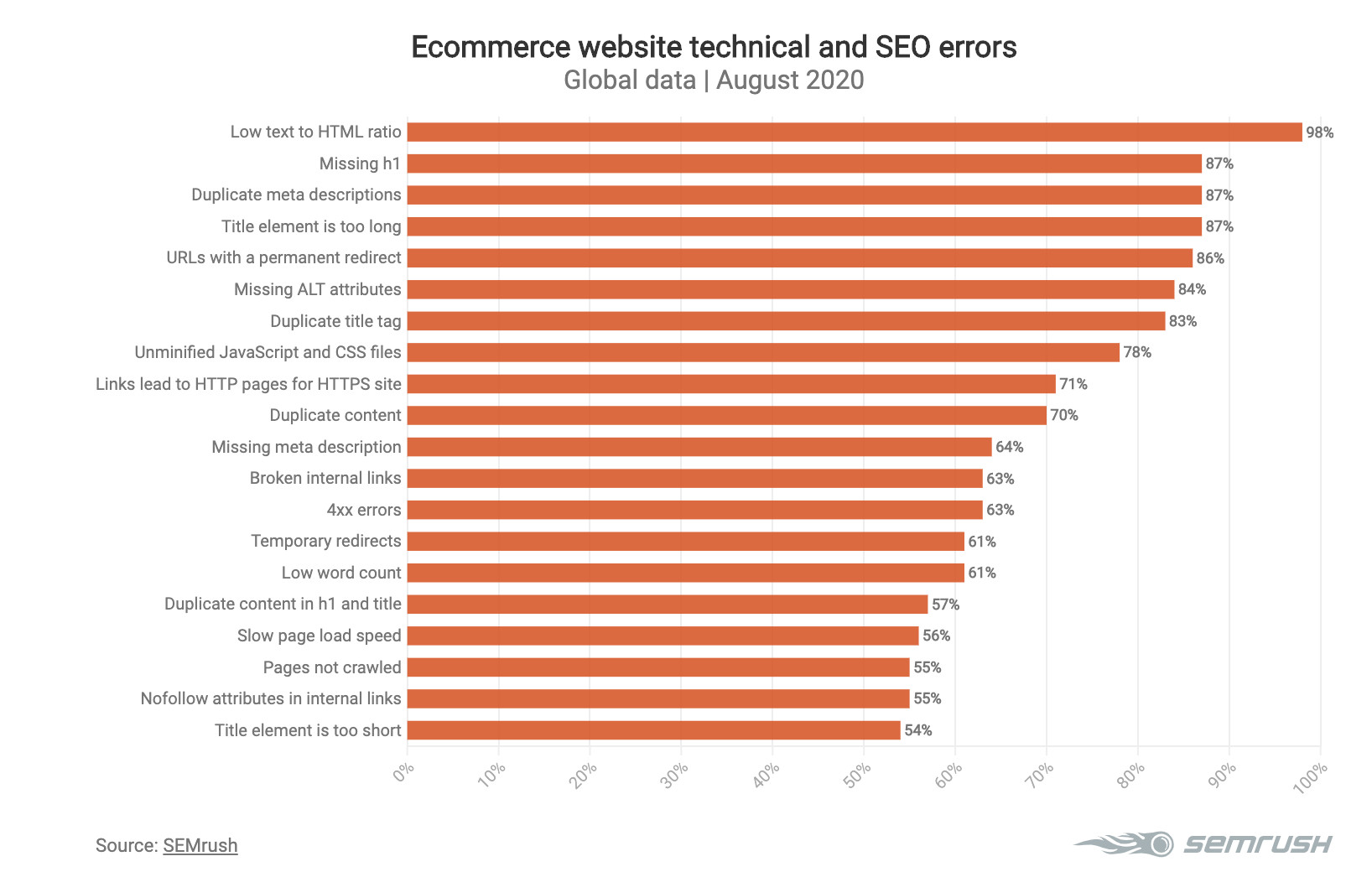 About Site Audit
SEMrush's Site Audit is a website crawler that allows users to analyze the health of a website. It provides them with a list of issues that makes it easy to see where exactly a website is struggling. Fixing these issues will help boost the SEO of a website.
To learn more about the tool, follow this link.