In the commercial world and especially in strategic marketing, it is well known that the 4Ps (Product – Price – Promotion – Place) are the basic variables that determine the result of the marketing mixture and if these variables are well planned, they will lead to success.
Price Intelligence (or Competitive Price Monitoring), refers to the awareness of market-level pricing intricacies and the impact on business, using modern data mining techniques.
It is differentiated from other pricing models by the extent and accuracy of the competitive pricing analysis.
Covid affected the Retail Industry from the first day of the pandemic.
Retailers went through difficult situations – stores were closed in many countries. E-commerce fast became the alternative way and, in some cases, the only way of buying goods. In countries that were not so familiar with online shopping, engagement with e-commerce reached an all-time high. Electronic payments also became more efficient and secure, giving consumers a feeling of safety. Retailers also explored several multi-channel and pricing strategies and moved to more expanded assortments in order to attract more customers.
Covid boosted E-commerce to an unprecedented extent and the numbers are stunning. Millions of products, innumerable offers, and a huge range of items that belong to the same category and are characterized by few variations and endless differences in terms of pricing
The question is whether within this volume of information it is possible to extract data that will give the company a comprehensive picture of its products and pricing policy vis-à-vis to its competitors. The goal is to take commercial decisions based not on outdated data, but rather on data that involve the greatest possible coverage, matching and freshness, providing a complete image of the market in almost real time. This capacity does exist, and in fact, this is the scope of Price Intelligence.
Monitoring the competition and being price sensitive are key factors that can drive every business to success. It is important to have the right price to the right product at the right time, to optimize stock turnover ratio, negotiate with your suppliers for better rebates and more offers in order to successfully deal with as many aggressive pricing strategies as possible from your competitors.
Finding your place in the market and trying to increase your rank or maintaining the current one requires continuous effort that needs testing and various tactics along with the correct services & tools to assist.
"Trend of Price Intelligence requests to TGN YoY 2019-2020"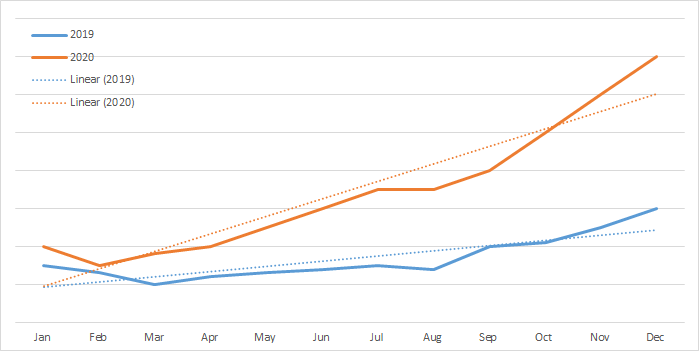 "Pricing is not just a price on a product."
Dynamic Pricing & Competition Data
The human factor always plays a role in all of this, with problems such as lack of communication among the commercial departments of a business concerning pricing policies, errors in product descriptions and others, which can cause misunderstandings and lead to loss of profitability, sales and eventually deviation from the target.
Pricing algorithms' accuracy depends on qualitative and structured data in order to predict the best-case scenarios and propose the right prices. These data must have consistency, be correctly matched, be structured, and fast updated. Especially for big amounts of data these parameters are game changers.
One of the most important and basic data is the Competition Data which is the key factor for Pricing in the retail industry.
Competition Data refers to: Retail Price – Availability – Offers & Promotions – Shipping expenses – Product mixture (assortment).
Another important factor is the analysis of these data to understand the commercial strategy of the competition, their patterns, their trends, products trends, weakness and opportunities, historical data, and more.

It is important to adapt fast to this new era of the market, become price sensitive and offer a variety of services that will help the end customer – from pre-sales, to sales, to delivery, to after-sales, because as always, competition is just one click away.
Case study:
If a company monitors an average of 50.000 SKUs in 100 competing stores, and also taking into consideration that not all competitors have all the products, and not all products change prices every day, and not all products are equally important, then it is faced daily with a minimum of 4.000-5.000 price changes that matter and should be aware of, analyze and probably react to. Clearly there is a difference from industry to industry, but every offer, every newsletter, every banner, every price alteration has a role to play and has its share in the final turnover and profitability of the company, so one must always be aware of what is happening in the market at the time it happens.
A typical example of fast reflexes is the case of a company that will first communicate an offer, so that it will be the one that will receive the largest share of sales. From that time onwards, any delay in the competition's reaction will simply increase the company's sales share.
Example with monitoring the competition:
Retailer "A" has an offer price from 100€ to 85€ and its sell out increases day after day.
Retailer "B" did not see competitor's offer for 2 days, so its sell out tends to zero. Also, it misses the momentum and status as Retailer "A" continues to increase sell out and gain more market share.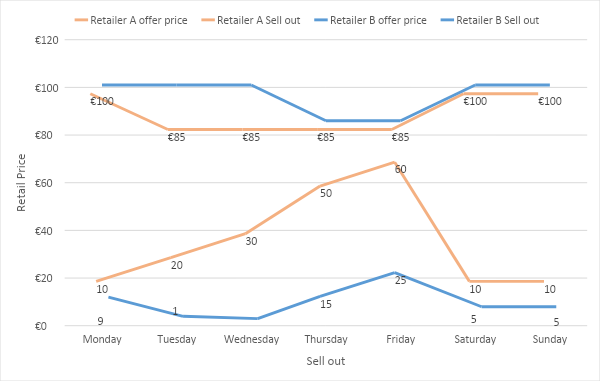 Of course, there are several additional parameters that affect the end result of the above example, such as, stock, overall market share of each retailer, marketing, assortment, reviews, last mile (delivery), etc.
Another significant factor to the overall strategy of Retailers is the Assortment they have online.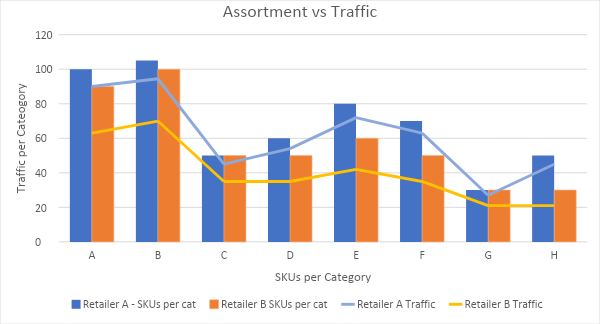 The result here is that customers will visit more the Retailers who have the biggest assortment in order to find almost everything they need without buying different things from different stores. Again, there are several factors that affect the assortment of each retailer, such as, relevant assortment to the market they operate, cross selling products, better deals with suppliers, exclusive products, etc.
Covid affected the online assortments.
Remote working started at the beginning of the pandemic, and in addition to that, lockdown became the new reality in many areas. There was a significant demand on Laptops and Laptops' peripherals, home entertainment, kitchen tools and small home appliances, DIY, gaming, gymnastic equipment, etc.
Retailers started to add more and more products online and began to monitor closely their competitors' assortment. In TGN, working more than a decade with the biggest retailers in Europe, we received a significant increase on requests to monitor and analyze their competitors' assortments.
Τhere is no doubt that monitoring competition and automating your pricing will take your business to the next level. Nevertheless, this is not an easy task today for a retailer! In the past 2-3 years many different services appeared in the market claiming that they can do both dynamic pricing and competition monitoring which leads to misleading information and compromises on quality. As a result, the retailers cannot figure out what are the differences between all these providers and what is the best fit for their needs.
The different layers of solutions in our market.
"Price Intelligence realm is overwhelmed from different services."
Let us break down what steps Price Intelligence involves in a top-level view first.
Step 1: Getting competition data
Step 2: Matching data with my own
Step 3: Monitoring competition data for changes
Step 4: Getting competition data again
Step 5: Analyzing data for Insights, Reporting & Analytics
Step 6: Taking actions manually / automatically. Performing Pricing
Ways of Getting Competition Data (Step 1)
– Manually searching competitor web shops by hand
– Automatically searching competitor web shops with data mining, bot crawling etc.
– Manually searching B2C price comparison engines
– Automatically searching B2C price comparison engines (this process though used, could involve legal liability issues)
Ways of Matching and Storing Competition Data (Step 2)
– Manually identifying my own products while browsing on competitor web shops or price comparison engines and manually storing that information like competitor name, url, price, availability, promotions etc., to spreadsheets, databases, or content management systems.
– Automatically identifying my products on competitor websites or price comparison engines, by finding common attributes, like EAN/UPC/MPN codes, product names, product description, product images.
Ways of Monitoring Market Changes and Data Alterations (Step 3)
– Manually checking the stored data of the previous step with recurrence onto the competitor web shops or price comparison websites, to find what data has changed and update my stored information.

– Automatically monitoring the same sources, by performing data mining onto my stored data sources with recurrence.
Why performing Steps 1 & 2 with Recurrence is Important (Step 4)
The ecommerce market is very dynamic, it changes based on consumer needs & purchases as also based on ecommerce retailers and brands-distributors decisions and strategies.
So, the competition data found and matched at a single time point might be missing new information crucial for the next steps of reporting, analytics and taking actions.
Reporting – Analytics and Actions for Pricing (Step 5 & 6)
– Reporting & Analytics is either performed manually by data and business intelligence analysts, working with tools that range from spreadsheet to (embedded) business intelligence tools like Power BI, to analysts performing tasks with R language, or non-analysts working with an easy-to-handle Price Intelligence Analytics and Reports by a provider of our realm.
Actions of Pricing, as again performed, either by manually taking actions from the competition and internal insights, or by using spreadsheet mechanisms to calculate and simulate the effect of the pricing actions needed to perform, or by using a fully automated Pricing Software.
The different layers of solutions in our market.
Sophisticated Pricing Automation Solutions
Solutions that combine the competition data with internal commercial information, like stock, sales, strategies, rules, weather forecast, price elasticity and more, to calculate the optimal price for your sales and margins. They don't bring competition data into the table, you have to find, work and integrate another solution for data into their systems.
Direct Monitoring & Average Analytics
Services that indeed can monitor your competitors directly, on good recurrences and with average analytics and reporting capabilities but are limited to perform that well on low amounts of products and competitors.
Hybrids of the below solutions combined
Providing either all or some of the below levels, adding also a second layer of data mining some direct competitor web shops with additional fees and high costs per website.Along with some basic and entry level automation for Dynamic pricing – Repricing rules, for small web shops.
Manual Data entry teams Solutions
Instead of doing it yourself, they offer to manually search, find matches and update your data.
Google Shopping – Price Comparison crawling solutions
They just perform data crawling on 3rd parties sourcing and sell you that data, regardless if all your competitors are included, all your products are matches, or the data is correct or not. You get updates on week/daily/3-4 times per day. And a basic analytics console, that mostly gives insights on the service itself.
DIY Solutions
You are given an admin console, where you can manually copy paste the product page urls you manually found, and matched. You must again perform everything manually in the future. The console resolves only steps 3 & 5 (2/6 steps), as you just get weekly , daily or max 4 times per day, monitoring in the data you store, and basic exporting – analyzing capabilities.
The needs of top tier Ecommerce – brick and mortar retailers and brands.
A big ecommerce retailer in Central – West Europe or in the US, has 100K SKUs. The big enterprise level retailers even have 500K or millions of SKUs they sell online.
All of those have lots of competition, from 50 to 200 to 1.000 competitor websites.
Direct monitoring performing well on low amounts
Some big retailers ended up by chance working with some of those solutions, but the data they use are low on quantity, quality and update, because those solutions cannot perform on high end volumes.
Hybrid Solutions
The billing and costs logic of the hybrids is a puzzle. Charging based on competitors, how often the data is, implementing setup fees for each new request. Big enterprises cannot create a budget, or their costs change suddenly as their needs change.
Manual data entry solutions
Manual update frequencies of these amounts of SKUs and competitors are slow or cost too high.
Google Shopping and comparison engines
Not all competitors are included, or the competitors there don't show all their products.
The data are not matched correctly and are contaminated based on market strategies.
DIY Solutions
It is not feasible for the retailer to find, match and update 10K or 100K SKUS on even 20 competitors on his own.
TGN's Position / Solution in this overcrowded market
TGN is a Premium, all-inclusive Data Provider and Price Intelligence SaaS for Large Enterprises, used mainly by Fortune 2.000 firms, Pricing Software providers, recognized Retailers & powerful Brands in 25 countries, trusted by top-tier firms like in the Retail Industry and Brands.
Solving the GIGO (Garbage In Garbage Out) issue, TGN is neither another data scraping firm, nor a cheap data mining tool, but a boutique firm for accounts monitoring on average 100-200K SKUs each, with quality data updated every 60 minutes, without geographical restrictions, unlimited competitors, auto-matching products, unlimited users and SLA guaranteed performance.
Currently monitoring and analyzing over 30mil products, in more than 17K online retailers in 9 sectors, from insurance market products to consumer electronics and from sports apparel to car parts.
Counting a team of more than 30 talented software engineers, data specialists and customer consultants, we have been recognized as one of the highest performing scale-ups in Enterprise SaaS as also our founder and CEO is ranked in the FORTUNE's 40under40 list.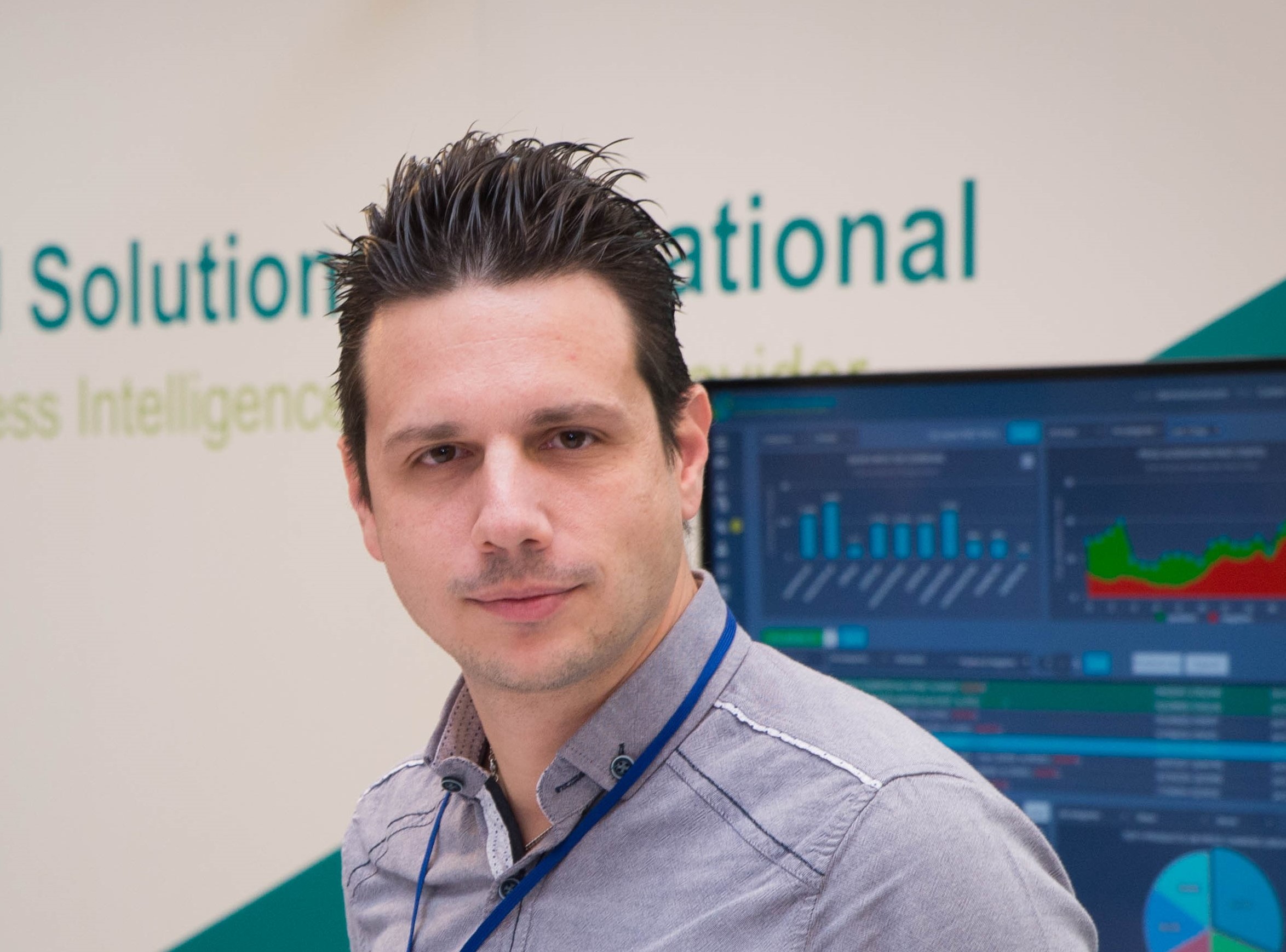 About Andreas Broutas
Andreas is the Business Development Manager in TGN and he has more than 15 years' experience in the Retail industry. He is an expert in all in-store operations. and helped several companies achieve successful commercial strategies.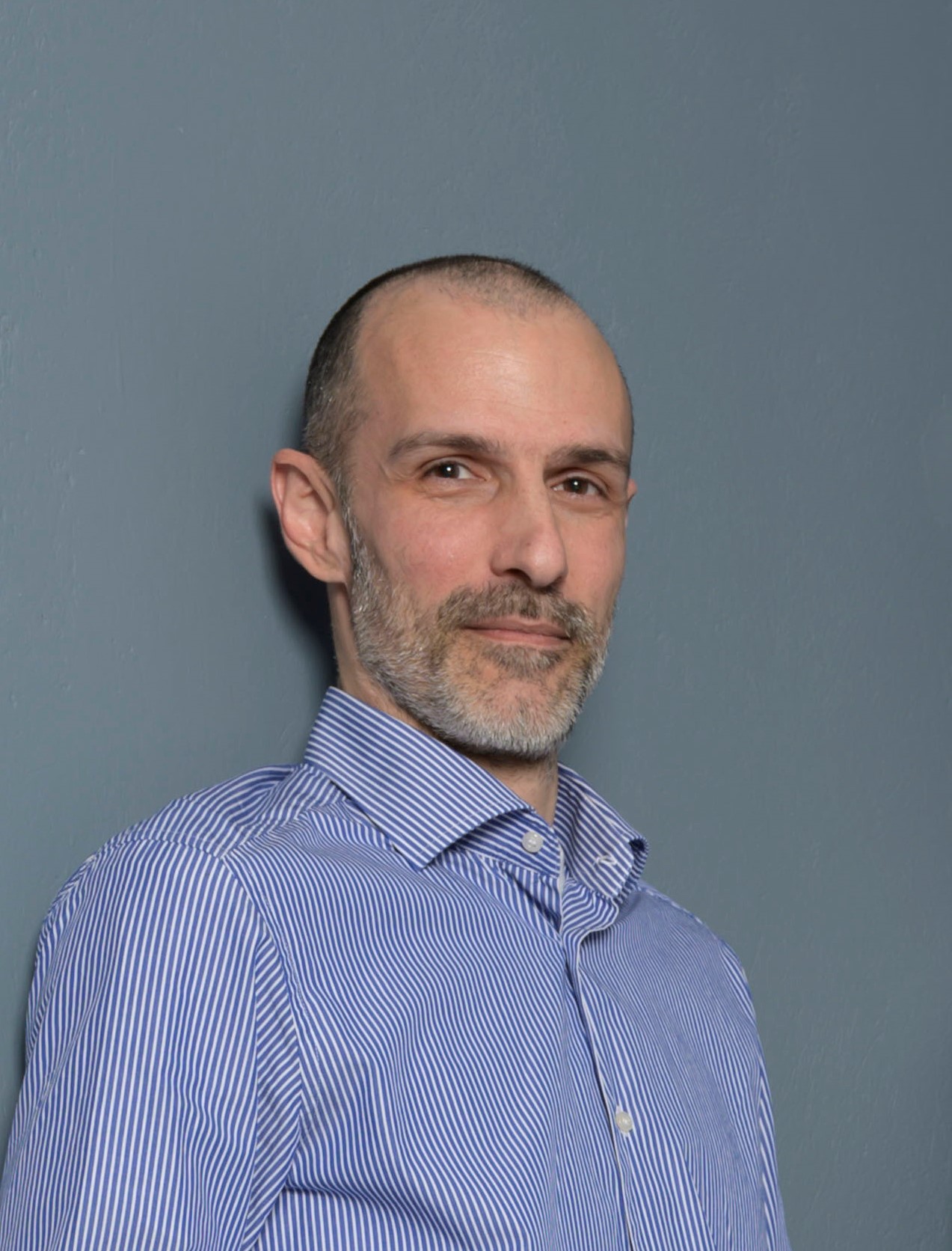 About Alex Kakouratos
Alex is the COO of TGN. He has long experience in E-Commerce & Pricing in multinational companies in the Retail industry and worked for several years in roles such as: Product, Pricing & E-Commerce manager. He has also an academic background in Business Administration & Int'l Marketing from US & UK Universities.