The pandemic era has changed what consumers expect and want from the buying journey forever. Businesses online and offline have to take risks and innovate in order to compete and stay relevant. From hyper-personalization to synced services, the trends that have emerged as a result of this new landscape are exciting. But ecommerce brands must assess which trends are worth following. Which investments pay off? What are your customers really looking for from your CX and why? In this post, Lisa Lawrenz looks at three tactics [she] sees as essential and how ecommerce brands can adopt them in ways that make sense for your business and audience.
As European consumers flooded online in 2020, so did traditional brick-and-mortar retailers and other types of commercial businesses abandoning or downsizing their in-person touchpoints. The pivot to ecommerce created both more opportunity and more competition online
One result of this surge was an uptick in innovation focused on creating stand-out customer experiences and meeting pandemic-driven needs. Those innovations have transformed the landscape and altered consumer expectations.
But COVID-19 wasn't the only force shaping consumer habits over the past 18 months. Parallel cultural, technological and economic shifts have given rise to new consumer desires and behaviors. The question is: what's going to stick? Which of the innovations and trends in ecommerce will matter to consumers in the long run and move the needle in terms of business growth and resilience? You can't do it all, so where do you start?
The CX top three
We took a look at some of the emerging trends in ecommerce CX to identify those with the most staying power. We identified 11 that are must-haves and highlight three here that every marketer can harness for growth. It's especially important for marketers to understand the trends and the currents driving them, because they will continue to influence consumer preferences and decision-making in 2022 and beyond.
Overhauling your entire CX may not be practical or advisable. But it pays to understand the why behind these pivotal trends and to use that knowledge to shape and optimize your strategy. Adapt them as needed to your business and audience, then test, experiment, and test again.
Ready? Here are the three CX essentials for ecommerce success:
Prioritize convenience: Make low-touch an option
What started out as safety precautions have become conveniences many consumers are hooked on, from BOPIS to door-drop delivery.
Even before the pandemic, brands were using technology to replace or augment in-store touchpoints, allowing shoppers to purchase items with limited interaction. In-app pre-ordering at Starbucks has been around for years, after all. The pandemic accelerated innovation in this area as businesses transformed processes and experiences to protect customers and employees and build social distance into the transaction. Now, many consumers love the control and efficiency it gives them and would balk at giving it up.
For consumers less comfortable with technology, in-person and interactive customer experiences may always be preferred. But 70% of consumers can do without the facetime, and that sentiment will no doubt outlast the virus.
Contactless in e-context
So what does this new affinity for contactless service mean for ecommerce, which is inherently touchless to begin with?
For one, it means eliminating all friction on returns. Staples has implemented contact-free returns using QR codes. Amazon does the same at Kohl's locations, Whole Foods and UPS storefronts. Why would a shopper want to go back to the days of printing out mailing labels and repackaging items for shipment?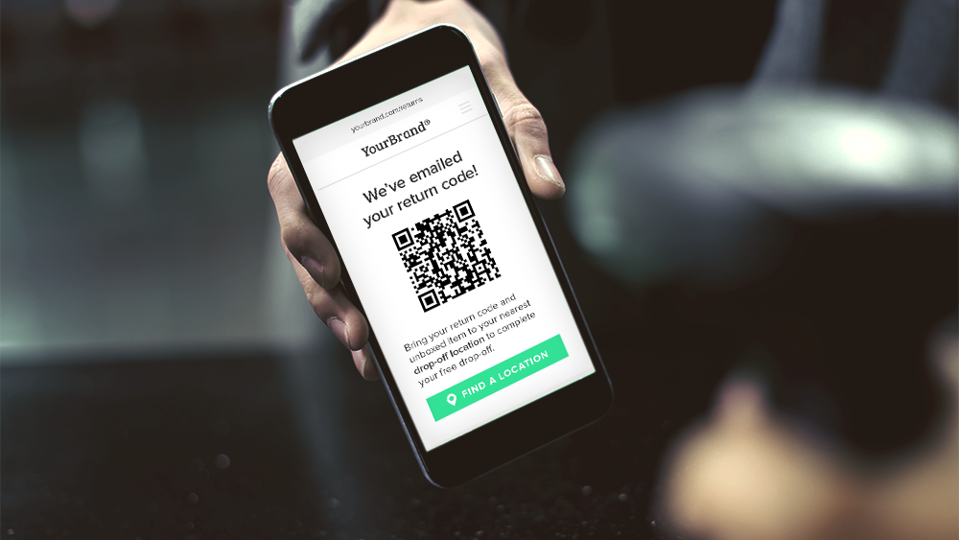 Contact-free returns by staples using Optoro
In a 2020 survey by Doddle, 84% of respondents said a positive returns experience would encourage them to shop with a retailer again, with 74% agreeing that retailers should do more to improve their returns experiences. Convenient (and safe) returns can even erase the pain of an unsatisfying purchase and keep customers loyal.
Try me (at home)
Digital sampling is another way European ecommerce companies can maintain contactless customer experiences yet still get physical product into consumers' hands. Macy's digital sampling campaigns replicate the in-store fragrance counter experience by sending a curated selection of samples directly to a consumer's home, collecting data and feedback along the way. Follow-up emails then reviews and purchases online.
For beauty brands in particular, digital sampling campaigns create a try-before-you-buy customer experience, but without crowded stores or communal (ick) testers.
The takeaway?
The appeal of contactless commerce goes beyond safety. It's a matter of creating the experience consumers want but on their own terms and own schedule. Not every segment of your audience will be at ease with low-touch/no-touch, and it pays to experiment with messaging, onboarding and rollout. But ecommerce brands that can innovate with consumer convenience in mind will position themselves for growth.
Incorporate community: Make it social
Yes, many of us spent hours each day on social media before the pandemic. Then all at once, it became a lifeline to human interaction—and shopping.
An estimated 92% of millennials and 97% of Gen-Zs surveyed said that social media is their top source for shopping ideas, be it from Instagram influencers, gamers on Twitch or Facebook ads.
But it's not just the medium they are attached to, it's also the experience. The mix of commerce and community, entertainment and opinion, inspiration and discovery creates a unique shopping experience that has raised the bar for other channels. As a result, brands must carefully consider their digital assets in the light of social media standards.
More than a buy-now button
Think of it this way: every aspect of your ecommerce experience will be measured against a consumer's social experiences. So how do you similarly energize the buyer journey?
Compare your digital commerce experience to TikTok and NTWRK's shoppable livestreaming sessions with category influencers, or to Squadded's social shopping elements, or DroppTV's virtual pop-up shops that sit at the intersection of music, culture, fashion, and celebrity. While you may not be able to match the tech, you can create ecommerce experiences that are similarly communal and experiential.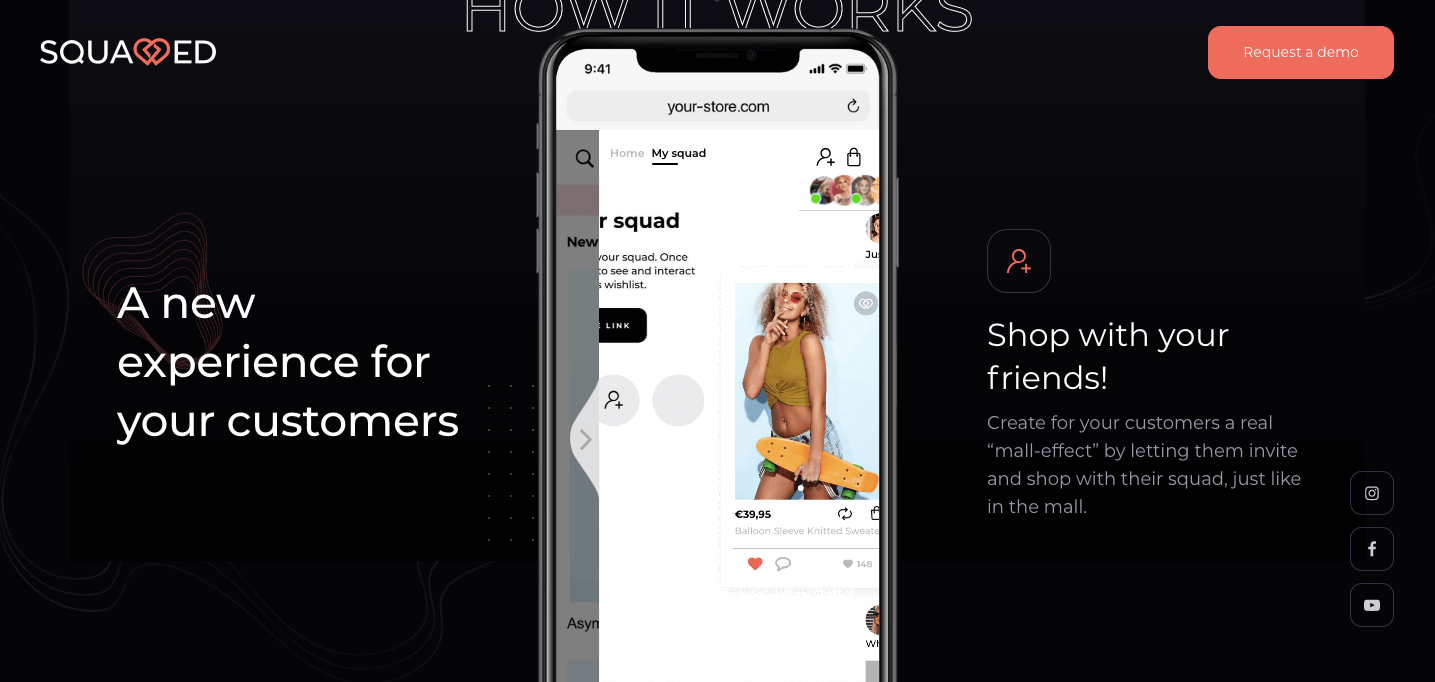 The takeaway?
Brands need to think beyond selling products online via social platforms, and instead strive for social-caliber digital experiences that have shopping thrown in as a bonus.
From the rollout of Facebook Shops, which allow businesses to easily create an online store on Facebook and Instagram for free, to Instagram's experiments with live shopping experiences, shopping is increasingly embedded in the social experience. To meet consumer expectations and grow in digital, the reverse must also be true.
Create connection: Concierge services for a virtual world
For all the popularity of contactless commerce, there are elements of the face-to-face in-store experience that shoppers still love and value. There's a reason people love shopping, and connection is part of it.
The ability to touch and try on a product or get an immediate opinion from a friend or shop assistant—how can you replicate those things online? Product videos and generous try-and-return policies get the ball rolling, but the most successful brands are going further with immersive technology, livestreams, online consultations and personalized product recommendations.
Concierge takes many forms
There are many ways to drive customer engagement and loyalty through concierge-like experiences, from sophisticated AR to simple congeniality.
At one end of the spectrum, Hyundai's luxury brand Genesis went all-in during the pandemic with a comprehensive at-home shopping service called Genesis Concierge. The service translated aspects of the luxury showroom experience into the new remote car-shopping journey.
Similarly, at home improvement stores like Lowe's in the US, getting advice and expertise from staff and even other customers is an essential part of the shopping experience. To maintain it online during the shutdown, the brand created Lowe's for Pros JobSIGHT, an augmented video chat service that combines video, computer vision, and AR capabilities to allow home improvement pros to conduct virtual visits with customers. The goal of the tool was two-fold: to help professionals continue working during the pandemic and to encourage sign-ups to the Lowe's loyalty program.
Video chats, 3-D holograms, and sophisticated AR are by no means the only ways to create an effective concierge CX. Germany's Plantsome makes the process of selecting and buying plants online personalized and interactive with a simple quiz.
It's "Find Your Perfect Plant" tool serves as a friendly, helpful virtual assistant, and the brand extends the experience with an app that provides customized care advice post-purchase.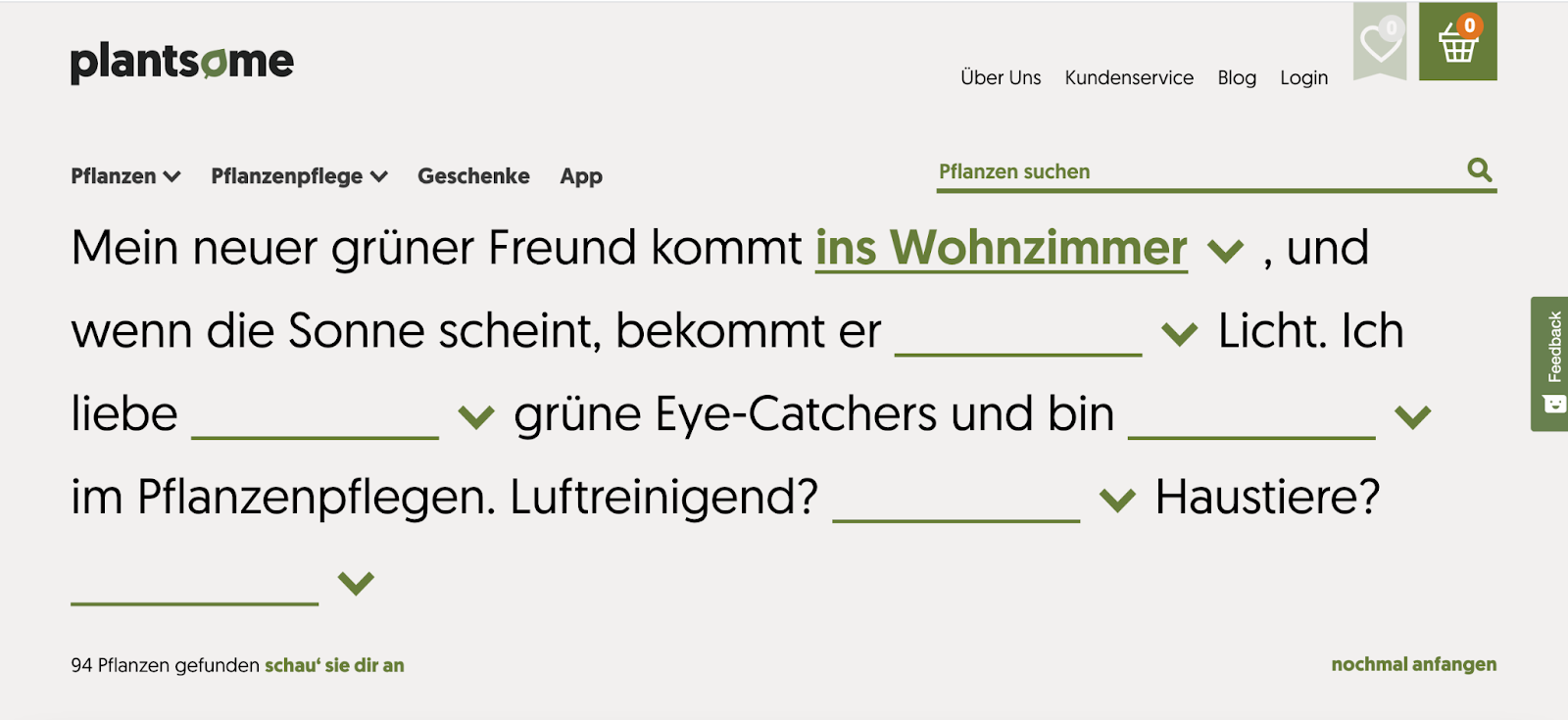 Start simple: Plantsome helps customers find the right plant online
The takeaway?
Clearly, the options are many for ecommerce brands that want to bring the best of offline to the online customer journey. High -touch or no touch, it always pays to give consumers a touch of flexibility.
Don't just follow trends, follow your customers
We're far from comprehending the full economic impact of the pandemic, but some outcomes we can predict with confidence. Brands that double down on customer-focused digital experiences will be better positioned to thrive in a post-COVID ecommerce economy.
With more consumers than ever engaged in digital commerce and new, innovative ways of shopping and buying around every click and corner, customers have power, and they have choices. They are more demanding and selective with their loyalty than ever, which means CX is a matter of survival. Target convenience, community and connection in your efforts, and you improve your odds significantly.
Listen to your audience and understand what motivates them to action. Be creative, experiment, try something new and test out your options; online consumers will reward you.
Want more ideas and insights into what's trending in CX? Check out Playing Your Cards Right in the (Virtual) Experience Economy: A Comprehensive Guide to the 11 Trends Shaping Digital CX in 2021.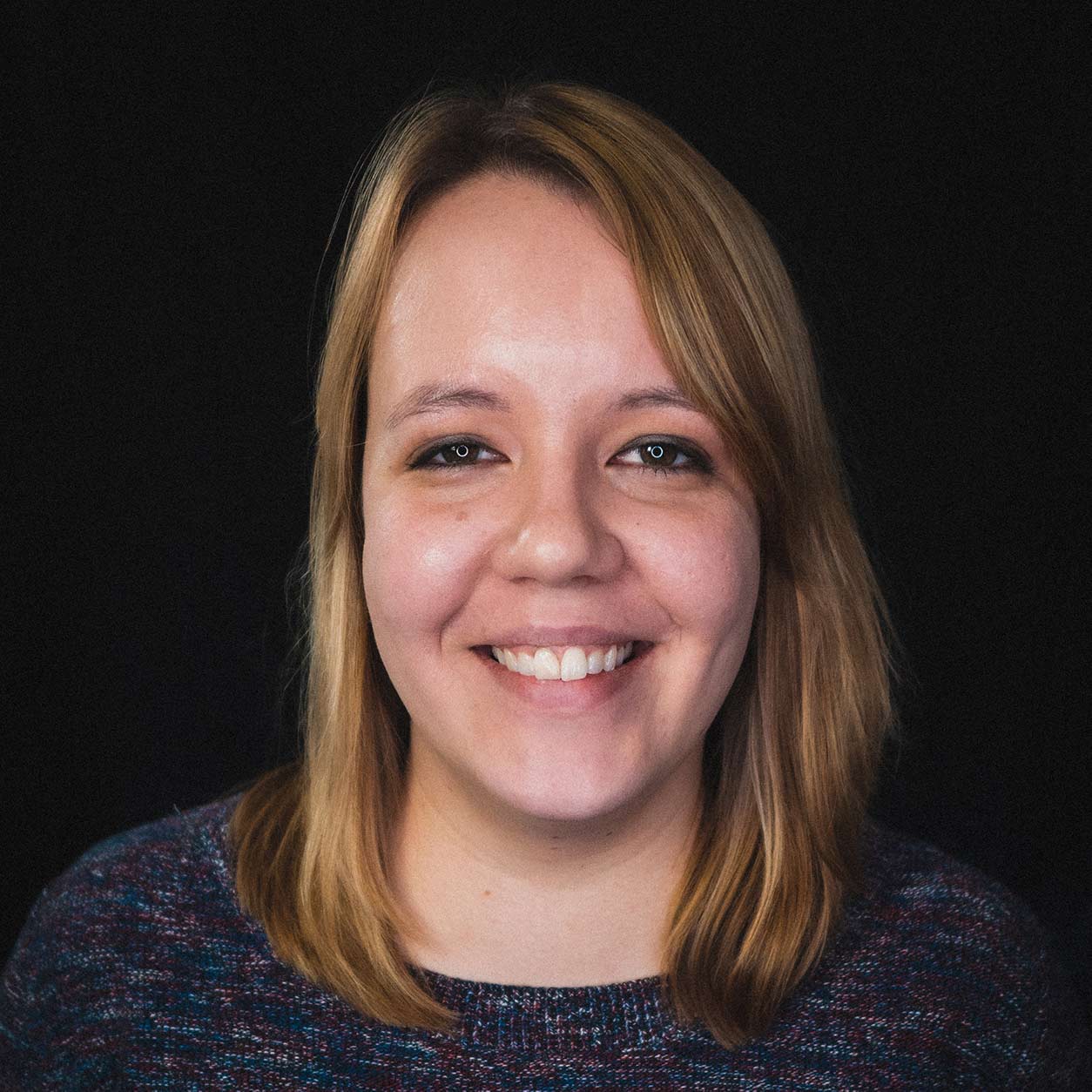 Lisa Lawrenz leads the Customer Success Team DACH, Benelux & CEE at AB Tasty and helps clients like Yves Rocher, Holzkern and Touring Club Schweiz with their Experience Optimization. For the past 4 years, she has been in direct exchange with a wide range of companies from CRO startups to large strategically positioned experience professionals.