E-commerce has emerged as a key mode of international trade in Europe and around the world. With great advances and innovations being made in the field of e-commerce logistics and delivery technology, more consumers are turning to the online markets to fulfill their needs.
With C-19 restrictions causing movement constraints, e-commerce trading grew in popularity in Europe. Clients imported from a variety of retailers, ranging from local stores to international E-Commerce outlets. In this article, we discuss the current trends in cross-border e-commerce in Europe and the innovations that are determining the future of the trade
Q1 2022 Sees Spike in Package Importation in Europe
In the first three months of 2022, international parcel imports to Europe increased drastically. The Netherlands led the chart of high-importing European countries, recording a 16.5% increase in the first quarter of the year. Belgium and Germany, however, recorded more modest growth rates of 2.41 and 6.72% respectively.
Prior to the present year, the Dutch e-commerce market was largely self-contained, with local online marketing brands such as Bol.com servicing the country's populace. This self-sufficiency meant that the major international brands such as Amazon could only grow at a relatively slow pace in the country. Despite this late start, however, the Netherlands is now recording the region's fastest rate of increase in package importation.
Poland Records Fastest Transit Time in Europe
In the world of e-commerce logistics, speed is a very crucial factor. With its record of 1.09 days, Poland leads the rest of Europe for Q1 2022 in terms of transit time. In second and third places are France with 1.82 days and Germany with 1.14 days.
Poland's use of efficient and ultra-modern transport infrastructure ranging from marine vessels to rail.  The country's superfast delivery system is also boosted by eased entry processing for logistics transport vehicles bringing cargo into Central Poland. This means that customers can receive their orders with minimal delay time from border checks. Furthermore, the country also has logistics centers around the country, aiding the swift supervision and effective routing of goods.
Locally Sourced Parcels Outstrip Foreign Ones in the United Kingdom, France and Belgium
While most of the rest of Europe experienced rises in the amount of commodities brought in from abroad, this was not the case in the United Kingdom, France and Belgium. These countries recorded a decrease in imported parcels and a rise in locally-sourced products. Foreign online shopping parcels in Belgium, for example, grew by only 6.72%, a meager figure compared to the 24.4% increase in its domestic goods.
These records show that local e-commerce retail sales are growing in popularity. In a 2021 survey carried out by the International Post Corporation (IPC), around 27% of respondents declared their intentions to patronize local retailers. Furthermore, a significant number of the surveyed persons stated that they would import less from foreign online retail shops. With international trade restrictions arising in the wake of Brexit, international e-commerce trading in Europe would predictably, continue its decline.
Canada, United States and China Supply Most of Europe's Foreign Parcels
The United States, Canada and China sent most of Europe's foreign-sourced products. Of these, China leads the bunch in terms of amount of shipments, with 71.8% of European imports being traceable to the Asian giant. Largely due to their relatively cost-effective prices and wide range of options, Chinese imports have continued to rise in popularity in European markets, growing to its present level from 65.56% of foreign goods brought into the continent in the second quarter of 2021.
Behind China, the United States is Europe's second most popular option for imports, recording a 19.5% share of foreign goods on the continent. Being responsible for 6.71% of European imports, Canada comes third. This is hardly surprising as both North American countries have had long-standing commercial links with Europe. Since the advent of e-commerce in the 1990s, Europeans have used online shopping platforms to reach North American products. Several American e-commerce stores, such as Amazon, have a strong presence on the European continent, reaching millions of customers.
Belgium Records 92.7% of First Attempt Successful Deliveries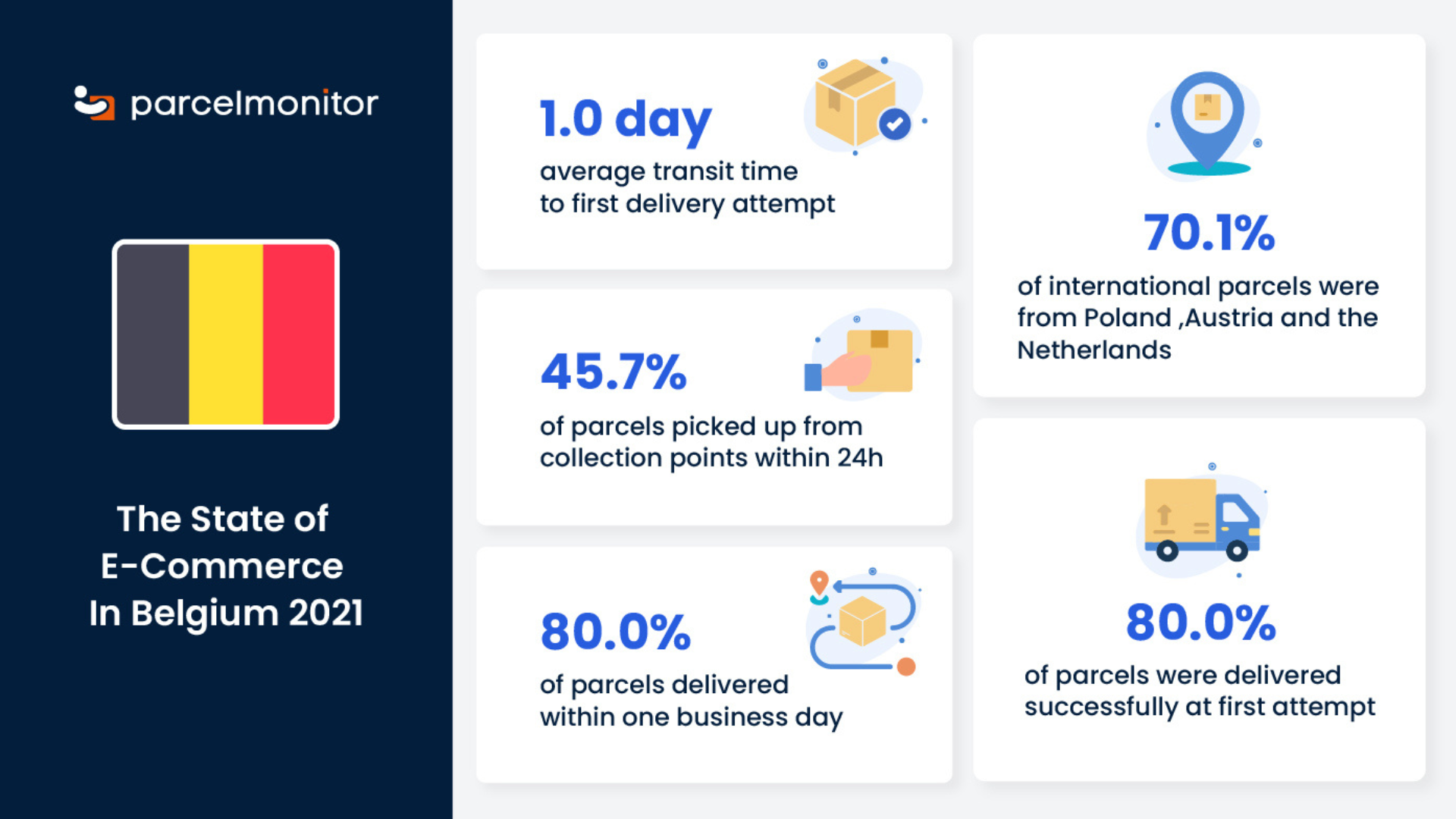 On two occasions in the last year, Belgian government authorities imposed strict lockdown rules on the country's populace to try to curb the spread of the coronavirus. The first, which came in March 2021 when, after a period of stability, the C-19 virus infection rate suddenly spiked, saw the closure of schools and the announcement of strong social distancing regulations. With the Omicron variant spreading rapidly towards the end of the year, restrictions were again placed on the public. As most people were confined indoors, e-commerce retail recorded 92.7% of first-delivery success in that year.
The importance of successful first-time deliveries in e-commerce retail product deliveries cannot be over emphasized. With a good level of successful first-time delivery, clients are more satisfied and there is a higher possibility of them making repeat purchases from the e-commerce brand. Failed deliveries means more logistical costs for the retailer and a lengthened delay for clients, factors which will predictably, dissuade them from making future purchases from the retailer involved.Consumer retention is a key objective for e-commerce retailers as they have to compete with rivals for customers. To this end, real-time visibility tools can be utilized to maintain communication with clients, letting them keep tabs on the progress of their deliveries, reducing the chances of missed deliveries. This would also help to retain their confidence in the e-commerce retailer.
China, Germany and the Netherlands Are Responsible for 70% of Belgium's Imports
In contrast to the situation in the Netherlands, foreign imports have remained popular in Belgium. An increased number of Belgian customers bought goods from outside the country, with the majority of parcels emanating from China, Germany, and the Netherlands.
Germany sent 30.3% of Belgium's imported goods, representing the highest amount of goods sent from one country. With 18.1% and 21.7%, China and the Netherlands are the next highest ranked product sending countries. Belgians make foreign purchases either from H&M, Zara and other online stores or from the international e-commerce platforms such as Bol.com, Zalando and Amazon.
Netherlands, Austria and Poland Sent 61.9% of the Total Foreign Parcels Sent to Germany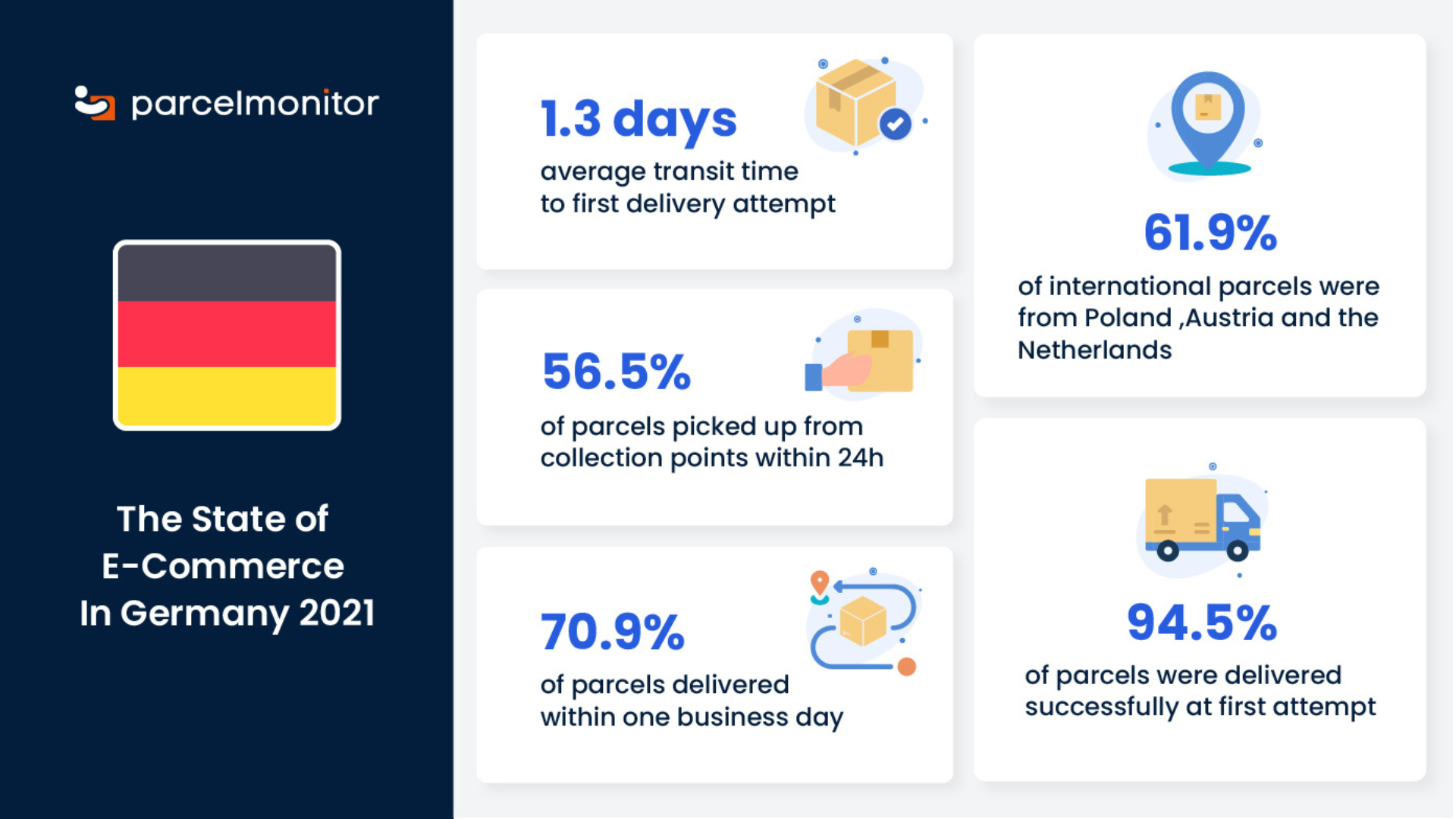 In 2021, trade across national borders in Europe was rated at €12,710 million. Of this sum, €3,622 million worth of products came from Germany, representing 28.5% of the market share. Consumers as well as retailers in Germany have continued to purchase from foreign e-commerce outlets as this broadens the product options available to them and possibilities for revenue generation.
The Netherlands, Poland and Austria have sent 61.9% of Germany's imports, representing the larger part of goods entering the country. This is largely due to the strong cultural similarities between the countries as well as their physical closeness.
With the improved international trading engendered by the EU Single Market, sending packages between EU countries is simple and fast. The volume of online international trade between Germany and Austria is high due to the similarities in language and physical proximity of the duo. The closer distance means that products do not have to travel over very long distances to reach clients.
Poland has emerged as one of the favorite suppliers of German online goods, ranking third among Germany's favorite import destinations in Q1 of 2021.
Peak Season 2021: Poland's Trade Volume Spikes in 2021's Peak Season
Black Friday, Christmas and other holidays normally witness an increase in e-commerce orders as customers look to benefit from the sales discounts offered by many e-commerce companies in this period. 2021's Peak Season saw the volume of Poland's e-commerce trading grow by 34.26%. In Germany and France, this amount increased at slower rates of 19.40% and 33.38% apiece.
This rise in package orders may be connected to the fact that Amazon Prime just entered the Polish market in October 2021. In a departure from the normal practice of requiring customers to pay for the shipping and delivery of goods to their locations, Amazon Prime offers consumers goods free of delivery and shipping costs. Drawn by its promise of cost-effectiveness, Polish consumers heavily patronized goods with the "free shipping" tag in the Peak Season.
Looking Ahead
2021's first quarter was a great time for international e-commerce retail in Europe as the imports of retail e-commerce products increased in the period. However, the role of efficient transportation infrastructure in enabling e-commerce logistics was again underlined as the countries with the best transport networks experienced the easiest and fastest deliveries.
Cultural similarities and geographical proximity has continued to influence international retail trade in Europe with clients in many European countries preferring to buy from nearby countries. While many clients have preferred to purchase goods from local e-commerce outlets, international trade arrangements such as the EU Single Market has made international online shopping easier and more attractive. Furthermore, innovations such as offering "shipping free" goods on e-commerce platforms have been met with increased patronage. To learn about the growth of the cross-border markets beyond Europe, check out this article on Parcel Monitor now.
About Parcel Monitor
Parcel Monitor is a community initiated by e-commerce logistics enthusiasts at Parcel Perform. We aim to inspire the e-commerce logistics ecosystem to create a better delivery experience for everyone.
Parcel Monitor offers free parcel tracking across 900+ carriers globally on a single platform. Leveraging on our data and technology, we capture consumer trends, provide market visibility and derive industry insights while fostering collaboration across the entire e-commerce industry.