What qualities do customers look for the most in electronics stores? Low prices, kind service and entertainment – Neticle has revealed.
Between the 1st of May and the 31st of July, the online media and text analytics company Neticle looked at the mentions of seven large electronics stores on the German web – namely MediaMarkt, Saturn, Notebooks Billiger, Expert, Conrad, Euronics and Cyberport – and analysed their reputation.
The big stores won the mentions game
All of them had a decent daily mention flow of a few hundred (and some considerably higher peaks), but it was definitely MediaMarkt and Saturn that were talked about the most, with more than 20 thousand mentions during the three-month period.
The biggest mention peak of Saturn was due to a Facebook post on the 15th of June that announced the arrival of PlayStation 5, and asked customers which games they were looking forward to the most.
MediaMarkt had a popular live cooking show on the 29th of June, combined with a giveaway, also on Facebook.
The two retailers were also mentioned a lot together in articles talking about the price war after the sales tax (VAT) cut in retail.
The articles mentioned that the electronics chains were among those stores that wanted to pass the tax cut on to customers, which was a decision well received.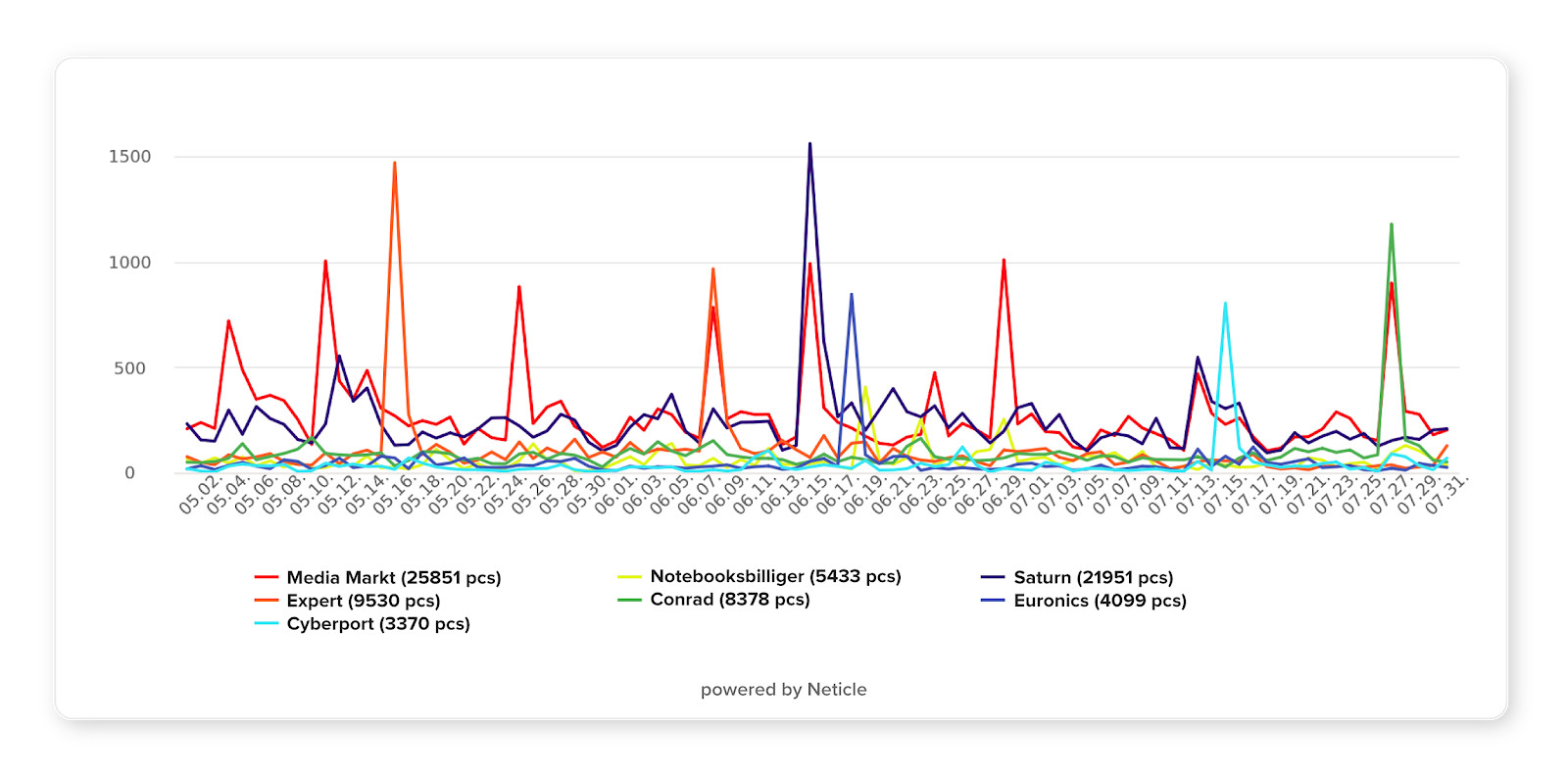 Saturn had the highest mention peak, but Media Markt had lots of smaller peaks
Expert and Conrad both had an outstanding mention peak each, due to Facebook giveaways, one in May and the other in July. In both cases, these had a very warm welcome which boosted their online reputation. Cyberport also had a really positive day due to a giveaway in July.
Giveaways gave big boosts to the stores' online reputation
An unexpected turn in interactions
MediaMarkt had the single most outstanding interaction (like, retweet/share, comment) peak right at the beginning of May.
It was due to a tweet that showed a short video recorded in one of their stores, where one of the televisions on display had been switched to a porn movie. Meanwhile, customers were unsuspectingly browsing around in the store.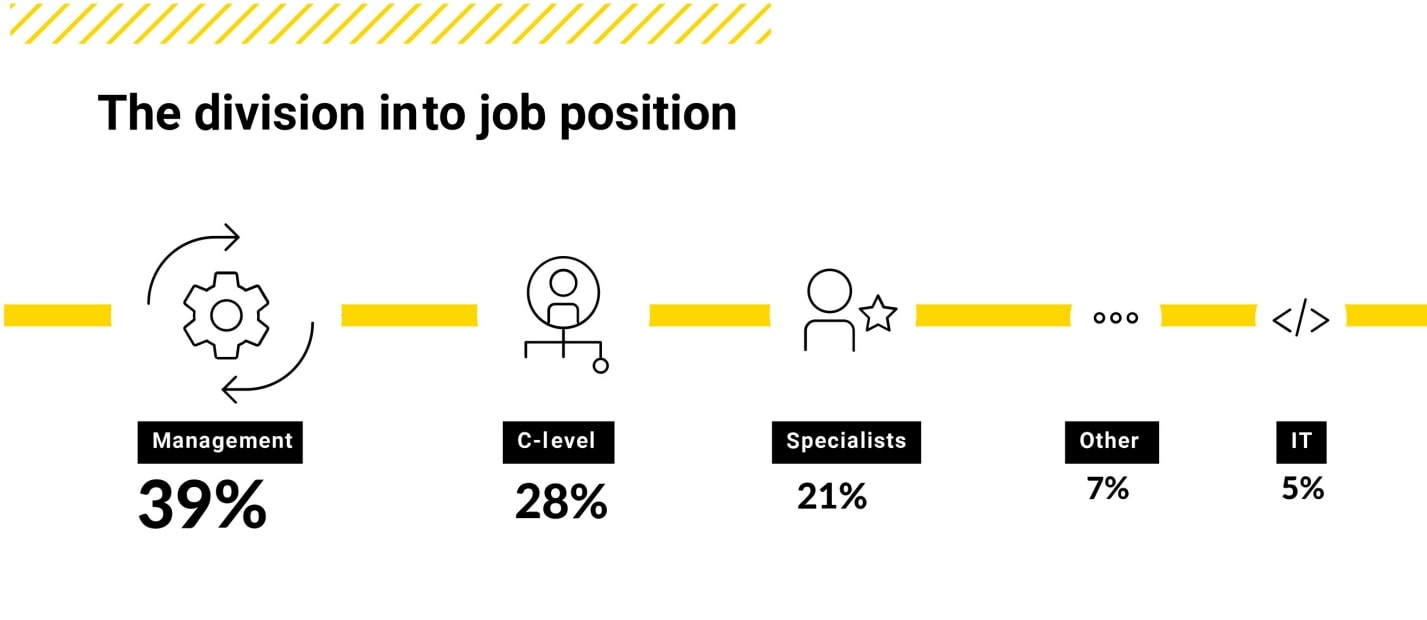 This isn't how MediaMarkt planned their interactions
This could have come off as something really negative, but actually most people only had a good laugh and clicked retweet: as you can see on the previous chart, MediaMarkt's reputation did not suffer at all.
Saturn's much smaller interaction peak in June was due to the posts about PS5.
For the most part, Facebook still works well
The companies' communication strategies were similar in that for all of them, Facebook was the most important platform, though not to the same extent.
The larger electronic retail chains were talked about more in news also, therefore their article and blog mentions reached a larger percent of the share.
Notebooks Billiger relied almost exclusively on Facebook, but it was also very important for Cyberport and Euronics. We can also see the heavier tweet number in the case of MediaMarkt.
Expert follow quite a different strategy on Facebook than the others: besides their main page, they have literally dozens of separate pages for all of their local shops as well.
However, they basically post the same content on all of them at the same time. These posts aren't very effective, users' engagement on them is much lower than on their main page.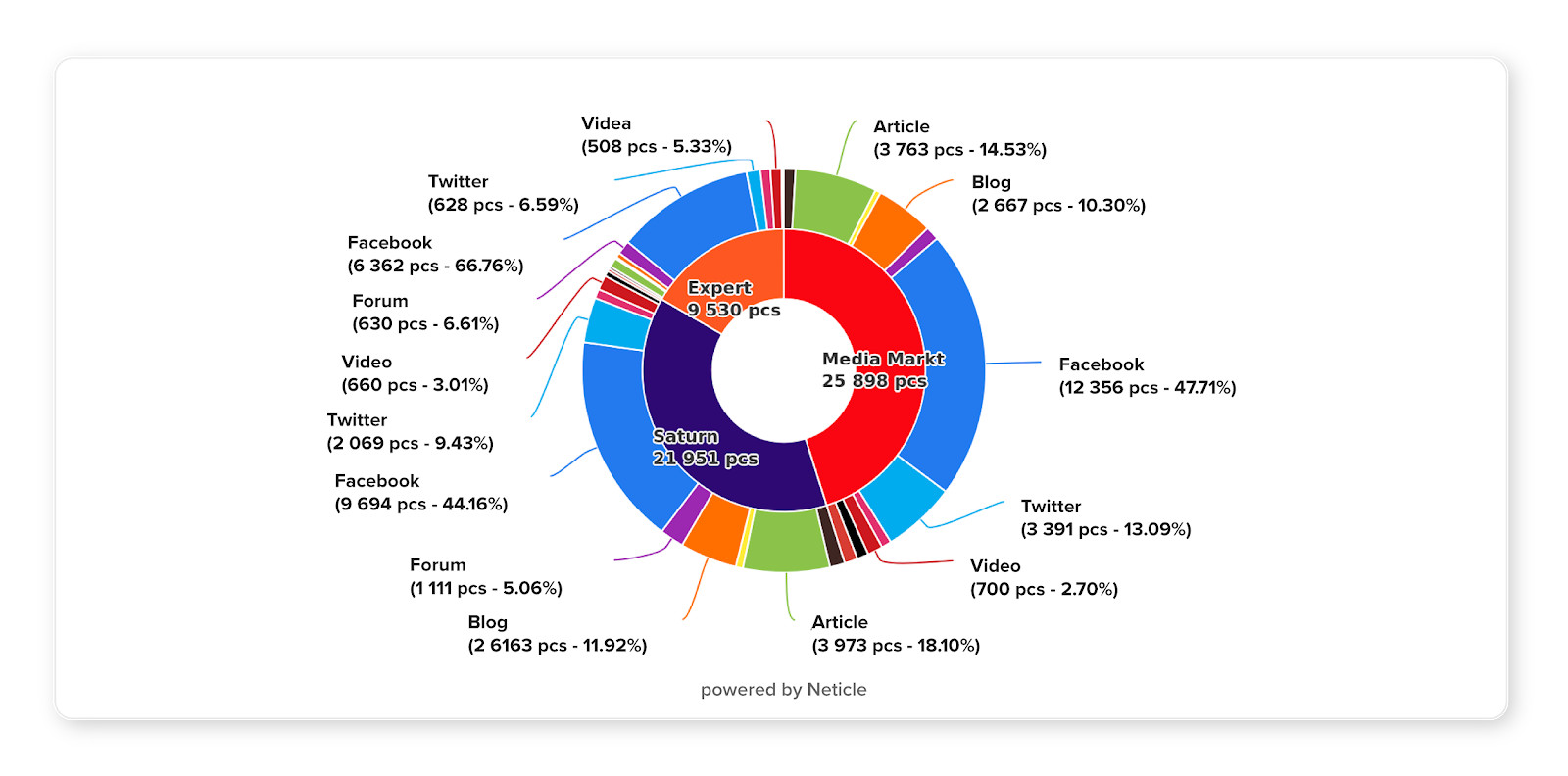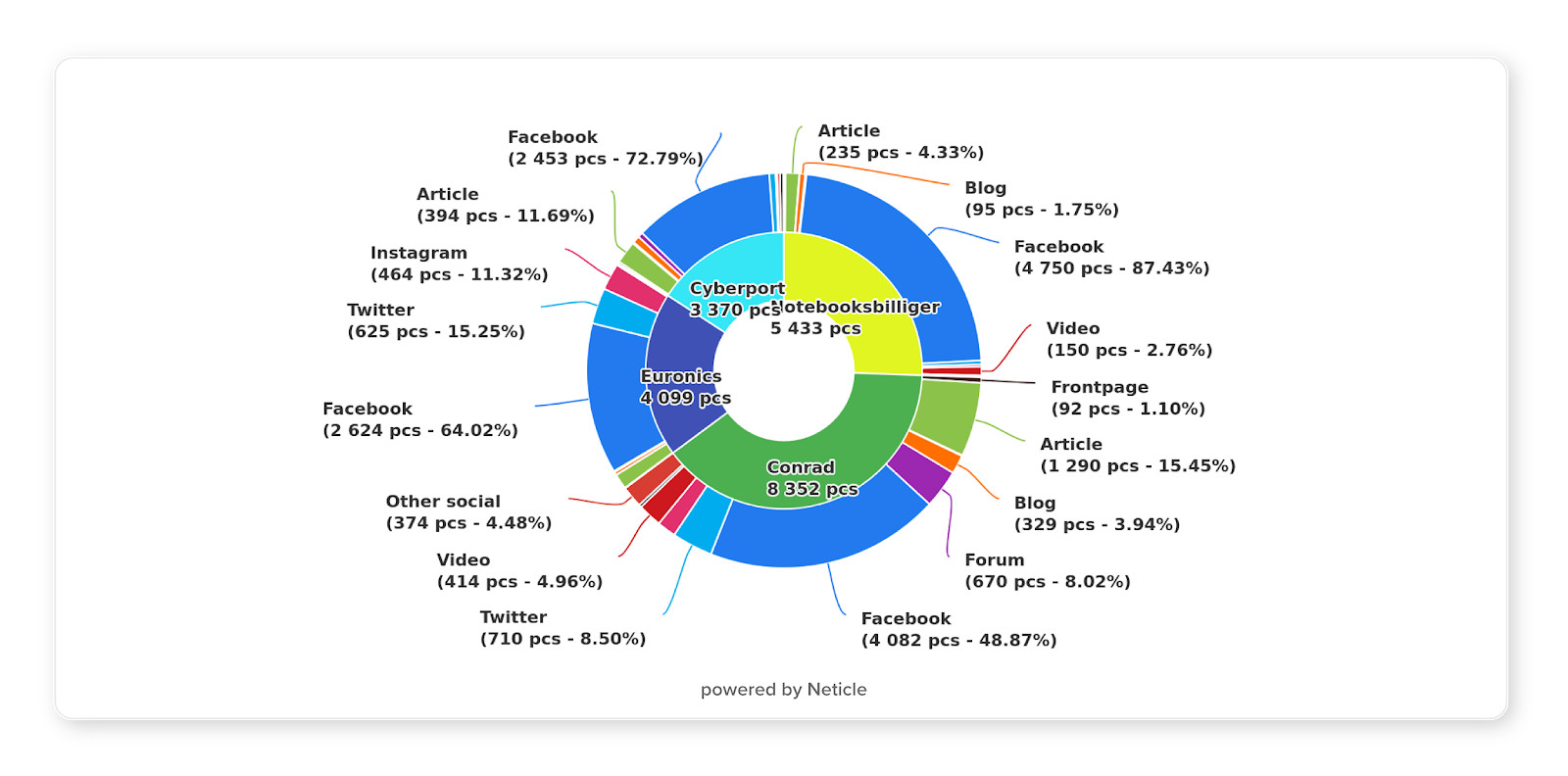 Make a good deal and ship fast
The main topic was still ordering (bestellen, Bestellung), even if the corona-crisis was slightly less severe during these months. Other than that, prices and sales were the more common topics in the mentions.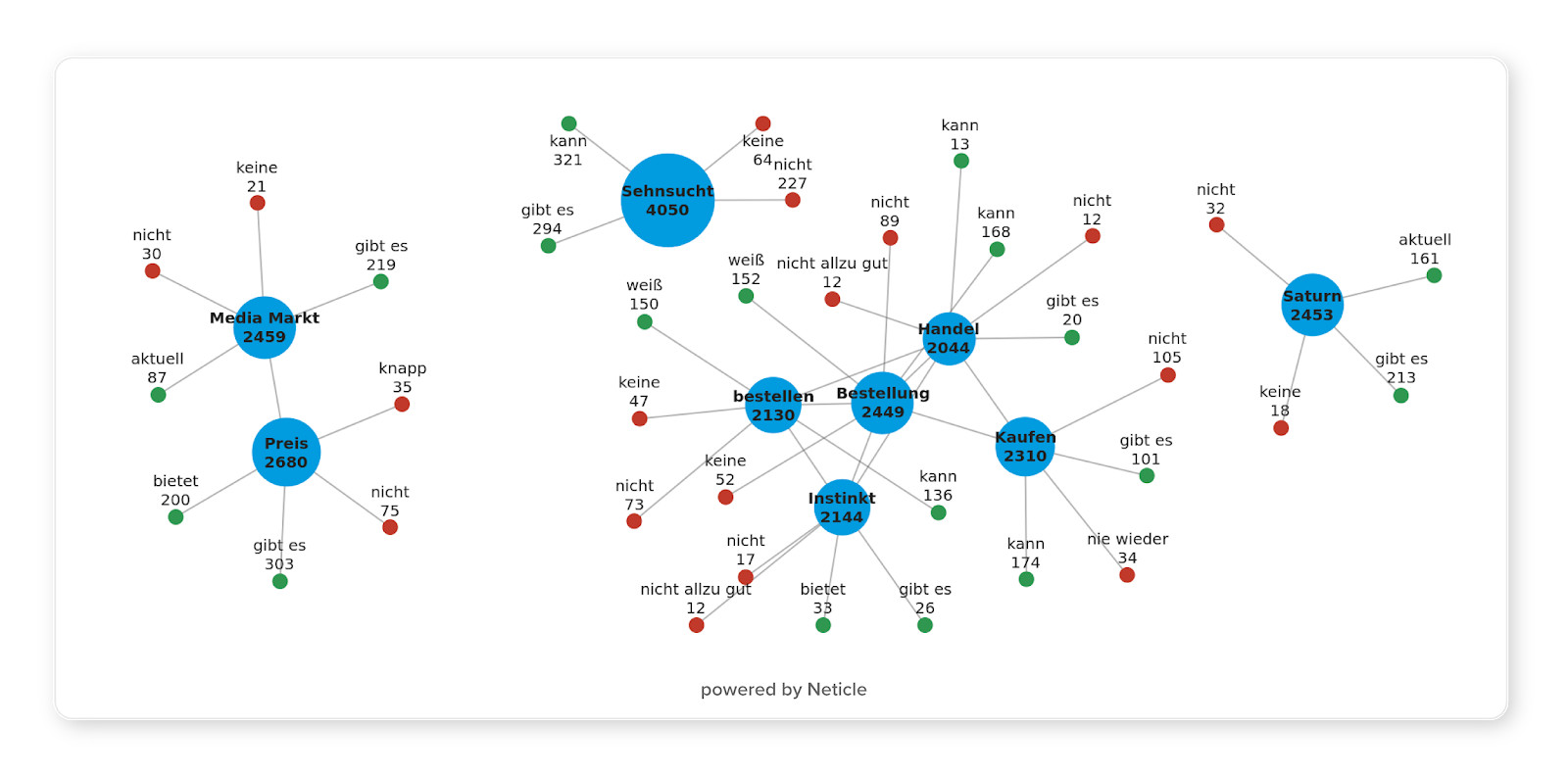 Those two also show up very clearly in the key attributes of products, and the good news is that Notebooks Billiger did very well in this regard with an overwhelming positive mention ratio.
Saturn on the other hand had a bit of negativity here, and also related to customer service.
Conrad stands out with the word 'Form' because they had a giveaway where users had to guess a product called 'Stadler Form Peter Turmventilator', hidden in a picture.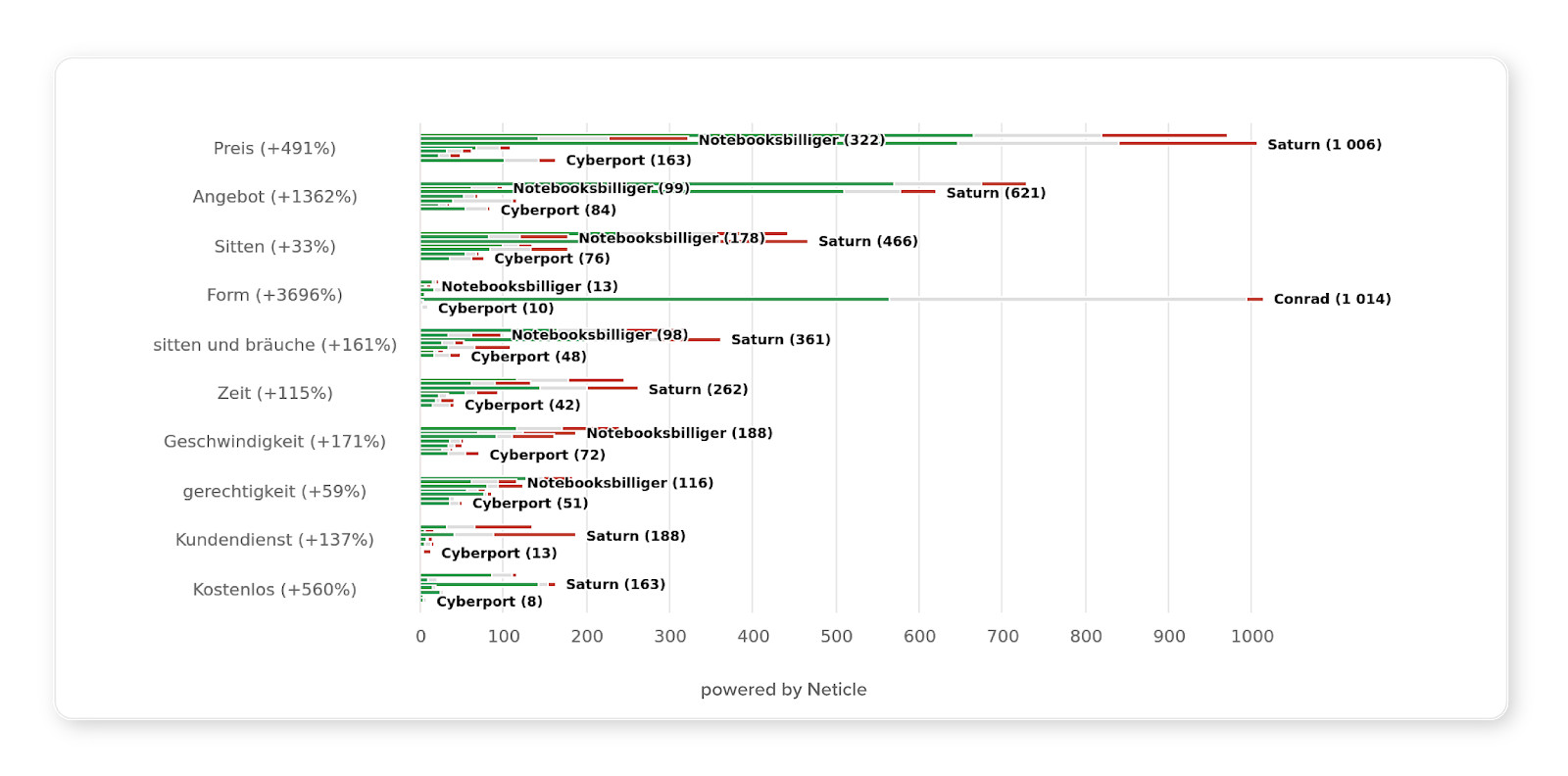 Since ordering is among the key topics, in attributes we find time and speed to go with it.
Customers were quite passionate about them, and here Saturn made up for the negative opinions: satisfaction around delivery was much higher for them than around prices.