Croatia is a country located on the Balkan peninsula. It is one of the countries that is more and more often a holiday destination for many Europeans. Croatia shares a border with Bosnia and Herzegovina, Montenegro, Hungary, Slovenia, and Serbia. This country has access to the Adriatic Sea. It has been a member of the European Union since 2013.
Although the former Yugoslavia countries have so far struggled with their history's economic consequences, the Croatian is doing relatively well compared to other countries. Tourism has made a huge contribution to this situation. Croatia's GDP in 2019 was US$ 60.42 billion.
Croatian ecommerce overview
Ecommerce in Croatia has a big room for maneuver. In 2020 it is forecasted to reach US$725m. And in five years, with the height of the annual growth rate at the level of 9.3%, its market volume is projected to hit US$1,134m. There are over 2 million of ecommerce users in Croatia, which means that user penetration stands at the level of 54.8%, but in 2025 it may reach even 65.8%.
The largest segment in Croatian ecommerce is Fashion. It accounts for 42% of the ecommerce revenue of this country. This is followed by Electronics & Media with 23% and then comes Food & Personal Care with 13%. The last two are Toys, Hobby & DIY with 12% of Croatian ecommerce revenue and Furniture & Appliances with 9%.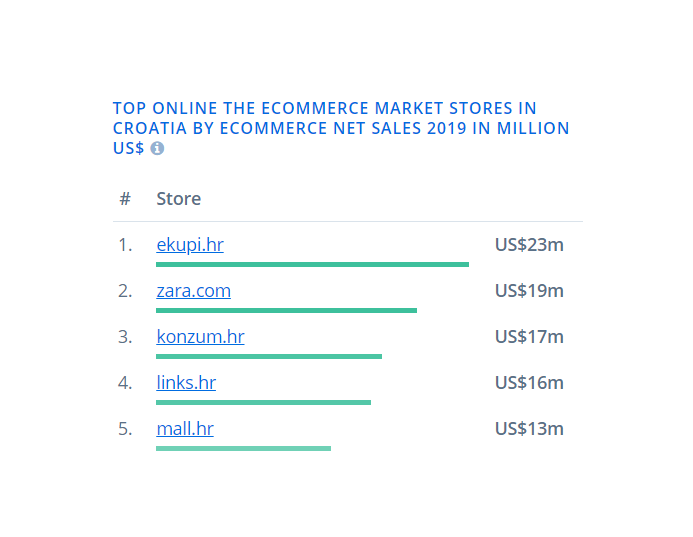 source: https://ecommercedb.com/en/markets/hr/all
The most popular ecommerce is ekupi.hr – Croatian ecommerce marketplace with US$23m of net sales in the previous year. The second place belongs to Zara with US$19m. It is following by koznum.hr – a popular Croatian supermarket with US$17m of net sales.
Consumer behavior in Croatia
Croatia is the second most economic wellness country in the Balkans. Nevertheless, for Croats, the price is the most significant purchasing determinant. They are also wary of new brands on the market. After years of economic recession, Croatia has finally recovered, and its citizens can increase their household spending.
Croats appreciate local brands and support local entrepreneurs. Their culture and products associated with it are very important to them. However, this trend is not reflected in online shopping – on the Internet, Croatians are choosing international brands more and more often.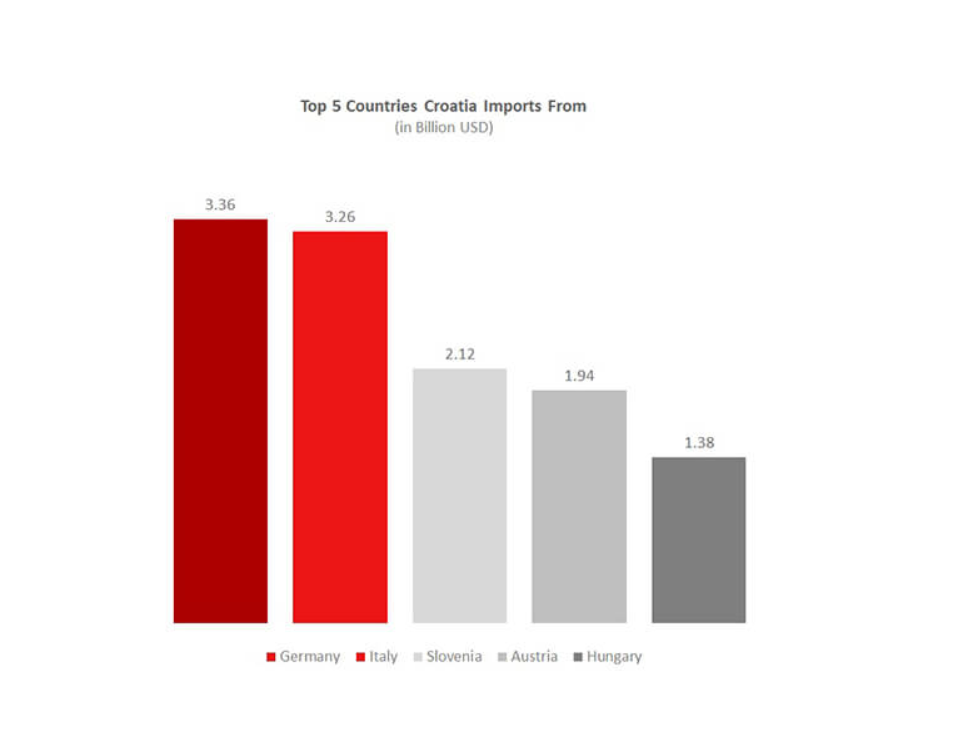 source: https://learning.eshopworld.com/ecommerce-blog/croatia-ecommerce-insights/
When it comes to cross-border shopping Croatians, choose Germany the most often. Their purchase value hit US$3.3 billion. The second place here belong to Italy with US$ 3.26 billion and then comes Slovenia with a much lower score – US$2.12 billion. The last two are Austria with US$1.94 billion and Hungary with US$1.38 billion.
Payment methods in Croatia
One of the most popular ways of payment is by credit cards. Such financial global giants like Visa, MasterCard, Maestro, American Express, and Discover provide their services in Croatian. Thanks to them, international business payments are no longer a problem.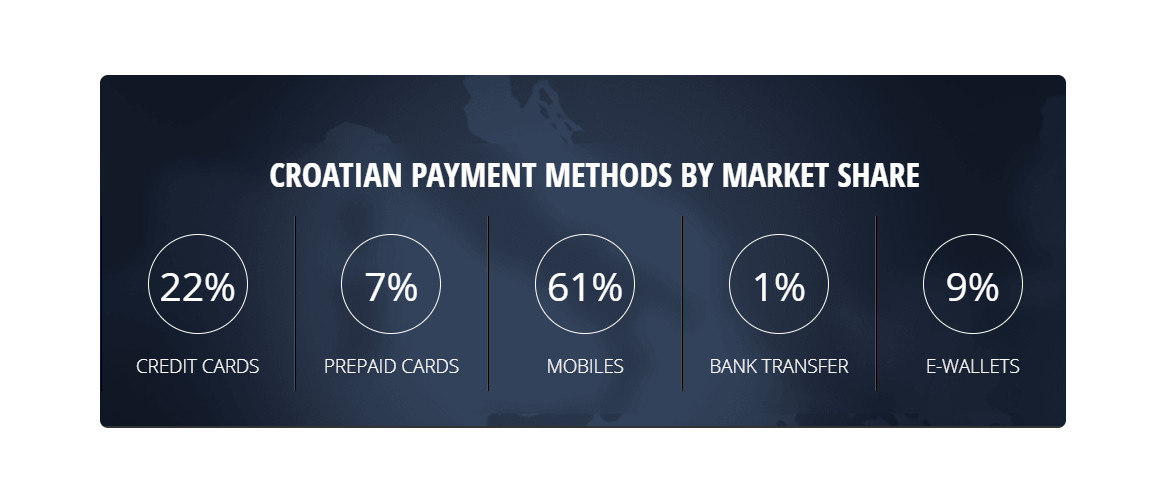 source: https://www.paymentwall.com/pl/payment-methods/croatia
Speaking of Croatian payments, we can not omit Mobiano, which allows mobile payments. This kind of payment covers 61% of transactions in Croatia. It is now present in over 60 countries. There is also MINT – prepaid cards which allow Croatians to do shopping worldwide. When it comes to digital wallets – PayPal runs this market offering both individuals and business payments.
Social media in Croatia
There are over 3 million Croatians online, and 2.10 billion use social media actively. It means that over half of the Croatian population is present on social media. Almost every user (97%) uses social media via mobile, so it is important to provide mobile-friendly content.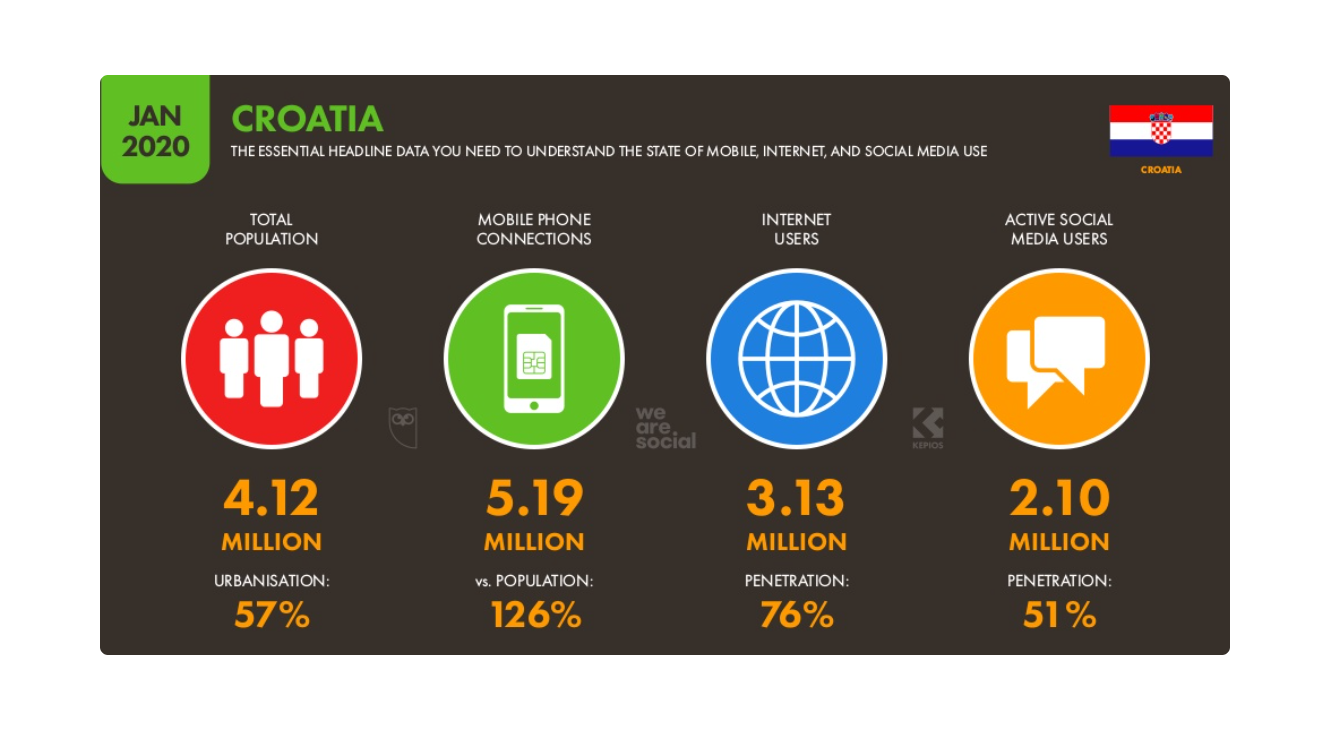 source: https://datareportal.com/reports/digital-2020-croatia
Social media has the most fans across the 25-34 age group. Then comes Croatians aged 35-44 and 18-24.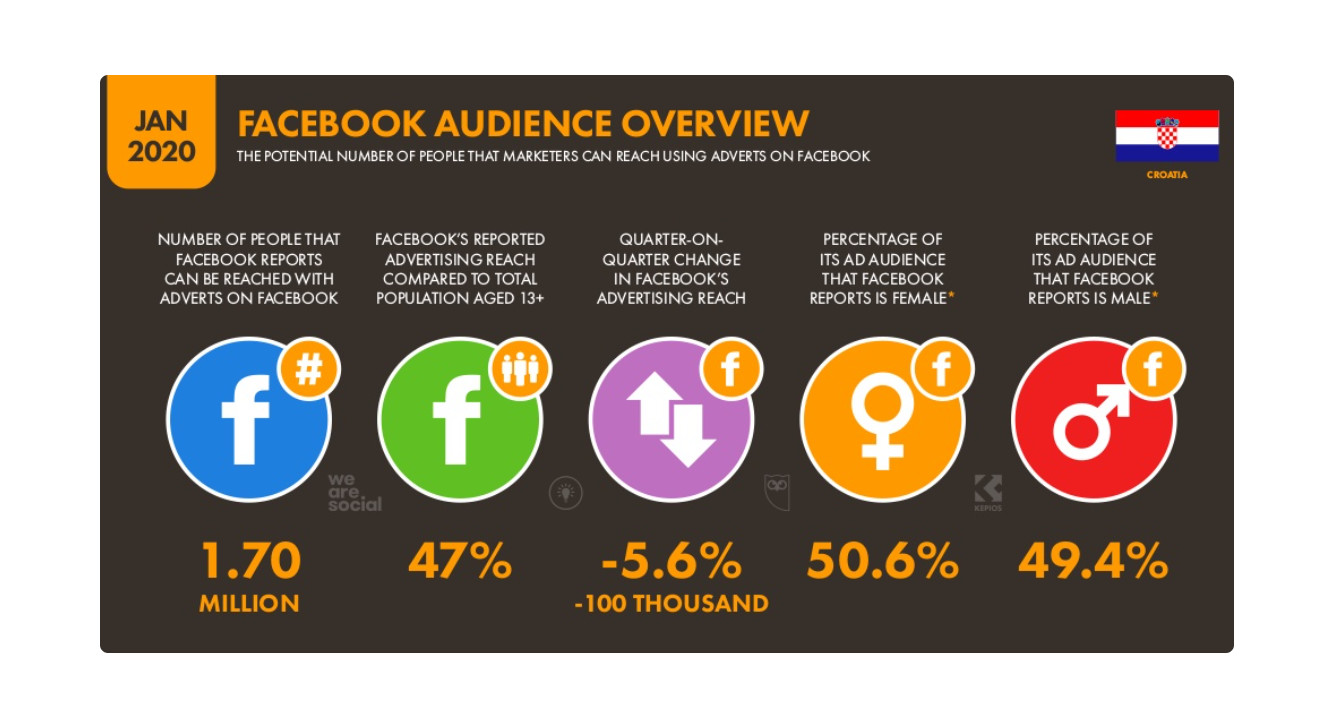 source: https://datareportal.com/reports/digital-2020-croatia
When it comes to ads' reach – Facebook is the leader here. Thanks to Facebook Ads, you can reach even 1.70 million users. Also, Instagram has a wide scope – thanks to the advertisement via this platform, you can get to 1.20 million users. The third-place belongs to Linkedin – you can reach 630 thousand people thanks to this platform. What is interesting, there is over a 1% increase in Linkedin advertisement reach, compared to 2019.
Croatian logistics
Croatia's infrastructure has improved significantly in recent years. It has as many as seven airports, and all of them can accept wide-body planes. Due to Croatia's landscape, tunnels are a popular solution that smoothes traffic and reduces travel time. The longest of them, Mala Kapela, is 5821.77 m long. 
source: https://trimis.ec.europa.eu/sites/default/files/project/documents/Transport%20and%20Logistics%20in%20Croatia%202010%20PDF%20compact.pdf
There are a few major railways in Croatia, making this country connected with its neighbors very well. They are routes from Zagreb to Vinkovci (and on to Belgrade, Serbia) and from Zagreb to Osijek via Koprivnica or via Strizivojna-Vrpolje(Djakovo). Another two are from Zagreb to Rijeka and from Zagreb to Split.
All of them connect the capital city Zagreb with other big cities in Croatia or lead to its borders.
To wrap up
Ecommerce is still relatively something new for Croatians, so there is a space for new companies. Croatia is a fresh market for the ecommerce industry, and we have hope that, thanks to our overview, you have gathered some valuable information about this market.
If you are interested in other countries' ecommerce overview here, you can find some information about Benelux countries, Spain, or Scandinavian one – Finland.