Finland is one of the Scandinavian countries. It borders Sweden, Norway, and Russia. It has access to the Baltic Sea. Finland's GDP in 2019 stood at a level of US$237.69 billion.
Its economy is doing well but how about ecommerce? Is it popular among Finnish consumers? How about consumer behavior? We will cover these and many more aspects below.
Finnish ecommerce overview
Revenue in Finnish ecommerce is projected to reach US$5,686m this year. In five years it is forecasted to hit US$6,922m. In Finland, almost 4 million people do ecommerce shopping, which means that user penetration in 2020 will cross 69% and by the end of 2025 it is forecasted to reach 73.5%.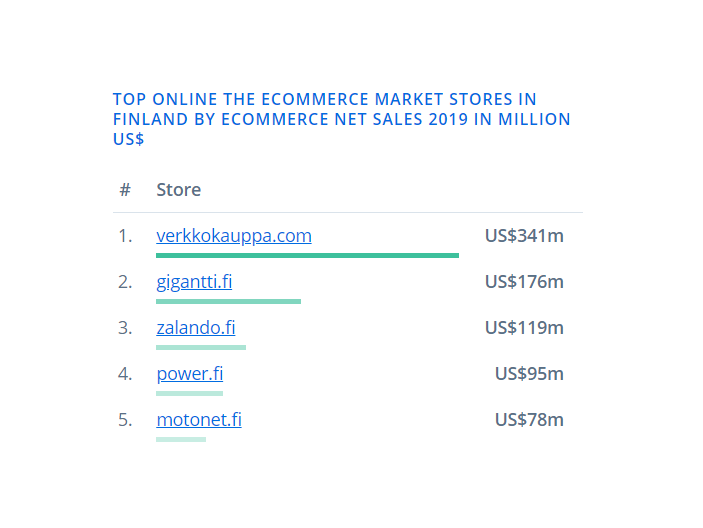 source: https://ecommercedb.com/en/markets/fi/all
The biggest ecommerce in Finland is verkkokauppa.com, a Finnish marketplace. Then comes gigantti.fi, store with electrical appliances. The third-place belongs to fashion giant – Zalando, based in .fi domain.
The largest sector in Finnish ecommerce is Toys, Hobby & DIY, which generates 29% of the ecommerce revenue in Finland. The second place belongs to Electronics & Media with 24%. It is following by Fashion with 23% of revenue. And the last two – Furniture & Appliances with 16% and Food & Personal Care with 8% of Finnish ecommerce revenue.
Consumer behavior in Finland
Finland is a society that can certainly be called a consumer. The main factor influencing the willingness to buy is quality. The origin of the product or brand is also important. The Finnish are also looking at whether a given product complies with European standards. It is proof of quality for them. Prices in Finland are quite high, making the average shopping cart more expensive. The e-commerce sector is constantly developing and accounts for up to 10% of all purchases from retailers. Finns use the intent not only to shop but also to compare prices.
Domestic products are in demand, one product of global brands is gaining more and more fans. For these consumers, user experience is very important therefore if you want to conquer the Finnish market you have to take care of it.
Ecology is becoming an increasingly important factor influencing the purchasing decisions of Finnish consumers. Sales of food and organic products are growing. Respect for the environment is very important to Finns. The second-hand market, including the Internet market, is also growing.
source: https://learning.eshopworld.com/ecommerce-blog/finland-ecommerce-insights/
Where do Finns shop? The most popular country to do cross-border shopping is Germany – US$10.2 billion of purchase value. Then comes Russia with a little lower score – US$10 million. The third-place belongs to Sweden – US$7.56 and then comes China with US$4.93 and the Netherlands with US$4.74.
Payment methods in Finland
In Finland, banks transfer dominates the payment market. Verkkopankki is a bank transfer system that has won the hearts of Finnish consumers. As many as 76% of Finns believe the possibility of making direct payments with the bank is very important. Despite the clear favoring of bank transfers, banks are trying to diversify their payment offer. Consumers are afraid to pay with cards for online purchases because it requires providing data – 16% of Finns cite precisely concerns about the security of data in terms of preferred payment methods.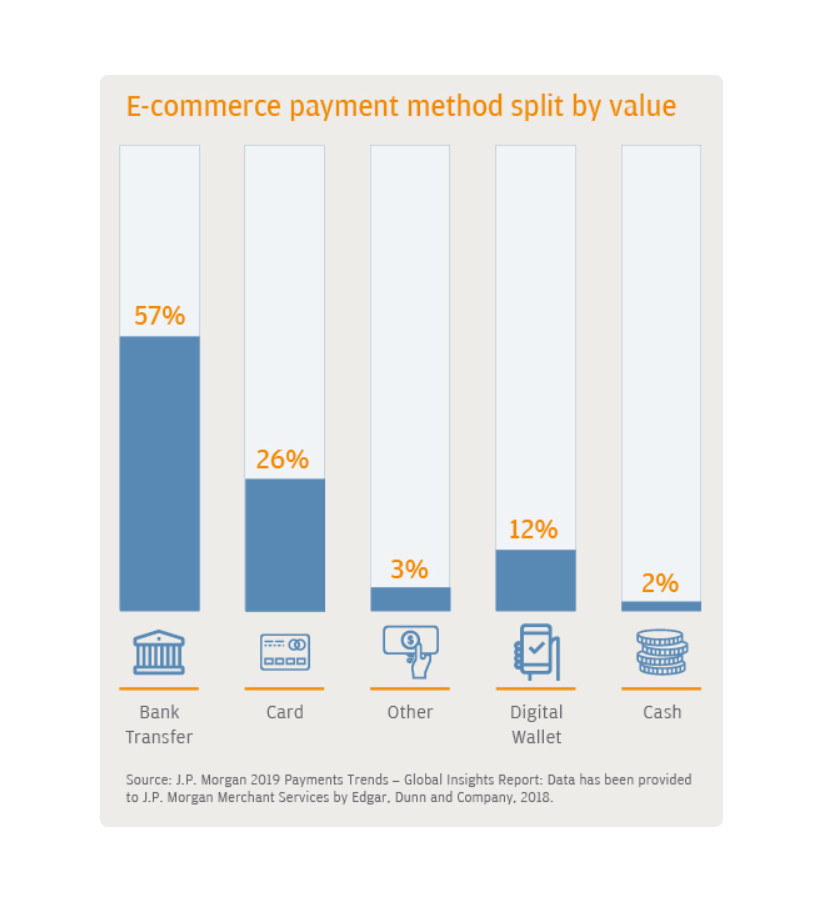 source: https://www.jpmorgan.com/merchant-services/insights/reports/finland
Finns are very distrustful about payment and their data. Unfortunately, this is due to the increase in this type of crime in the country.
Digital payments are implemented gradually – digital wallets account for about 12% of payments. PayPal dominates in this field – it covers 10% of payments in e-commerce.
Finnish social media
There are over 5 million Internet users, of which around 3.3 million are active in social media. Every year there is an increase of about 0.2% in the number of Internet users. When it comes to web traffic, more than 40% of it is generated from mobile devices.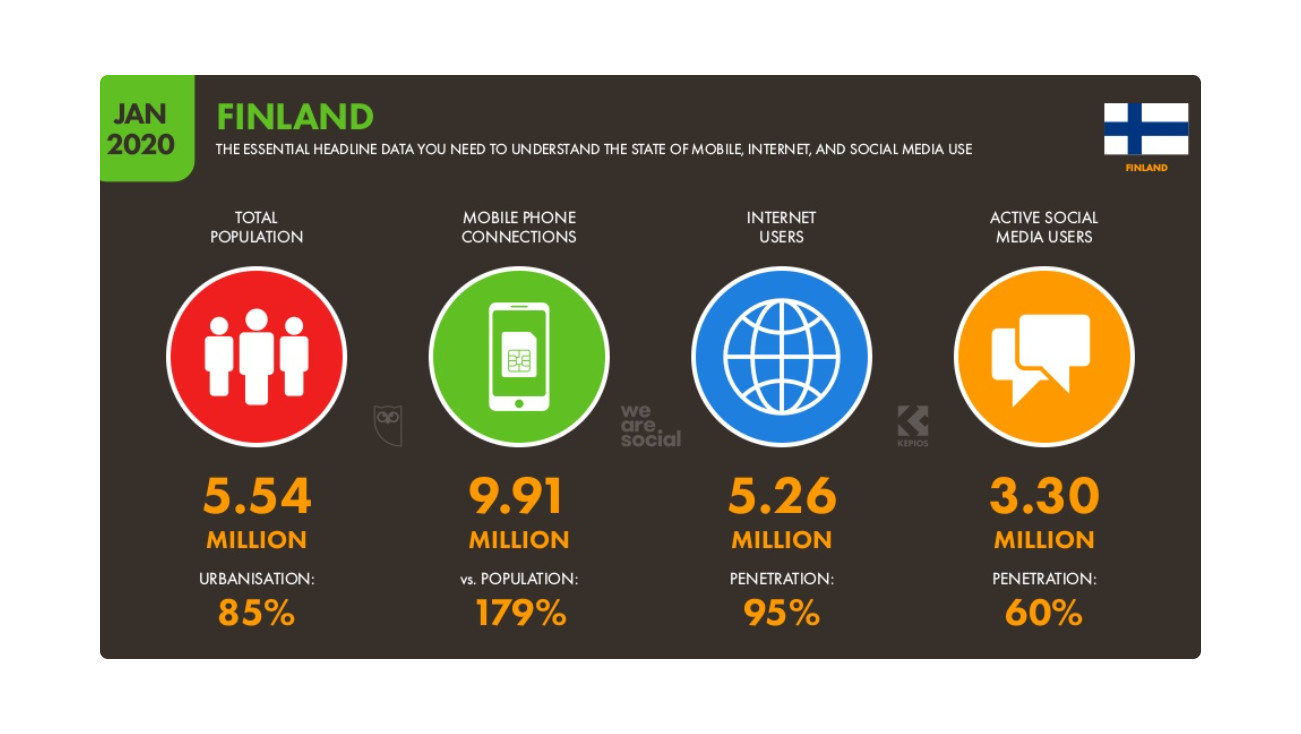 source: https://datareportal.com/reports/digital-2020-finland
Around 60% of Finland's population uses social media. The biggest age group here is 25-34 years old.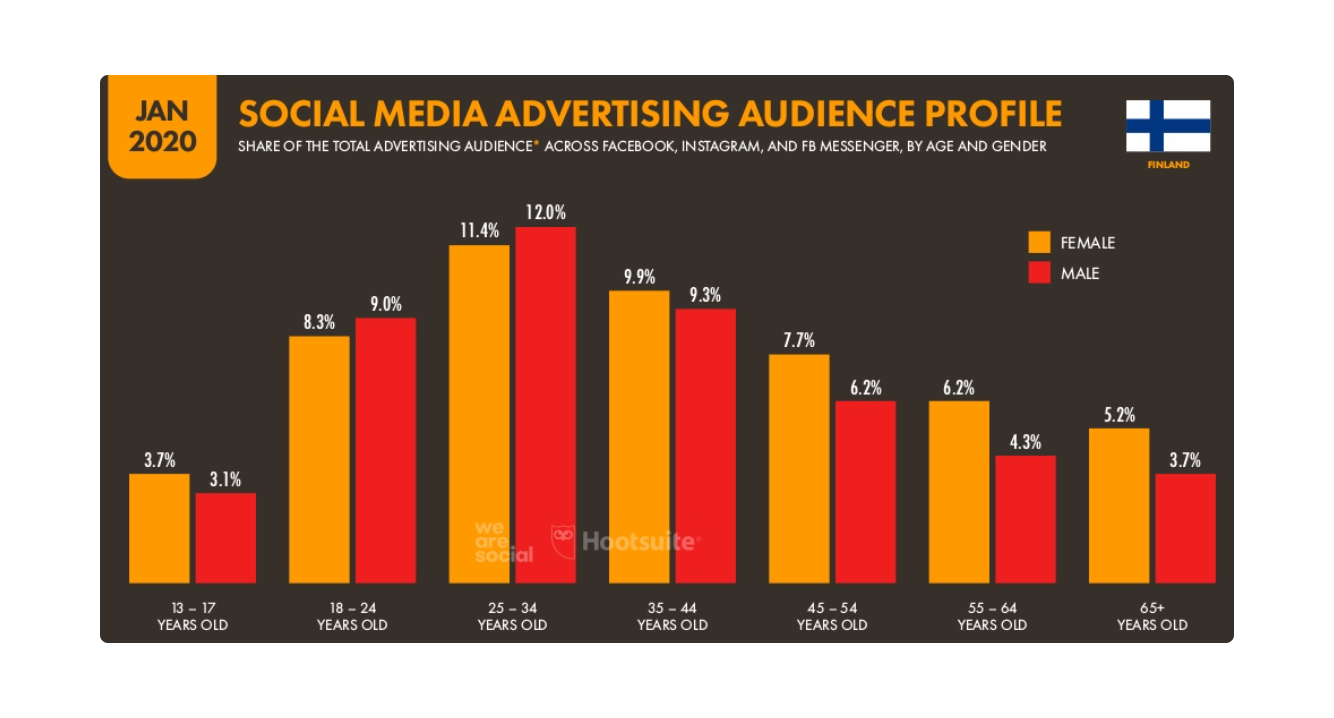 source: https://datareportal.com/reports/digital-2020-finland
Thanks to Facebook Ads you can reach 2.70 million people. Thanks to Instagram – 1.90 million and via Twitter advertising 773 thousand people. It may pay off to be present on social media.
Logistics in Finland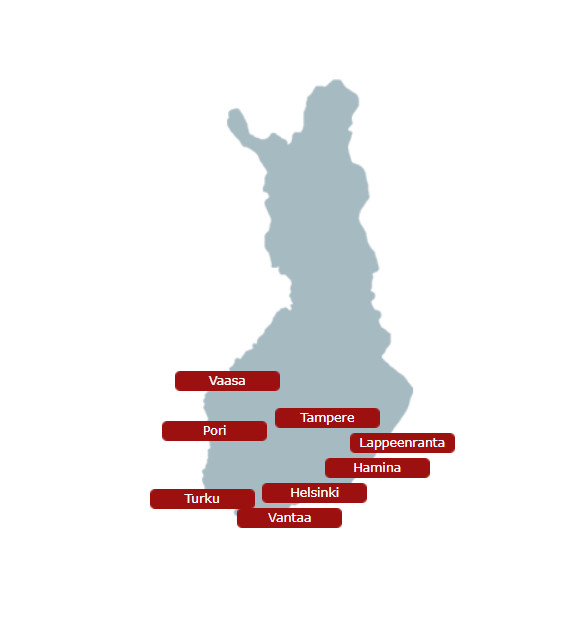 source: https://www.logisticsfinland.com/
Due to landform and also climate, logistics is concentrated in the southern part of the country. Companies provide logistics & supply chains, logistics management, 3rd party logistics services, freight forwarding, packaging, warehousing, storage, and distribution, corporate logistics, and pallet trucks.
When it comes to delivery the most popular are DHL, UPS, and GLS. The first one is present in 14% of retailers; offer. UPS takes 12% and GLS 6%.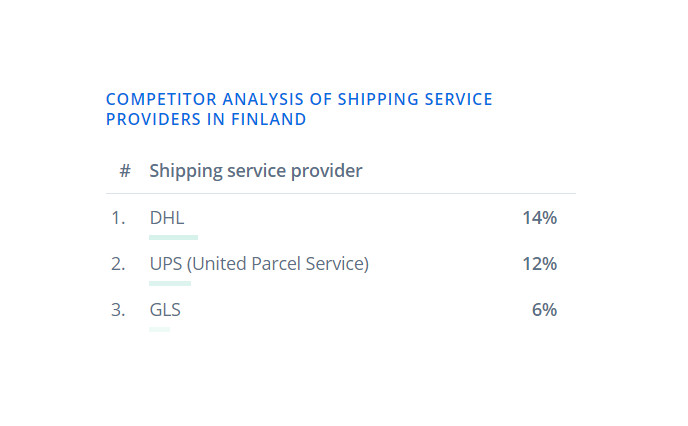 source: https://ecommercedb.com/en/markets/fi/all
To sum up
Finnish ecommerce has a big potential still. There are some similarities to other Scandinavian countries but there are also differences. If you are into the Scandinavian market there are also articles about Sweden, Norway, and Denmark.
We have hope that thanks to this piece you have gathered some valuable insights about Finnish ecommerce.