With contribution from industry thought leaders:
In Germany, e-commerce is developing rapidly, with 83% of Germans making at least one online purchase per year. So how many individuals in Germany engage in online shopping? With a population of almost 84 million, about 69 million Germans purchase online; this is a sizable market with lots of potential.
And how frequently do Germans buy online? According to Statista, in 2020, 31% of German consumers made at least one online purchase per month, and 29% did so at least once per week. There is no denying that Germans enjoy internet shopping; if done correctly, investing in this industry can be very successful.
And with ecommerce being so successful in Germany, new online trends are rising. These trends include Fashion & Beauty and Home & Living. However, with recent trends come new expectations. In this article, you can learn what merchants need to know about succeeding in the Home & Living online market in Germany.
Compared to other product categories in Germany, online sales of Home & Living products seem to be growing relatively slowly. Some questions require answers you can't get from the screen. Do the colors go with my house? Is it comfy to sit on the sofa? Are the pillows made from soft materials? Many customers are still lured to offline locations offering a touch-and-feel experience when fitting their homes with new furniture and accessories.
The German ecommerce segment takes a similar proportion of sales as the worldwide average for the Furniture & Homeware sector. Compared to countries like China, where the online share of this market reached approximately 50%, Germany is still relatively offline-focused. For example, in 2020, just 14% of the Furniture & Homeware market revenue was generated through internet sales channels in Germany.
Although, after the COVID-19 pandemic hit the world, German consumers began to embrace the idea of shopping for home goods online, this trend reversed. German consumers have partially returned to buying furniture in store rather than online. As a result, Home & Living marketplaces had to adapt to these dynamic changes and include solutions for all consumers. Digital technology's pervasiveness in our daily lives is reshaping the global economy: whether we're working or shopping, the digital world now facilitates everything we do and how we interact.
Rapid online growth in Homewares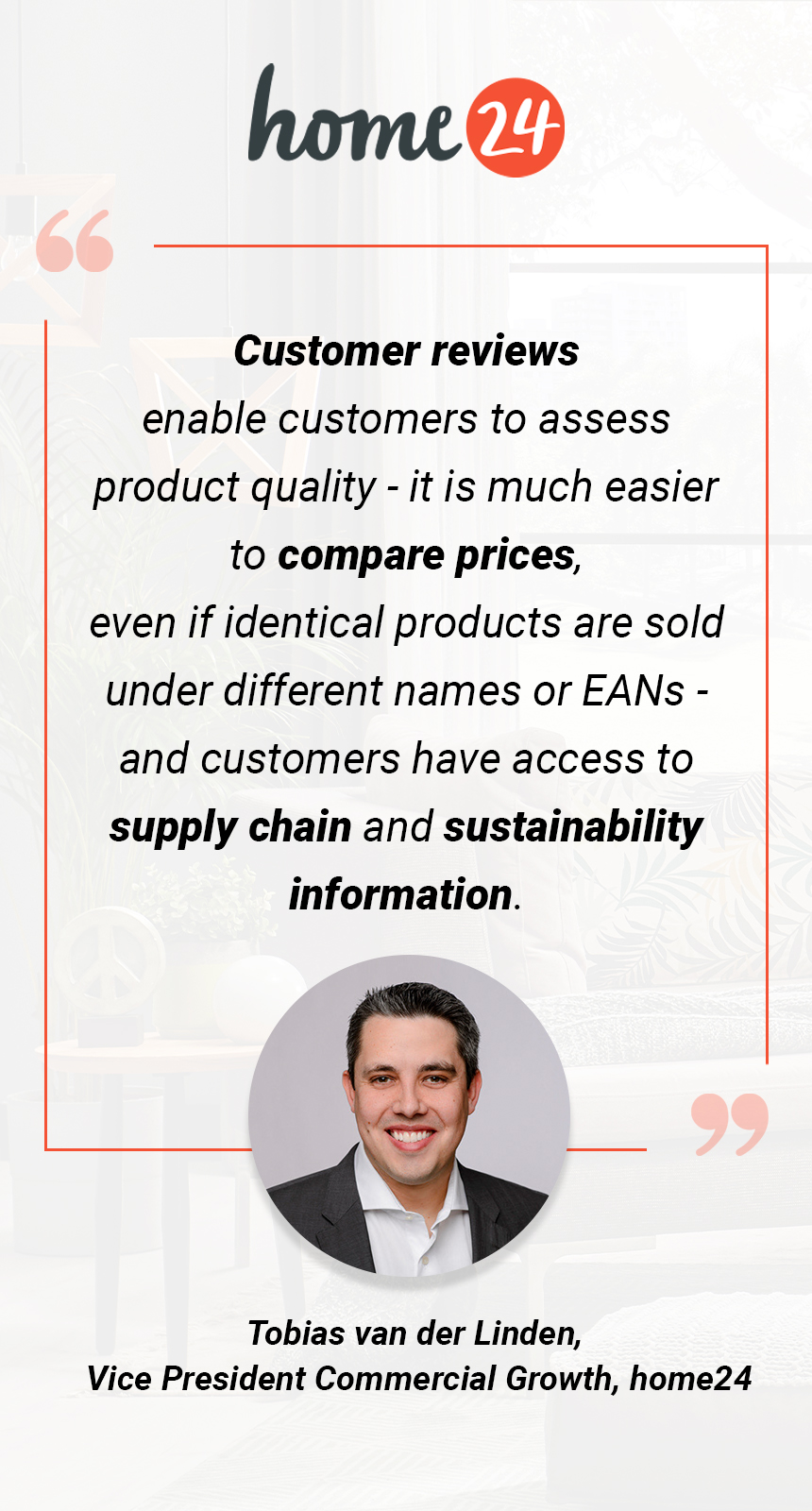 Online sales are growing fast in the Home and Living industry, and they currently make up 42% of the world's growth of online sales in the Home and Living market from 2021 to 2025. Germany alone brought in revenue of $15 billion in 2021, accounting for 14% of the country's overall eCommerce market.
Furniture & Appliances is the fourth-largest sector in Germany. The market's revenue increased by 15% over the previous year. A 7% compound annual growth rate (CAGR 21–25) for the subsequent four years is expected.
The Home & Living market in Germany is very diverse, with sellers and consumers benefiting from a growing assortment of new marketplaces and emerging platforms. These range from familiar horizontal marketplaces, which offer every category of product imaginable, to more focused verticals and platforms that distinguish themselves by specializing in Home and Living products and curated collections.
What's driving Home and Living consumers to shop on marketplaces?
#1 Trust
Marketplaces and platforms offer consumers a familiar and secure shopping environment they know and trust. Home and Living sellers and Home Decor stores can further leverage this information-rich environment to distinguish themselves based on their unique selling points, such as ethical issues or production techniques.
#2 Sustainable choices
According to Tobias van der Linden, Vice President of Commercial Growth at home24,
"Consumers increasingly care about their impact on the environment and want to know where products are produced, under which circumstances, and with what raw materials. But this goes much further. First retailers and manufacturers are now measuring and publishing their CO2 footprint and smart and sustainable solutions for customer returns and overstocks being introduced."
With so many ways of connecting customers with the products they desire, it is becoming possible to reach entirely new reservoirs of customers. The opportunities for Home and Décor brands have never been this good. But they rely on being able to provide detailed information and transparency about environmental impacts and sustainability.
#3 Exceptional digital experiences with AR and 3D content
Many large brands have invested heavily in converting their ecommerce offering into an exceptional customer experience.
The shift toward online shopping has also brought new ways of browsing and discovering styles. Visual searches, social media, dedicated apps, and Augmented Reality or Virtual Reality (AR/VR) content are significant drivers for ecommerce in the Home and Living sphere.
Many of these technical capabilities (such as AR or VR) may seem out of reach for independent brands. Still, there is substantial value in forming strategic partnerships when there is a clear business argument.
Technical partners can enable brands to access the benefits of these technologies without needing to 'start from scratch themselves, for example. Additionally, more brands are forming new strategic partnerships with retailers and Home and Living platforms to offer 'white label' products, which include part of the retailer's range.
#4 Shopping across different brands and assortments
As in other sectors, online marketplaces are leading the way in Home and Living ecommerce. Customers routinely use these platforms to browse homewares across numerous styles, brands, ethical values, and delivery options.
They offer consumers the 'endless aisle' of choices they demand, combined with easy-to-access product information and reviews. This information empowers consumers with the confidence to make the right buying decisions. Increased trust leads to more sales.



Competitive Battlegrounds: Differentiate to succeed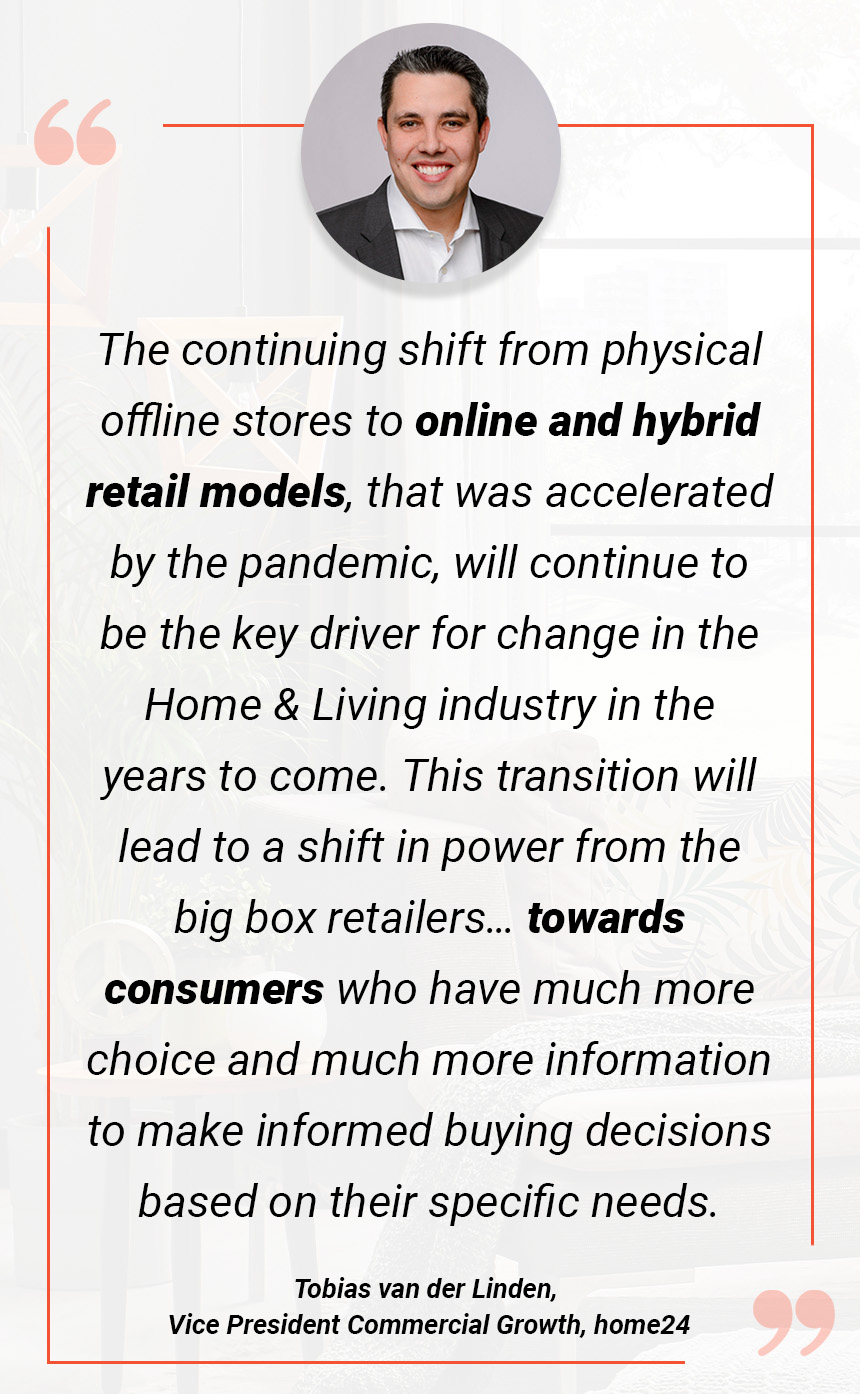 The German Home and Living market is characterized by solid online growth and rapid proliferation of new platforms. Across Germany, there is a diverse selection of marketplaces and specialized verticals, and new players are entering the market every year.
From 2021 to 2025, a remarkable 42% of the world's online Home and Décor sales growth will come from Europe. As marketplaces and brands seek to capitalize on this sales growth, we can see some exciting trends emerging in this area.
Omnichannel fulfills a vital consumer need
Consumers are motivated by choice and convenience, and online-only doesn't wholly fulfill this need. Omnichannel shopping and hybrid-model retail offer customers the ability to see products in-store and have them conveniently delivered at home – or vice versa. Brands that can offer this customer experience have a competitive advantage.
"I strongly believe in hybrid models where customers can, for example, test a sofa or a bed in a centrally located showroom or shop, which is then conveniently delivered right into their homes, combined with a strong online presence with an extensive complementary product offering and excellent customer service. Such combinations allow for a holistic shopping experience that neither an online nor an offline mono-channel retailer can offer."
– Tobias van der Linden, Vice President Commercial Growth, home24
Choice and assortment lead the way for future growth
The level of choice in Europe for consumers of Home and Living products is exceptional. There are some excellent marketplaces and platforms with a strong focus on Homewares and Decor in Germany. These include Otto, Wayfair, Naduvi and home24.
Consumers are drawn to these marketplaces by the broader assortments on offer. This choice drives improved conversion and sales for all the brands involved – demonstrating that competition can be an advantage in marketplaces.
Home and Living shoppers enjoy being able to create their collections, adding to their shopping basket from a variety of brands and manufacturers. As many of these platforms use AI-based insights and suggestions to offer 'compatible' or 'similar' products automatically, it has become much easier for brands to access cross-selling opportunities.
Gaining an operational advantage with partnerships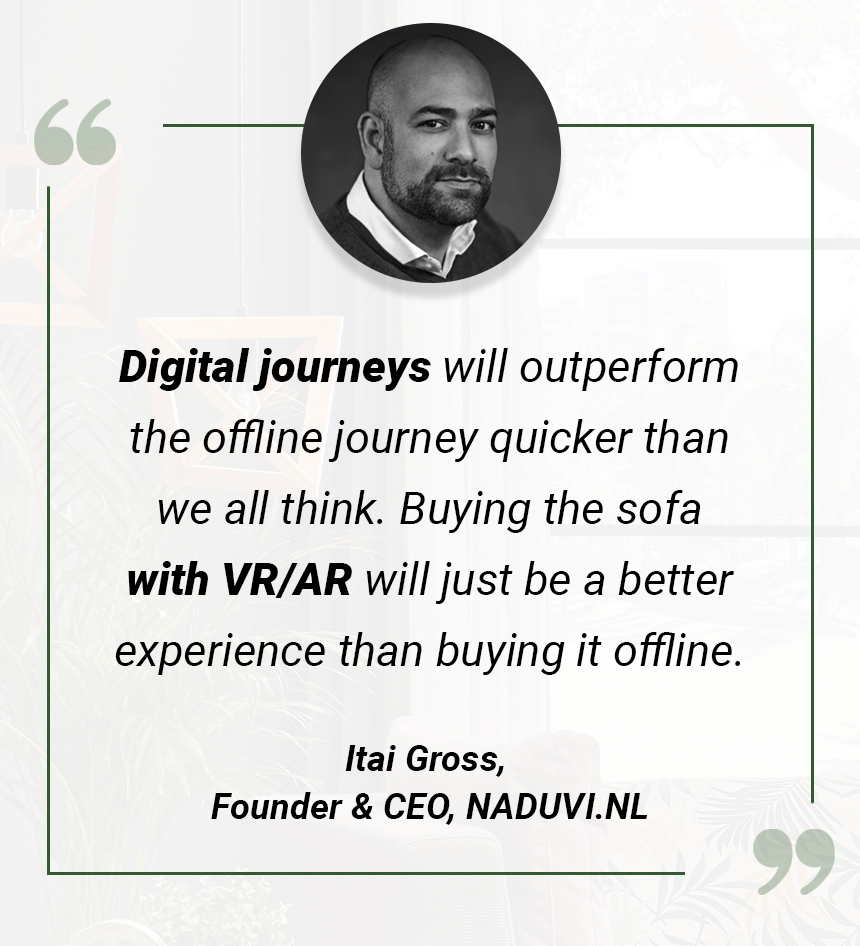 Home and Living brands have unparalleled opportunities today and considerable challenges. As the online segment becomes more important for winning sales, brands must ensure they have the operational capabilities to compete.
Great designs are no longer enough; visibility and agility are now essential survival traits. Partnerships can help you achieve these.
Many brands are now leveraging technologies such as AR/VR and immersive shopping experiences to differentiate themselves to increasingly digital consumers. Digital-savvy brands also utilize the connections between social media trends and buying patterns.
Smooth running: Partnerships that optimize operations
Integrating technological solutions into your business model is vital in meeting these challenges. Technical solutions can help brands by using insights to optimize their assortment and react to new trends. They can also streamline the processes to handle orders and deliver the products.
Using an integration partner is a strategic approach to future-proofing an organization by adding new technological solutions. These partnerships can leverage established expertise and industry contacts. This has a substantial value in connecting and integrating with marketplaces and linking your operations to strategic partners, such as warehousing and third-party logistics/fulfillment.
Integration partners can help to streamline backend processes, and strategic partnerships can leverage those data connections to empower warehouses and carriers to deliver goods across more expansive geographic areas.
When used the right way, technology can also help protect the market position of your brands by controlling pricing and facilitating promotions. But it needs to be easy. Technological solutions only deliver value when they decrease the burden with intelligent, automated processes that streamline and simplify.
Conclusion
Home is where you can be comfortable; with all the textures, fabrics, designs, and fixtures that make us happy. Experiencing these is inherently tactile and physical, but how we buy these goods is shifting rapidly. Consumers of home furnishings and décor increasingly shop using digital and online methods.
Online sales lead to market growth
Strong drivers for the shift to shopping online for Home and Living products exist. These include the increasing significance of millennial consumers (who shop online by default), increasing urbanization, and the dominating influence of social media.
All of these paint a picture of an 'average consumer who has disposable income, prefers to shop online, prefers or requires home delivery and is motivated by aspirational and inspirational social media trends. And fulfilling those social-media-fueled home aspirations is just a click away.
Consumers are following their hearts.
Sustainability and ethical concerns are driving buying decisions now more than ever. This is just one criterion that might be used when buying, but marketplaces give consumers the ability to make selections confidently. The information, reviews, and trust in marketplaces make them more likely to place an order via a marketplace than a dedicated webshop.
Additionally, marketplaces allow consumers to create their collection in their shopping basket without being limited to a single brand or having to make compromises on their essential ethical considerations.
Digital-first means investing in technology and partnerships
To stay ahead, brands and retailers must proactively seek, evaluate and deploy technological solutions. These can help maintain and grow their market position with the lowest threshold or commitment to investment.
The digital journey is now the primary way that consumers experience your brand. However, merchants must focus on their strengths and adopt innovative technologies and strategic partnerships. These can save a lot of time and money in the long term and help to get it right from the very start.
In conclusion, there are several exciting newcomers and existing marketplaces to sell more online for your home & deco brand. To choose the right one, you need to think strategically about your goals, customers, opportunities, and considerations. Working with an established marketplace is a great way to expand your sales and brand without taking on the level of risk and complexity of going it alone, but make your decisions carefully.



Does this sound like a good opportunity to expand your business?

Request a demo from our partner, ChannelEngine, and see how to make a smooth connection to some of the most promising fashion marketplaces.

They also prepared a video for you!