Signalize, a free push notification solution, recently released the Benchmark 2021 in Push Notification Marketing for the DACH region. The report is based on a representative sample of 25 million opt-ins and 50 million push notifications sent via the Signalize platform in DACH (Germany, Austria, Switzerland) 2020.
Push notifications are clickable short messages sent from a website to site's visitors who have previously opted-in for receiving them. Recipients get the notifications directly on their screens, even if the website is not opened in a browser. Push notifications are supported by all major browsers on both desktops and smartphones. The highlight: similar to Whatsapp or SMS, push notification are also displayed on the mobile phone's lock screen. Hence, push notifications do not drown in the e-mail inbox but are highly eye-catching. This makes push notifications a very effective addition to email newsletters to retarget prospects with new content or special offers in order to drive them back to the website. 
The Signalize Benchmark Report DACH 2021 shows how effective push notifications are. According to the report, sign-up rates of over 7 percent and click-through rates of over 3 percent can be achieved on average. In peak even, sign-up rates of almost 30 percent and click-through rates of over 20 percent are possible. Using e-mail marketing, on the other hand, click rates are not even half as high on average. The effectiveness of push notifications compared to e-mail is even more impressive considering that on average only every fourth mail is opened and the click rate is based on opened mails only. Push notifications should therefore have a prominent role in the marketing mix, even if other marketing channels are more in the headlines.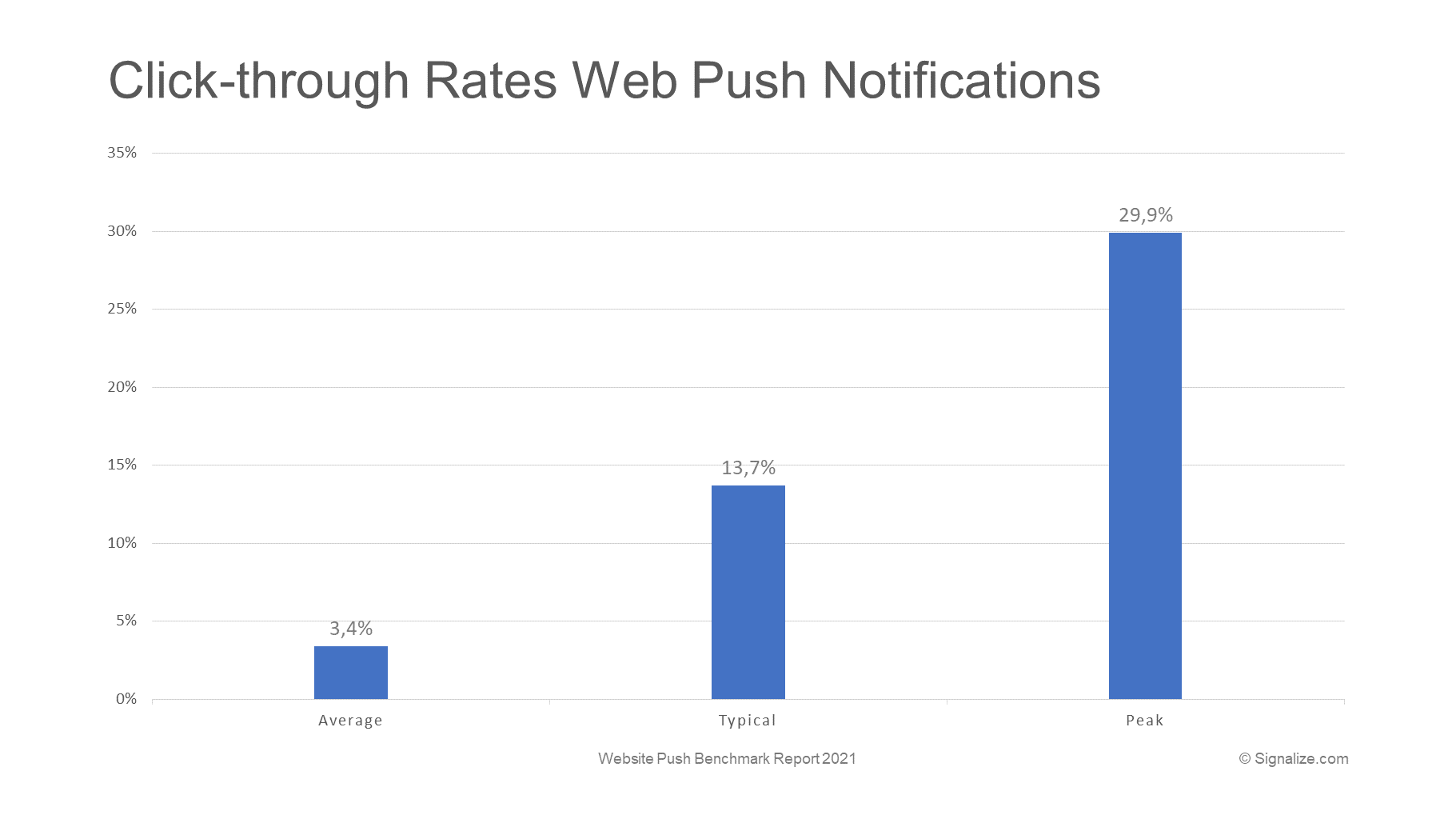 The Benchmark Report not only provides orientation for evaluating the success of a company's own push notification marketing activities, it also gives valuable tips and practical suggestions for optimizing the most important KPIs. These include, in particular, the opt-in and click-through rates.
Push notification's success largely depends on audience size. An important key to ensuring high opt-in rates lies in the design and handling of the opt-in dialog. These 10 insights derived from the benchmark results will help to achieve the highest possible sign-up and conversion rates: 
1. Use the own domain to invite for web push notifications. 
Three times more subscriptions are achieved through the own domain than through a sub-domain. In order to send notifications via the own domain, all one needs to do is to place a special file in the main directory of the website. A small effort with a big effect!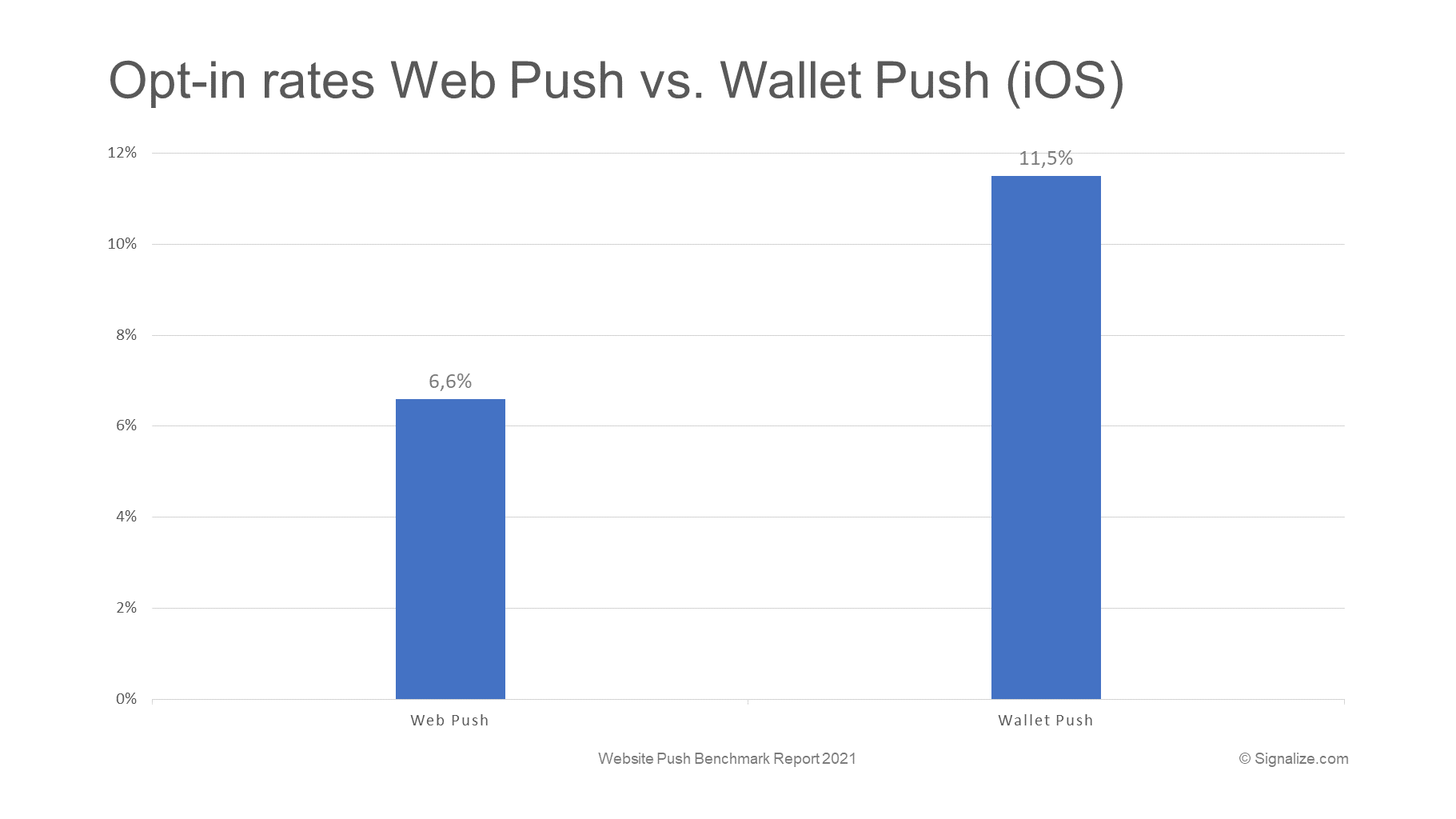 2. Use wallet push to reach iOS users as well. 
Most users are mobile nowadays. Web push notifications are supported by all major browsers on desktops and smartphones, but not on iOS devices like the iPhone. To reach iOS users wallet push notifications are a great supplement to regular web push notifications. After all, the sign-up rate for wallet push is almost double than for standard web push notifications.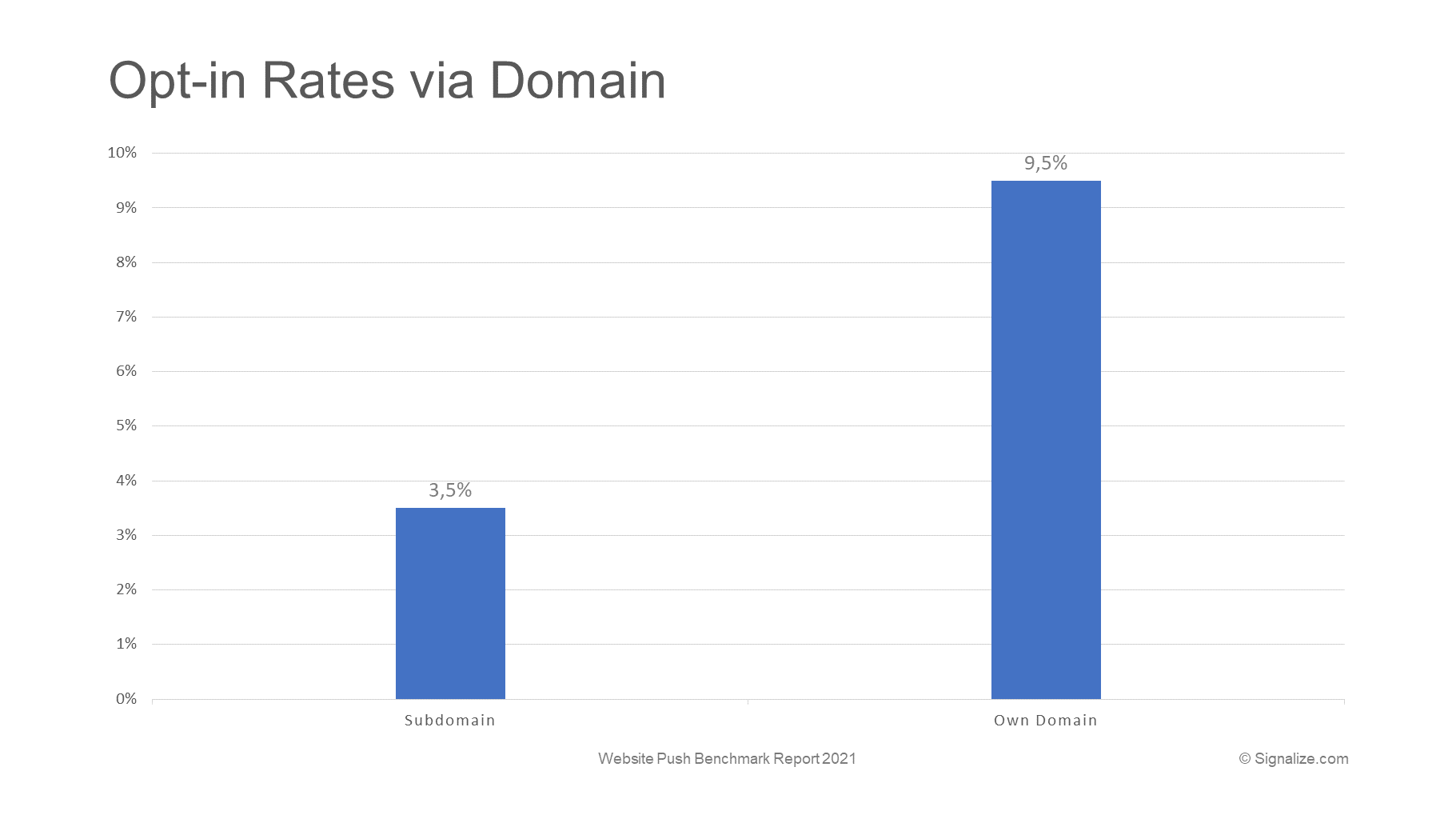 3. Rely on invite banners for the highest possible opt-in rate.
To attract push notification subscribers, site owners most often use the browser's simple opt-in dialogs (50.7 percent), invite boxes (17.5 percent), or invite banners (31.8 percent). However, the highest opt-in rate can be achieved with invitation banners. At 20.8 percent, the opt-in rate is more than double that of the invitation box at 6.5 percent or the simple browser dialog at 8.0 percent. 
4. Topic choices increase the opt-in rate.
Personalization also is an important success factor for web push notification marketing. This is why opt-in rates are higher when the potential subscriber is offered a choice of topics (8.1 percent) than for invitations that do not offer a topic selection option (7.1 percent). However, a topic selection should only be offered if the promoted content is indeed very diverse. Then the effort and benefit of topic-specific push notifications are in good balance.
5. Invite to web push notifications as visitors enter the site.
While it seems obvious to give website visitors some time to check out the site first before inviting them, this is not the best strategy. In fact, delaying the invitation decreases the opt-in rate by at least 15 percent. This might be because users are increasingly accustomed to finding consent dialogs immediately on websites. In addition, users are still orienting themselves on the website at that moment, which is why an invitation is also perceived as less annoying than later, for instance, when they are already in shopping mode.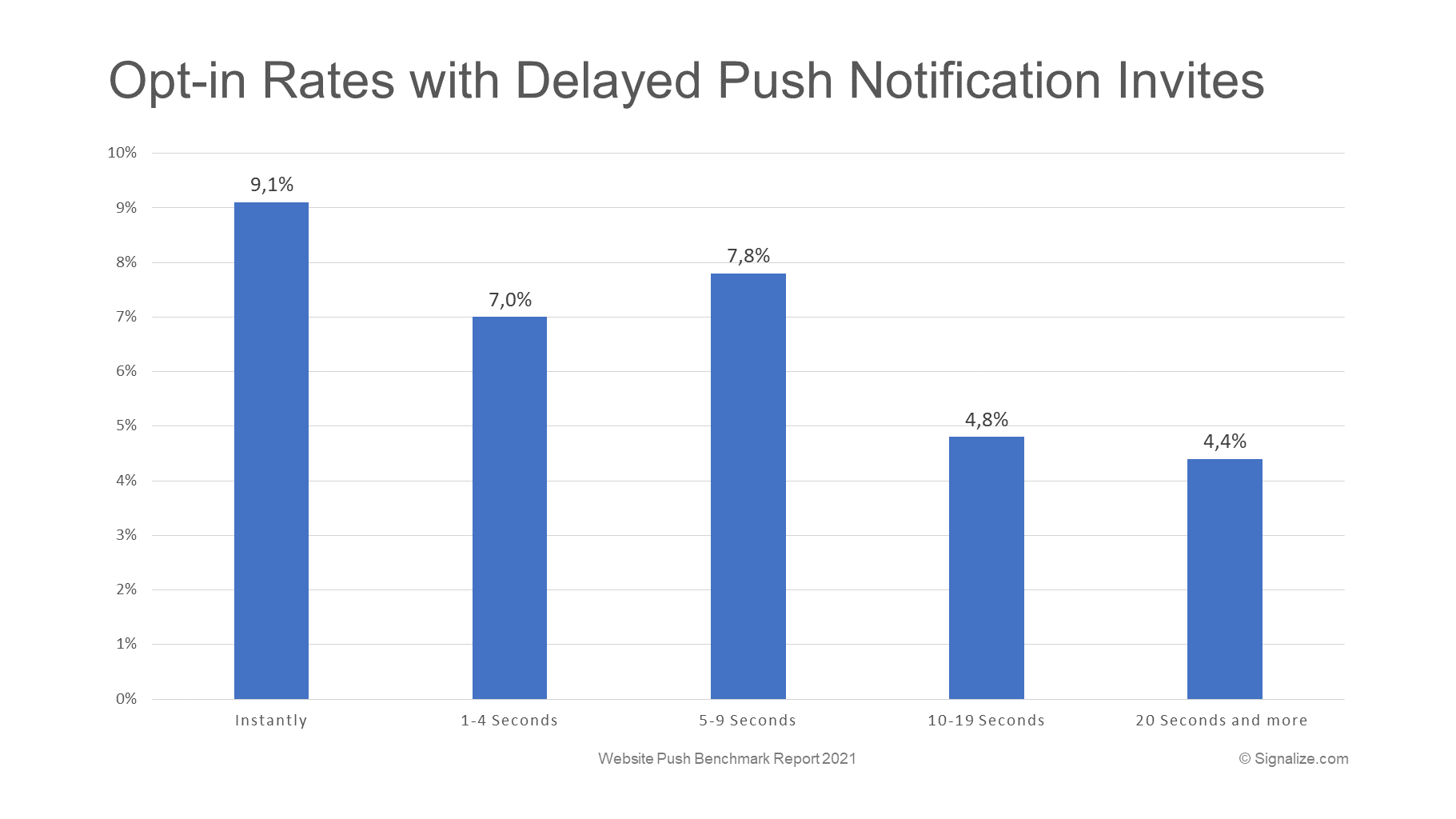 6. Choose push notification days randomly throughout the week.
Push notifications have similar click rates on all days of the week. Click rates are a little higher on Tuesdays, Thursdays, and Sundays. The majority of all short messages via web push go out on Wednesdays. Hence, one can perform equally well with push notifications on any day of the week. After all, most users are also online every day and interact with short messages almost around the clock. Consequently, they accept the short messages via web push just as naturally and at any time.
7. Segment the audience.
The more relevant push notifications are, the more likely users will interact. This requires targeting the appropriate recipients at all times. The basis for segmentation is provided by behavior-based data, i.e. where users click on the website, which items are added to the cart, or when they last visited the site. The combination of various such criteria enables granular target group clusters for precisely matching push notifications. These then achieve significantly higher click rates (4.8 percent) than messages that are simply send to all recipients (3.4 percent).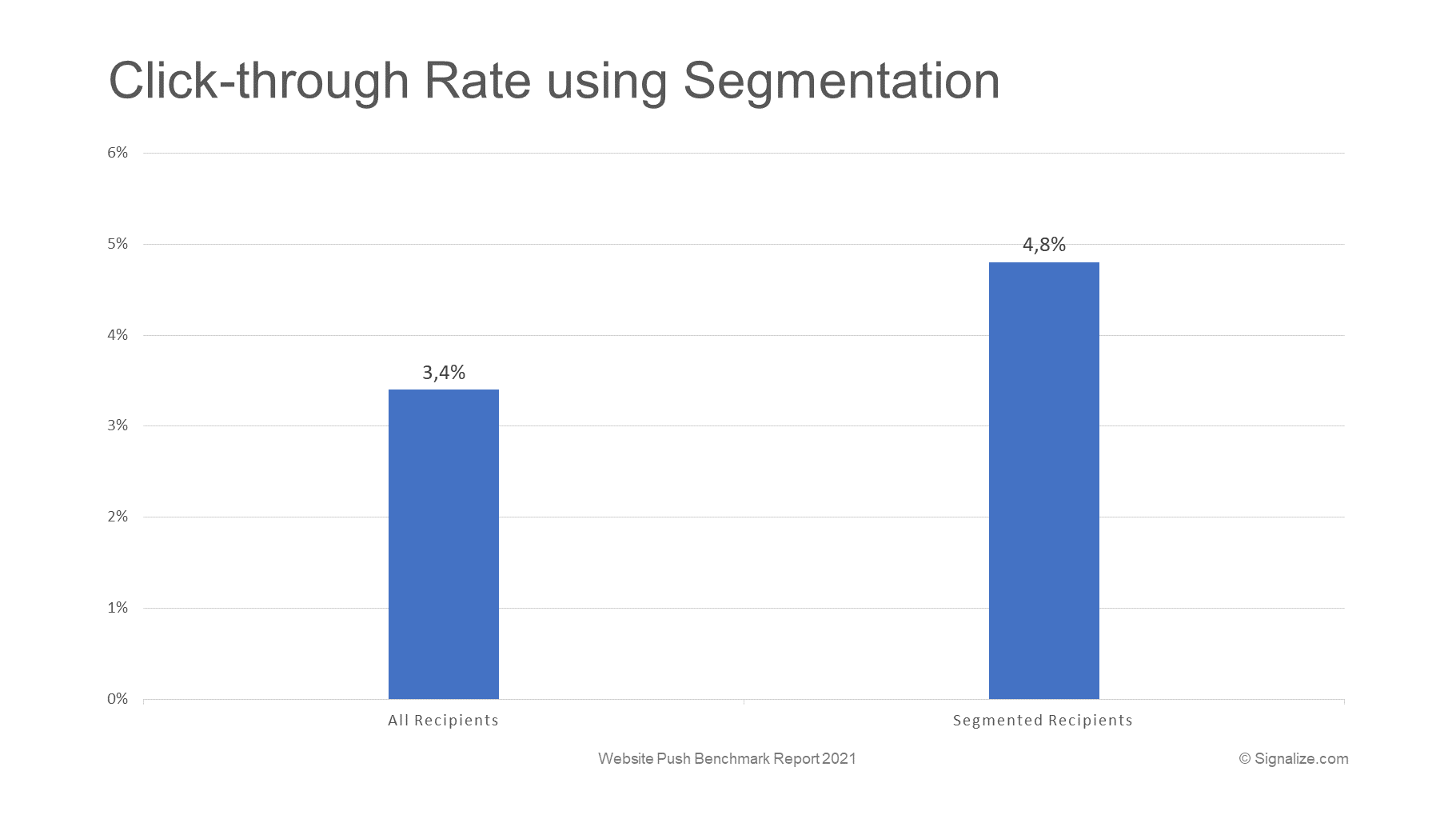 8. Automate the push notifications.
Triggers that initiate the sending of a web push notification can even be used to set up multi-level campaigns. On the one hand, user actions can serve as triggers, such as downloading documents or items that have been added to the cart but were not purchased. On the other hand, the trigger can also come from the organization's data, for example when an item is back in stock or when the customer's birthday is coming up. Generally speaking, such automated dispatch workflows in push notification marketing ensure more than twice as high click rates as those sent manually.
9. Boost success with emojis. 
It's hard to imagine social media and messaging services without emojis, and they're equally popular in push notification marketing. By adding emojis to push notifications, one can boost click-throughs by an average of 50 percent. A clear thumbs-up for emojis in push notification marketing. 
10. Send push notifications continuously.
Push notifications are suitable for communicating daily news and offers as well as content relevant for the longer term. Sending push notifications continuously not only reaches current recipients, but also those who opt-in to receive them on following days. Longer-lasting content achieves a click-through rate 1.5 times higher than one-time notifications. Hence, one not only reach more recipients, but also increases the attractiveness of the notifications.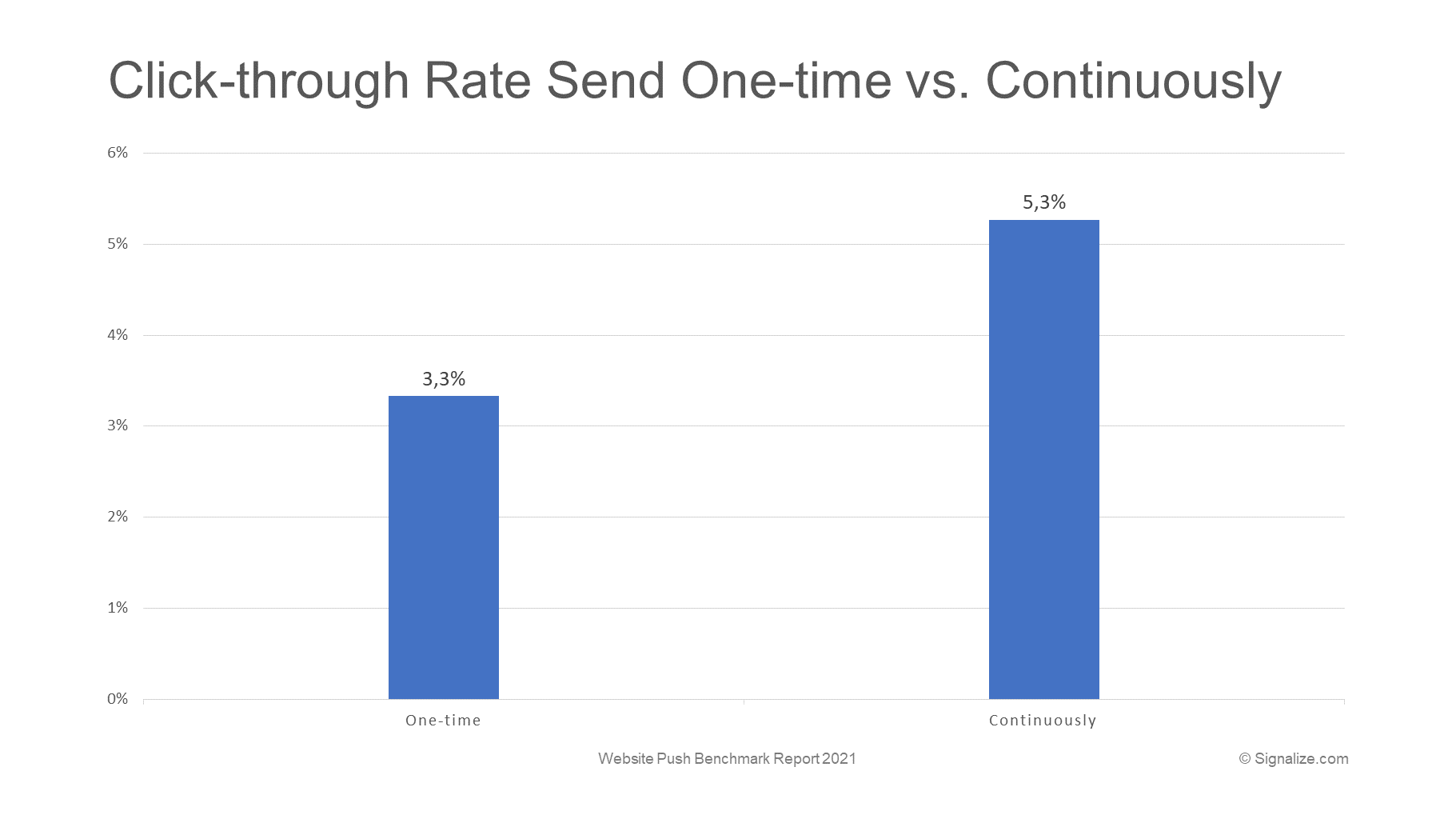 Conclusion: Impressive opt-in and click-through rates in push notification marketing
For online marketers, push notifications are an optimal addition to email and social media marketing. Especially for brief content with links to further information, web push notifications are the ideal communication channel. Customers and prospects see messages where they look most often: on their screens, whether desktop or mobile, and even in lock mode.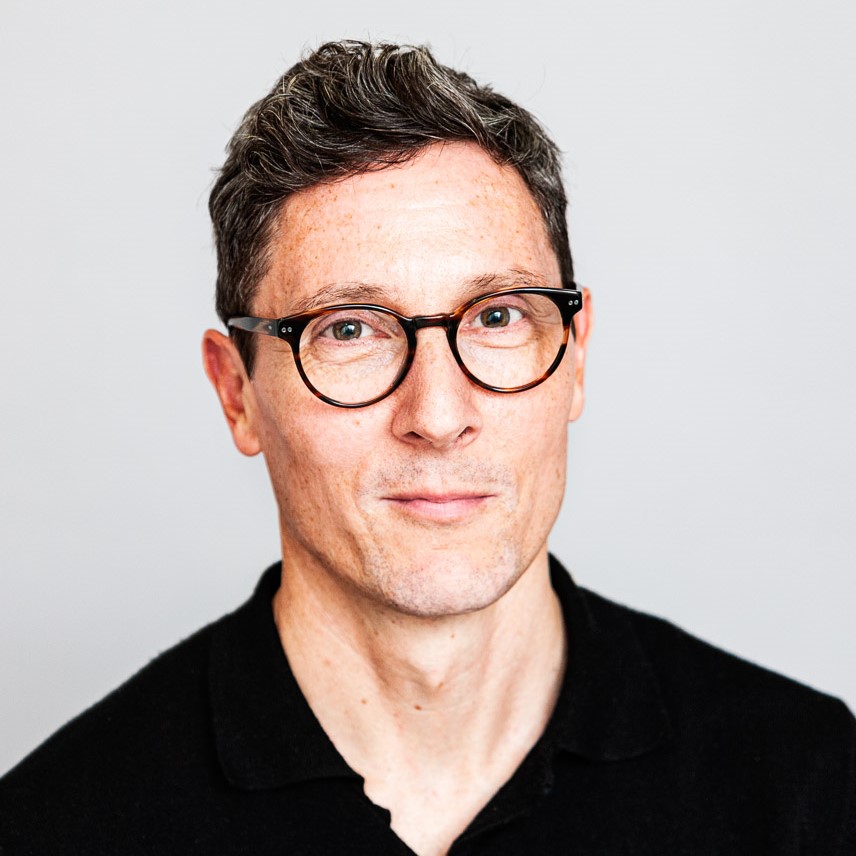 Olaf Brandt is the managing director of etracker, the German expert for GDPR compliant web analytics and conversion optimization. After graduating in business administration and working for various software companies, Brandt joined etracker in 2008, where he initially worked in business development and was later responsible for product development of the web push notification solution Signalize. 
 Signalize is the free web push notification marketing solution from etracker. It enables online businesses to send targeted push messages in just a few minutes – completely free of charge and without any volume restrictions. Signalize Premium additionally offers extensive automation options, plug-and-play segmentation and multi-language support for the special requirements of marketing and communications professionals. At its core, the SaaS solution is based on etracker's site tracking technology, which has been independently audited and awarded for its GDPR compliance.