Germany makes one of the biggest markets when it comes to fashion industry. According to Statista information, it's in TOP 5 leading economies in the selected market – women apparel segment.
Revenue in the Women's Apparel segment amounts to US$39,655m in 2020. The market is expected to grow annually by 3.5% (CAGR 2020-2025).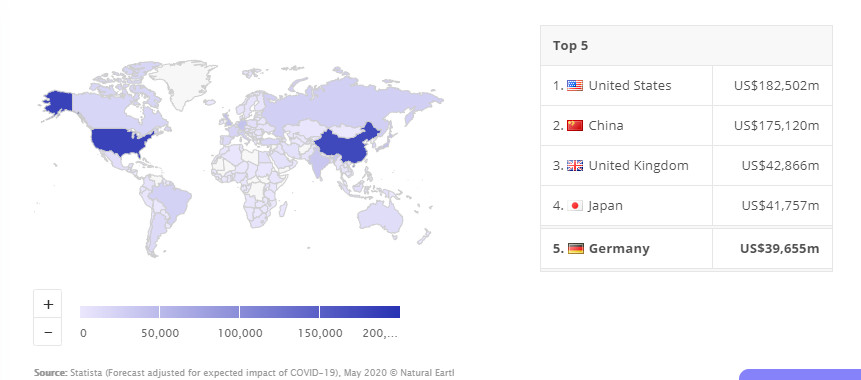 Not enough data? Well, we have more for you.
The ""Average Revenue per Capita"" box shows the average market value of the selected market (market segment, region) per person in US dollars for each year.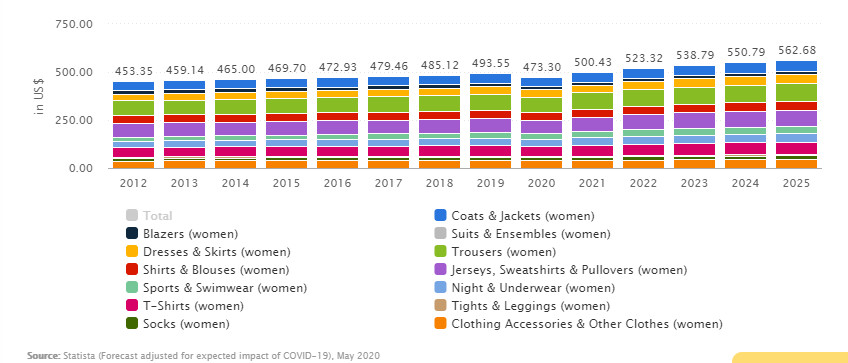 The average revenue per person in the segment for Women's Apparel amounts to US$473.30 in 2020.
It's lower than in 2018-2019 due to the coronavirus outbreak, but it's predicted to bounce back in 2021 and further.
Let's see what contributed to such results: we've identified top 50 fashion brands & shops in Germany!
Zalando is a giant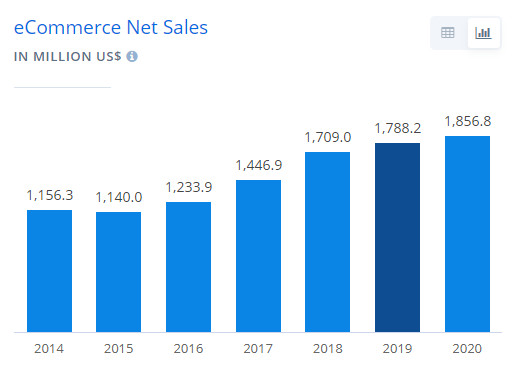 Zalando is Germany's largest online store with footwear and fashion. By applying for the offer, the company focuses on more affluent consumers by providing high-end products (and with high prices).
Well-known brands and valued designers – this is the domain of the company.
It is one of the fastest growing e-commerce companies in Europe. The company achieved a great result in just four years – Zalando was founded in 2008.
The following net turnover data comes from the DACH region (Germany, Austria and Switzerland). However, Zalando does not only exist in these countries.

The company does not stop there – Zalando invests in the development of its own logistics network and information technology. The result is the largest logistics center in Europe located in Erfurt.
The site looks very transparent and elegant. What's more, the product range is really wide. Among the manufacturers you can find brands whose ads we see in fashionable magazines, but not only – there is also a large group of those whose names sound all-inclusive, and the price does not knock you down.
Both shipping and possible return of purchased products takes place without additional costs on the part of the buyer. So this is something that is not often found in online stores, and which has made Zalando so popular.
Otto – combining online with online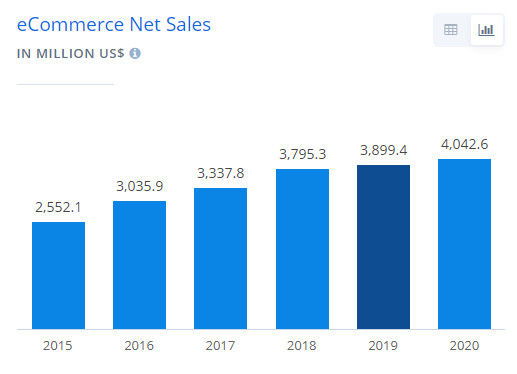 Otto is a brand known in Germany for over 60 years, where it occupies a leading position among fashion online stores – but also stationary ones. The store offers clothes, shoes and accessories of famous world brands.
OTTO offers fashionable and eye-catching outfits for men and women, regardless of age, size or preferences. In the Otto online store, you can shop at an affordable price without leaving your home. In addition, OTTO meets the changing trends and constantly updates its offer to offer only clothes in line with the latest fashion. OTTO online store is clothing for everyone, in particular fashionable women's clothing.
On the website you can find a wide range of famous brands. In addition to dresses, blouses, T-shirts, tops, skirts, dresses, pants and shorts, footwear, underwear and various accessories are also available.
Top 50 fashion shops and marketplaces in Germany
Place
Name
Revenue + Growth 18/19
1
zalando.de Zalando SE
> US$1,500m 4.6%
2
otto.de Otto GmbH & Co. KG
> US$2,500m 2.7%
3
bonprix.de bonprix Handelsgesellschaft mbH
> US$500m 0.6%
4
aboutyou.de ABOUT YOU GmbH
> US$500m 21.7%
5
hm.com H & M Hennes & Mauritz AB
> US$2,500m 12.6%
6
amazon.de Amazon EU S.à r.l.
> US$10,000m 6.9%
7
baur.de BAUR Versand GmbH & Co. KG
> US$400m
3.5%
8
lidl.de Lidl Digital International GmbH & Co. KG
> US$750m
10.2%
9
bestsecret.com Best Secret GmbH
> US$300m
3.3%
10
esprit.de Esprit Retail B.V. & Co. KG
> US$200m
-1.1%
11
zalando-lounge.de Zalando SE
> US$200m
33.5%
12
asos.de asos.com, Ltd.
> US$300m
9.4%
13
breuninger.com E. Breuninger GmbH & Co.
> US$200m
5.0%
14
klingel.de K-Mail Order GmbH & Co. KG
> US$300m 1.9%
15
limango.de limango GmbH
> US$200m
-1.3%
16
soliver.de s.Oliver Bernd Freier GmbH & Co. KG
> US$150m
7.5%
17
brands4friends.de Private Sale GmbH
> US$200m
8.9%
18
tchibo.de Tchibo GmbH
> US$500m
-0.8%
19
hse24.de Home Shopping Europe GmbH
> US$200m
2.8%
20
zara.com Zara USA, Inc.
> US$2,500m 25.0%
21
qvc.de QVC, Inc.
> US$300m
4.5%
22
witt-weiden.de Josef Witt GmbH
> US$100m
9.3%
23
c-and-a.com C&A Mode GmbH & Co. KG
> US$150m
3.3%
24
shein.com ZoeTop Business Co., Ltd.
> US$1,000m
30.0%
25
galeria-kaufhof.de GALERIA Kaufhof GmbH
> US$150m-14.4%
26
heine.de Heinrich Heine GmbH
> US$100m
-1.3%
27
happy-size.de Happy Size Versand GmbH & Co. KG
> US$75m
6.8%
28
mytheresa.com mytheresa.com GmbH
> US$400m
23.3%
29
christ.de CHRIST Juweliere und Uhrmacher seit 1863 GmbH
> US$75m
7.7%
30
walbusch.de Walbusch Walter Busch GmbH & Co. KG
> US$75m
10.5%
31
mirapodo.de myToys.de GmbH
> US$75m
31.3%
32
peterhahn.de Peter Hahn GmbH
> US$75m
4.0%
33
vente-privee.com vente-privee.com S.A.
> US$1,000m
-43.7%
34
landsend.de Lands' End GmbH
> US$75m
4.6%
35
sportscheck.com SportScheck GmbH
> US$100m
2.9%
36
emp.de E.M.P. Merchandising Handelsgesellschaft mbH
> US$100m
1.9%
37
schuhe24.de Schuh Benner
> US$50m
3.8%
38
jako-o.com Jako-o Möbel und Spielmittel für die junge Familie GmbH
> US$150m
15.0%
39
madeleine.de Madeleine Mode GmbH
> US$50m
-3.0%
40
dress-for-less.de dress-for-less GmbH
> US$50m
9.4%
41
planet-sports.de Planet Sports GmbH
> US$75m
30.7%
42
deichmann.com Deichmann SE
> US$150m
5.0%
43
engelhorn.de Engelhorn KGaA
> US$50m
11.1%
44
bader.de Bruno Bader GmbH & Co. KG
> US$150m
14.4%
45
sheego.de Schwab Versand GmbH
> US$50m
-1.3%
46
nike.com Nike, Inc.
> US$5,000m
48.1%
47
fashionette.de Fashionette GmbH
> US$40m
9.2%
48
schwab.de Schwab Versand GmbH
> US$50m
-49.2%
49
peek-cloppenburg.de Fashion ID GmbH & Co. KG
> US$40m
11.6%
50
ernstings-family.de Ernsting's family GmbH & Co. KG
> US$50m
3.1%