Serbia is a Balkan country that was a part of Yugoslavia, and after its collapse, it formed the State of Serbia and Montenegro. Since 2006 Serbia is an independent country. It borders Hungary, Romania, Bulgaria, North Macedonia, Croatia, Bosnia and Herzegovina, Albania, Montenegro, and Kosovo. Its capital city, Belgrade, is the oldest and the largest city in Southern Europe.
Serbia is a candidate country for the European Union since 2012. It is a member of the UN and CEFTA. In 2019 its GDP was $51.41 billion. It is perceived as a middle-income economy and ranks relatively high in the case of HDI, 64th place.
Below you will find some insight from the Serbian ecommerce world. If you are interested in such a topic, keep reading.
Serbian ecommerce overview
Revenue in the ecommerce sector is predicted to reach US$490m by the end of this year. It may reach US$609m by 2025. There are 3.6 million users of ecommerce in Serbia, which means user penetration may hit 52.7% by the end of 2021 and 61.4% by 2025.
The biggest sector in Serbian ecommerce is Toys, Hobby & DIY, and it accounts for 27% of the revenue. Fashion is placed second with 26%, and then Furniture & Appliances with 19%. The last two sectors are Food & Personal Care, with 15% of ecommerce revenue, and Electronics & Media, with 12%.
source: https://ecommercedb.com/en/markets/rs/all
The most popular stores are mostly placed in the Serbian domain. The first place belongs to gigatron.rs, an electronics shop. Then comes www.tehnomanija.rs, also an electronics store. The third-place belongs to apotekaonline.rs, which is an online pharmacy.
Consumer behavior in Serbia
The Serbs had to grapple with the economic crisis, which made them sensitive to the price. It is it that dictates the purchasing choices of Serbian consumers. This nation rarely buys the items they want but do not need. Serbs spend money only on what is really useful in life. They are willing to save on entertainment or media. Serbs choose online shopping more and more often, the growth rate of this sector is relatively fast, and it is expected that the ecommerce market will become more and more popular every year.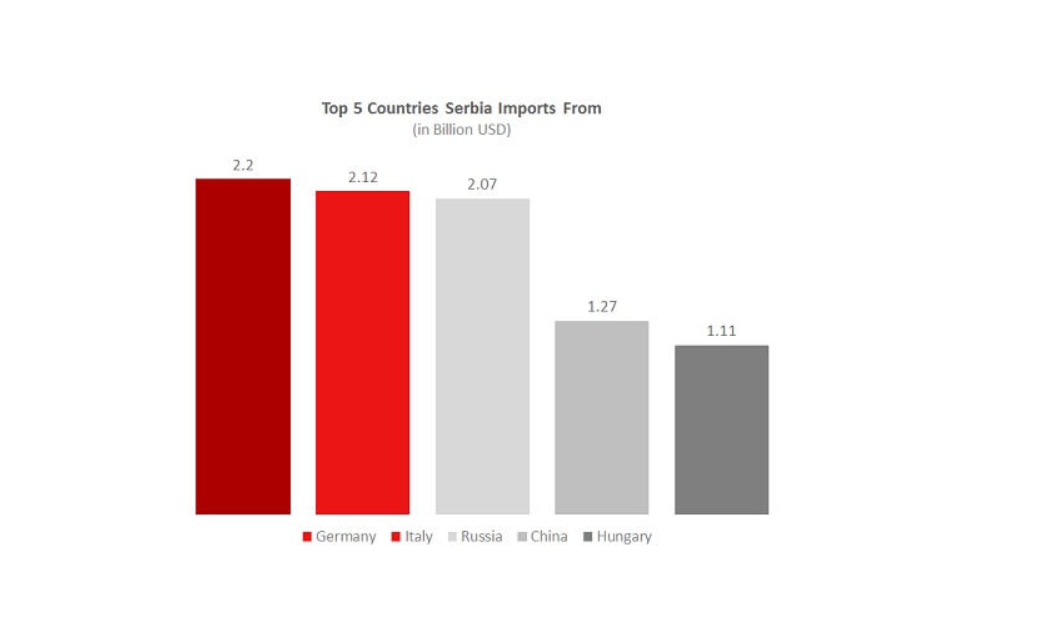 source: https://learning.eshopworld.com/ecommerce-blog/serbia-ecommerce-insights/
Where do Serbian buy from? The top three countries reached a similar score in the case of import value – $2.2 billion, $ 2.12 billion, and $2.07 billion. Serbian prefer German and Italian items. The third favorite market is Russia. Then come China and Hungary.
Payment methods in Serbia

source: https://www.paymentwall.com/pl/payment-methods/serbia
The undeniable Serbians' favorites are prepaid cards. This payment method covers 76% of the market. Then comes credit cards with 13% and mobiles with 8% of the market share.
There are two solutions available in the country to facilitate mobile and prepaid payments – Mobiano and MINT. The first solution ensures fast and, above all, safe mobile payments. MINT, on the other hand, is a solution for fans of prepaid payments. Thanks to it, even without a bank account or card, you can pay for your purchases.
There is Apple Pay available on this market, on the contrary to Google Pay.
Social media in Serbia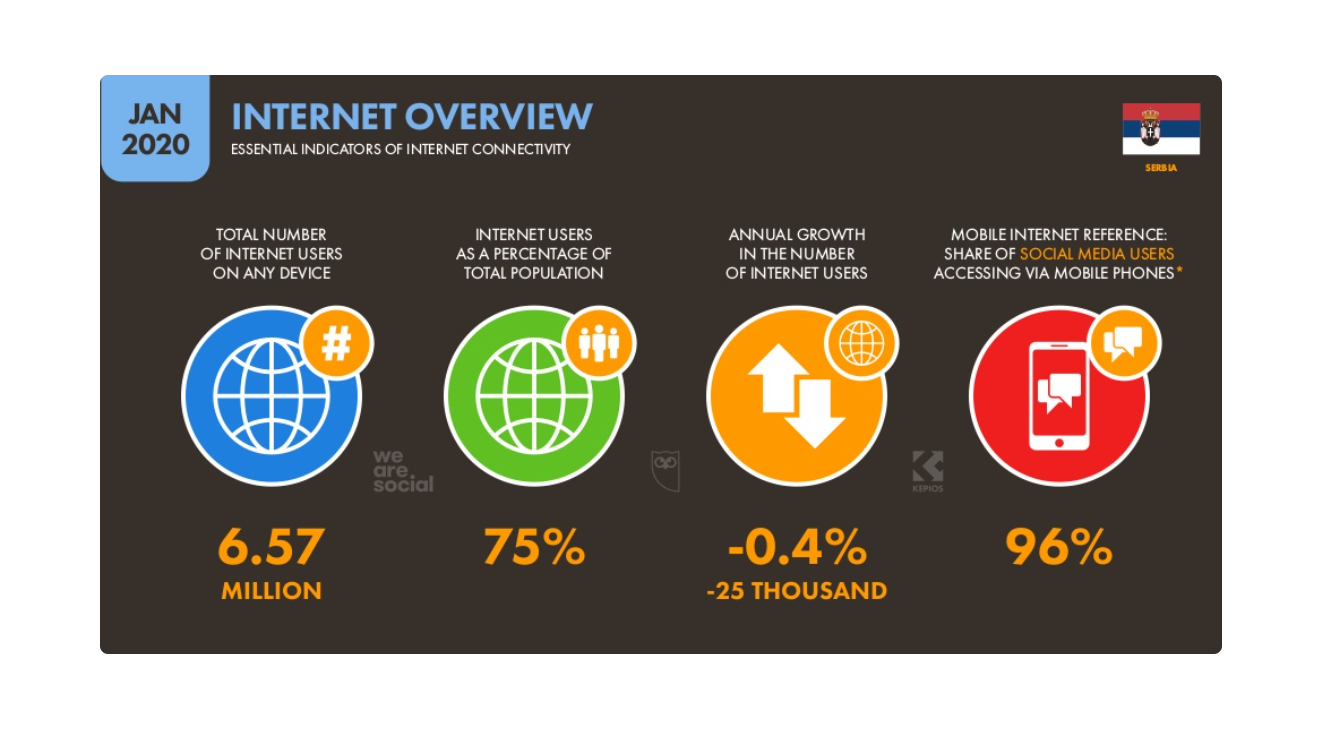 source: https://datareportal.com/reports/digital-2020-serbia
Over 6 million Serbian have access to the Internet, which means ¾ of the population is online. 96% percent of Internet users are present in social media. The numbers of social media users are growing – a 6.7% increase comparing 2019 and 2020.
When it comes to advertisement reach, Facebook is the leader here. You can get to about 3 million users here. The second place belongs to Instagram, with 2.30 million ad reach. The lowest score here has Twitter – 406.5 thousand.
Serbian Logistics
The main way of goods' transport is road transport. Based on the World Bank data, the quality of logistics in Serbia is rated 2.71 on a scale from 1 to 5. The quality of the roads leaves much to be desired. This leads to some difficulties while driving. Traffic jams are frequent, especially on the borders with Croatia, Hungary, Bulgaria, and Macedonia.
There are three main airports in Serbia – Belgrade Nikola Tesla Airport, Niš Constantine the Great Airport, and Morava Airport. In the case of the carriage of goods, Ponikve Airport also counts.
To wrap up
Serbia is open to ecommerce, which makes more people of this country decide to shop online. They also have no problem buying products from abroad, but the problem may be a way of transport. The quality of the roads does not make this task any easier.
If you are searching for some information about other Balkan countries you can read about Albania, Romania or Croatia.