Albania is a Balkan country that has access to the Adriatic Sea. It borders Greece, Montenegro, North Macedonia, Serbia, and Kosovo. Albania is a member country of the UN, NATO, and WTO. Since 2014 it is one of the candidate countries for the European Union.
Mining is a strong branch of the Albanian economy due to the country's rich natural resources. Agriculture is doing well. In 2019, Albania's GDP was US$15.28 billion.
Below you will find information about Albanian e-commerce, consumer preferences, and which internet markets are worth entering.
Albanian ecommerce overview
Revenue in the ecommerce market is forecasted to reach US$113m. In five years, it can reach US$192m thanks to an annual growth rate at the level of 11.2%. There are over 1 million ecommerce users, which means that user penetration is 36.6%, and in five years, it can reach 40.8% in five years.
There is rarely any data about ecommerce in Albania. This country is a cash economy. Still, cards are not a very popular solution. Only 8% of the population have credit cards. Banks are promoting this payment way through various promotions or discounts, but Albanians are still unconvinced to use the cards.
Consumer behavior in
Albanian consumers pay attention to the price, which determines purchasing choices to the greatest extent. Albanians are actively looking for promotions and are willing to use them. They are very much influenced by advertising, especially TV ads. After-sales services, just like e-commerce, are just getting started.
Payment methods in Albania
As we mentioned above, cash is king in the Albanian market. However, despite their reluctance to deal with credit cards, mobile payments and prepaid payments are the most popular. The lowest popularity has payments via e-wallets. 

source: https://www.paymentwall.com/pl/payment-methods/albania
Albanian consumers use such solutions as MINT – prepaid cards option, providing secure and fast payments. Also, Mobiano has fans across Albania. It is a mobile payment solution, which is available in over 60 countries.
Social media in Albania
There are about 1.40 million users of social media in Albania. This number has grown by about 3.6% percent, comparing 2019 and 2020. Almost 100% of users scroll down their social media on mobiles.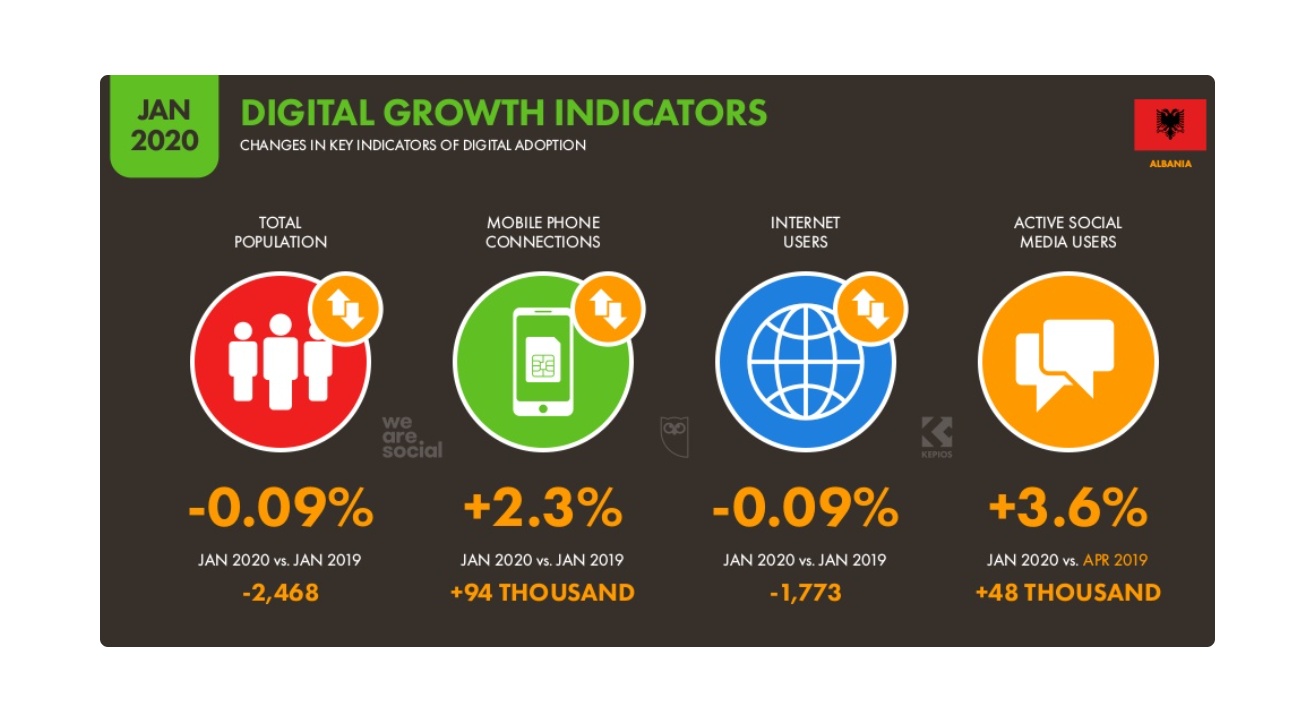 source: https://datareportal.com/reports/digital-2020-albania
When it comes to ad reach, the winner here is Facebook. Thanks to advertising via this platform, you can get to about bout 1 million people. The second place belongs to Instagram – 870 thousand users can be reached by ads here. The lowest reach has Twitter – 91 thousand users.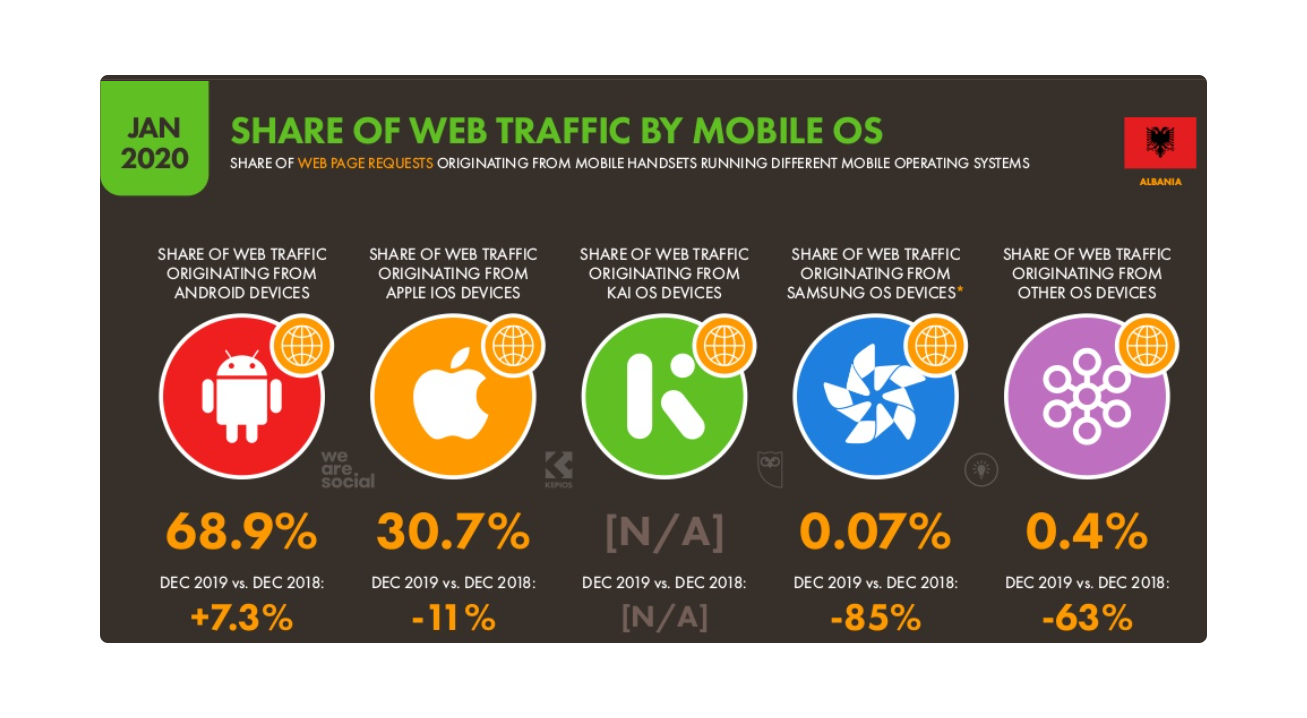 source: https://datareportal.com/reports/digital-2020-albania
Albanians prefer Android devices – almost 70% of web traffic is generated via such appliances. And the number of fans is still increasing. When it comes to Apple, about 30% of web traffic is generated by these devices, and this percentage is decreasing.
Albanian logistics
When it comes to logistics, it is not at the highest level. A large part of the country (75%) is mountainous, which makes it difficult to move quickly by car. Also, the quality of roads is not great.
In the case of railways, the situation is similar to the above. Low quality of it makes its function basically reduced to passenger transport, which is still limited by the quality of the tracks.
There is only one international airport in Albania, Rinas airport. It is located near the capital city Tirana.
Over to you
Ecommerce in Albania is a newbie. There is rarely any ecommerce from abroad, and people are not convinced about the idea of online shopping. It is not easy to enter the market, but we can forecast that over the years, ecommerce would develop here.
If you are interested in other Balkan countries here, you can read about Croatia and Romania.