As specified in the Germany e-commerce market overview, 82 million Germans do online shopping and around 30% of them buy something online every week. What is more, the German e-commerce market is predicted to reach $105,646M by 2024.
This means that the competition is growing, so Germany e-commerce brands seek out new creative ways to stand out from the crowd and grab the attention of their customers. Thus, more and more brands give Instagram marketing a try.
The days when Instagram was a simple photo-sharing app are far behind us. Over the last few years, the Instagram community has reached 1 billion active users and today it is one of the fastest-growing social media networks with the most engaged user base. 
Since 90% of users follow at least one brand on Instagram, it's no wonder that over 25 million businesses use this platform to reach their target audience, start a conversation with potential customers, and spread the word about their products and services. In other words, Instagram is one of the most important marketing tools to promote your company.
And if you want to jump on the bandwagon and make the most out of Instagram, use hashtags to deliver your brand message. To boost inspiration, check out six best examples from Germany brands that use Instagram hashtags the right way.
#1. Diesel—Gain More Exposure for New Collection
The most obvious way of using hashtags on Instagram is to promote your company and spread the word about it online. Although many companies create brand hashtags, Diesel is a great example of using a hashtag the right way.
Why? Not only does the company use its name as a part of its brand hashtag, but it also customizes the hashtag to promote its new collection.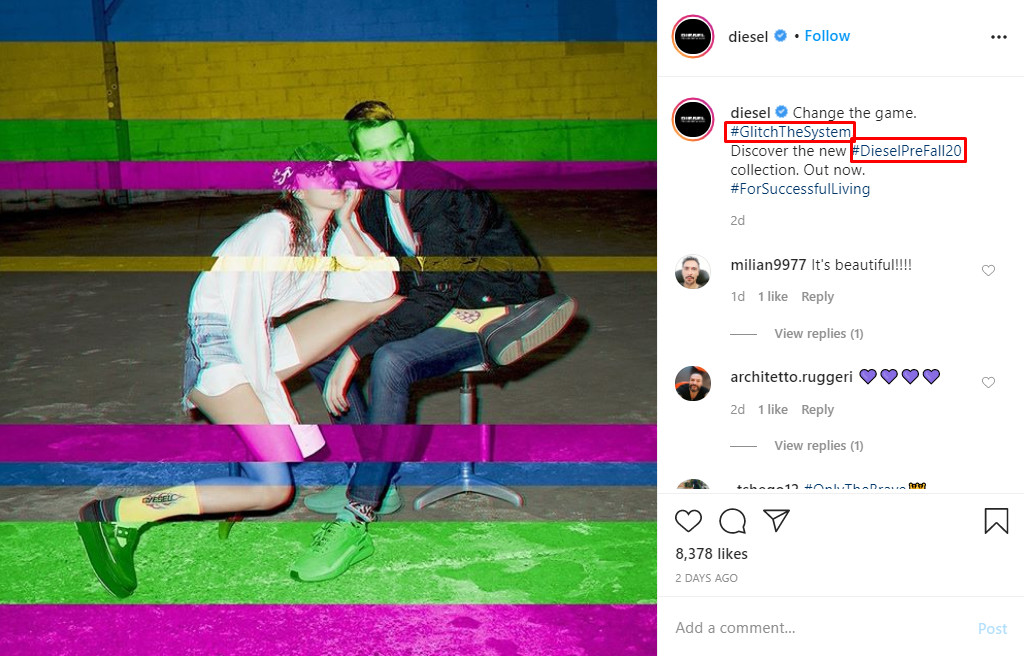 As you can see, the brand also has a moto for its collection #GlitchTheSystem that helps to tell visitors more about the idea behind its product launch. What is more, the company also has added its new hashtags to the bio section to gain more exposure for its collection.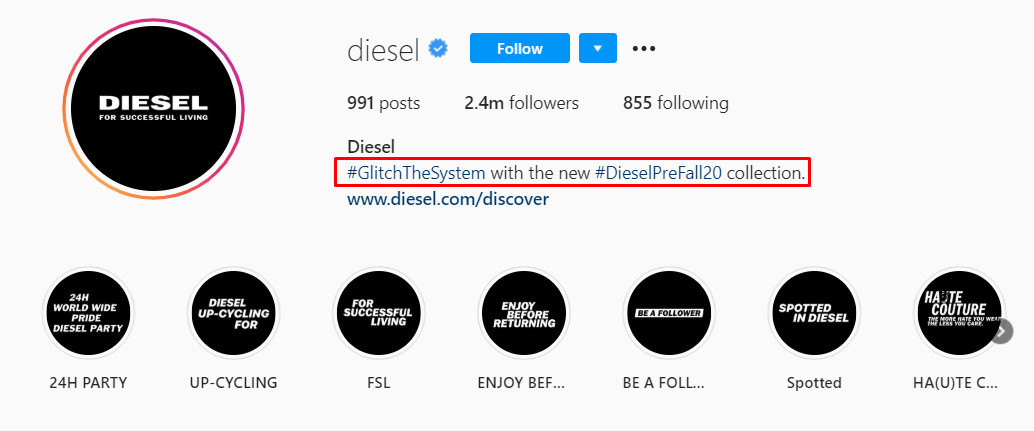 But if you don't have a team of creative marketers, coming up with an original motto for your campaign can be daunting. However, you can use an email search platform like SignalHire to find and hire a hashtag marketer who can analyze popular hashtags within your niche and suggest several options for you to choose.
This allows you to format and create the right brand hashtag without spending much budget.
#2. HugoBoss—Improve Customer Experience
Instagram shopping has become a new normal. According to the recent report, 70% of people use Instagram for product discovery and 130 million tap on product tags every month.
However, modern customers are bombarded with branded content, so it can be difficult for them to find relevant products in-app.
The solution? Use various branded hashtags to improve customer experience and therefore turn your followers into paying customers.
HugoBoss is a great example of using this strategy in action. With almost 4k publications on its Instagram profile, the company knows the importance of a better content organization.
HugoBoss uses different hashtags like #BOSSeyewear, #BOSSFW20 and #BOSSkids to help customers discover interesting products with ease.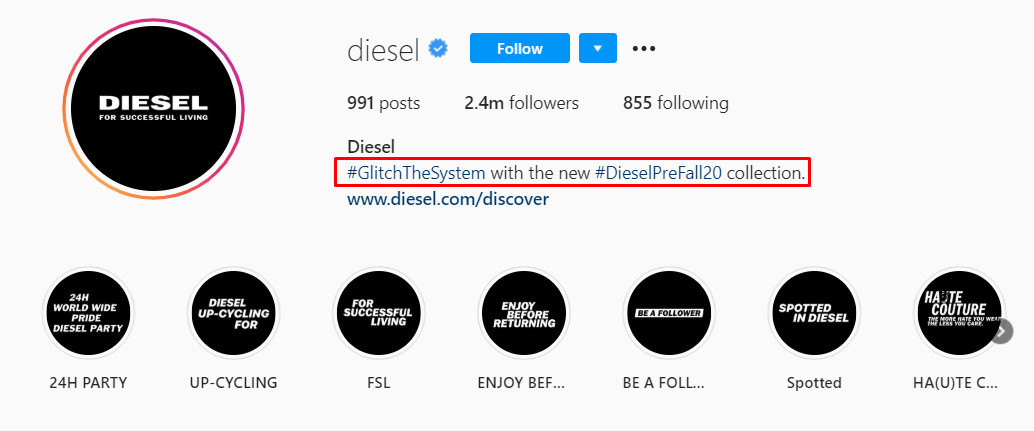 #3. SebaMed—Turn Fans into Your Storytellers
Modern customers don't trust paid ads or sponsored posts; they seek out recommendations from friends and family before making the purchase decision.
In other words, word-of-mouth referrals are an important element of revenue marketing that helps to increase brand loyalty and trust, so companies try to turn their fans into storytellers.
Why? It's a proven way to promote your company and attract new customers who trust your brand advocates.
Let's take Sebamed Skincare, for example. The company uses its bio section to tell Instagram visitors and followers how to get featured on their profile. 

Since modern customers want to feel heard and valued, they are happy to upload visual content with a hashtag #SebamedUSA for a chance to get published on the profile.
#4. Zalando—Encourage More User-Generated Content
User-generated content (UGC) is not just one of the social media trends, but it's also a powerful marketing tool to spread the word about your company without being salesy. In fact, people believe that user-generated content is 20% more influential than brand content and 86% of companies use UGC photos.
If you want to encourage fans to create UGC, you can learn from Zalando. The company has a special hashtag #StyleDayFriday for customers who want to show off their outfits and Zalando uses it in the bio section.

What is more, the company runs a contest that gives participants an opportunity to win a gift card in exchange for featuring their user-generated photos on Instagram.
To spread the word about this contest, Zalando teams up with niche influencers who set an example of an outfit and writes about the prize in the caption, just like in the example below: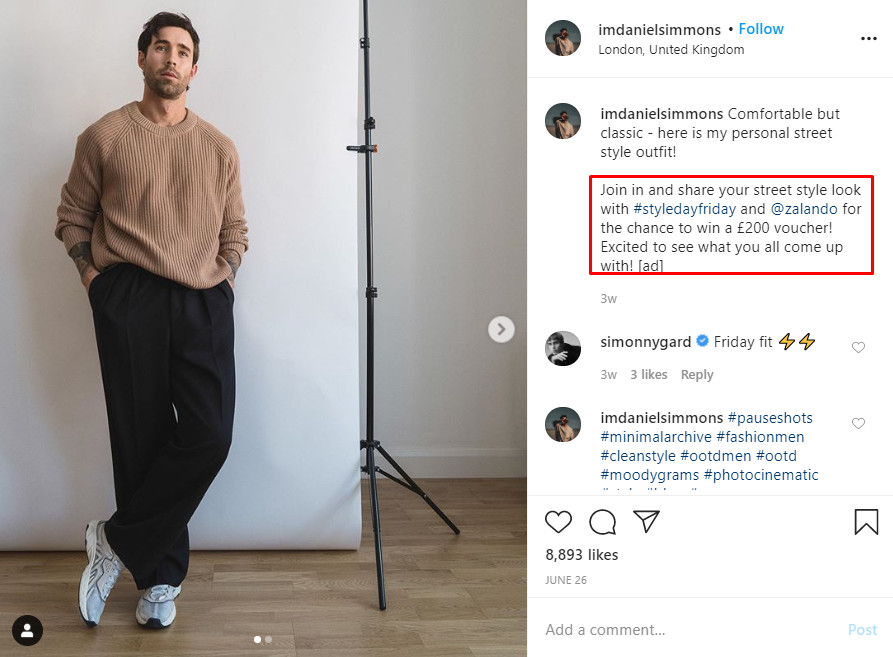 When you use a brand hashtag to collect user-generated content, not only do you turn your fans into storytellers who spread the word about your company, but you give people an opportunity to learn more about your company and therefore it helps to improve customer experience. As a result, you get your business to the next level.
#5. Montblanc—Create Holiday-Related Hashtags
Seasonal content is time-sensitive, but it helps to cut through the noise and grab the attention of your target audience. Thus, it's a good idea to create holiday-related hashtags that resonate with your brand and the upcoming holiday.
For example, you can learn from Montblanc and use a hashtag similar to #giftmontblanc that helps your potential customers find new holiday gift ideas within your collection of products–just let your creativity run wild!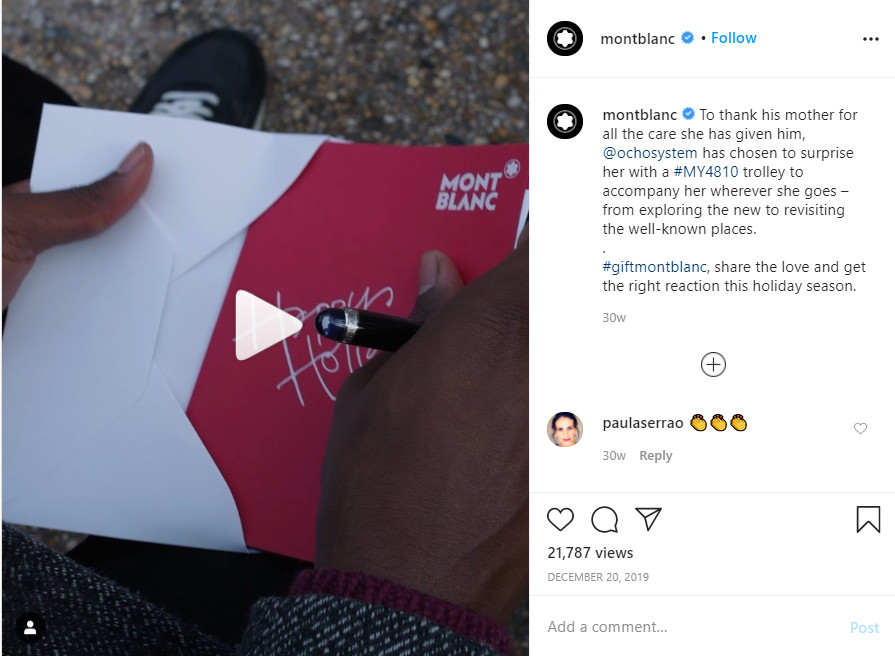 During the Christmas shopping season, Montblanc uploaded a series of Instagram posts and shared the hashtag via Instagram Stories to show off the variety of gift options.
Followers liked the hashtag, so they also used it when sharing product photos on social media. As a result, over 600 posts were uploaded with this hashtag within one month.
#6. Adidas—Promote a Challenge
The idea of running challenges on social media isn't new. Since people love having fun and challenges motivate people to test themselves, this content goes viral on social media. For brands, this means an opportunity to promote a company and attract more like-minded people. Thus, some companies organize and promote social media challenges.
For example, Adidas has organized a challenge #HomeTeamHero that encourages people to do physical activities during lockdown.
The company invites participants to share their journey with the word, using the hashtag. To motivate more people to join the challenge, the company promotes its hashtag on Instagram, offers prizes and features participants on its profile.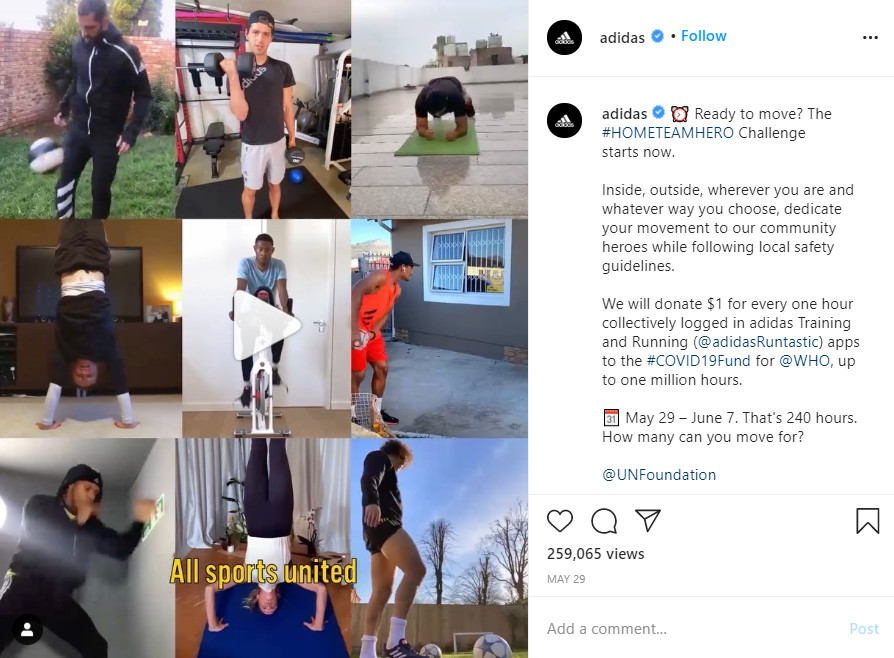 The Bottom Line
With the popularity of Instagram marketing among businesses of all sizes and niches, using hashtags is a great way to increase visibility for your campaign and attract your target audience.
Although there are many ways to use Instagram hashtags, big brands know how to create unique and interesting brand hashtags and stand out from the crowd.
Author Bio
Hugh Beaulac is a content strategist at MC2Bid4Papers who also contributes as a guest author to other blogs. Being fond of social media marketing, Hugh often shares tips on using Instagram for growing a business. Follow him on Twitter to stay tuned for more.