We've gone through GERMANY 2020: Ecommerce Country Report and we decided to create a German market overview that you can get familiar with below! Alternatively, you can download the full report here.
Germany is one of the biggest markets in Europe. Only 18.1% of retailers are linked to an online shop or catalog.
As you can see most retailers are not present online. However, the German e-commerce market volume is predicted to reach the US $ 105,646m up to 2024.
In the near future, i.e. by the end of this year, its value is expected to exceed EUR 100 billion. In this way, it will match France.
Of the over 82 million Germans doing online shopping, nearly 30% do online shopping every week. Revenue by the end of 2020 in the most popular online sector – Fashion is predicted to reach the US $ 19,635.8 m.
In Germany, such market powers as Volkswagen, Bosh, or Siemens are the leading producers of the country, while the retailers who are the leaders are the Schwartz Group and Aldi.
Market background
Germany is one of the founding countries of the European Union, which is why they faithfully adhere to the community's principles. It is relatively easy to start a business in this country – Germany takes 22nd place from 190 in the Ease of Doing Business Index.
Consumers are aware of their rights and value privacy, therefore they are reluctant to set up accounts in online stores. Sales taxes are 19% at the regular rate, 7% at the reduced rate.
Logistics – German's pride
Germany is a leader in the logistics market – couriers companies such as DPD, UPS, and Hermes deliver products around the world. Almost 80% of online sellers offer to sell directly to the customer.
All thanks to the domestic carrier – DHL. During such a crucial period for the e-commerce market as Christmas, delivery is the most important aspect for Germans ranked 20 percentage point over price comparisons. And German love comparing prices.
Payment methods
The most popular payment method is paying by invoice, second place belongs to debit cards and the third one belongs to digital payments such as PayPal or Skrill.
In practice, invoicing means that consumers can pick up, check, and decide if they want to keep products or not before they make a payment.
It is even ideal for conservative and careful Germans, but not so good for sellers because it is associated with a high risk.
Invoicing is a method in which the customer only needs to provide the name and delivery address. This is another aspect that Germans, who value privacy so much, appreciate very much.
The method in which payment is deferred contributes to the popularity of returns – for some sectors the rate of return reaches up to 70%.
Germans prefer their native language
The majority of consumers prefer websites in the German language. Amazon leads the German market of course thanks to the .de domain. eBay.de is ranked second place (25% of monthly visits).
Cross-border sales are not very popular in Germany. Domestic sellers are the first choice of German consumers, but if they already decide to shop from outside the country, they choose products from China or the United States.
Smartphone – favorite way to do online shopping
As in most countries in the world, smartphones are the basic device that Germans make online purchases.
Not much less than 60% admit that they previously preferred shopping on a laptop, but now their smartphone is their go-to.
The sectors in which online shopping is the most common are Electronics and Media as well as the Fashion sector.
Then comes the Fun, Hobby nd DIY sector, as well as the Furniture and Accessories. The product categories that are most often bought using a smartphone are Fashion and Books,
Consumers – characteristics
How old is the average German consumer? The most extensive group (age 25-55) covered almost 40% percent of the market.
It is worth mentioning that the youngest part of society stands for a little over 20% when the oldest one is over 30%.
The reason is clear, Germany is no exception to European tendency- the society is getting older. The average age in Germany is growing, in 2020 it is 45 years.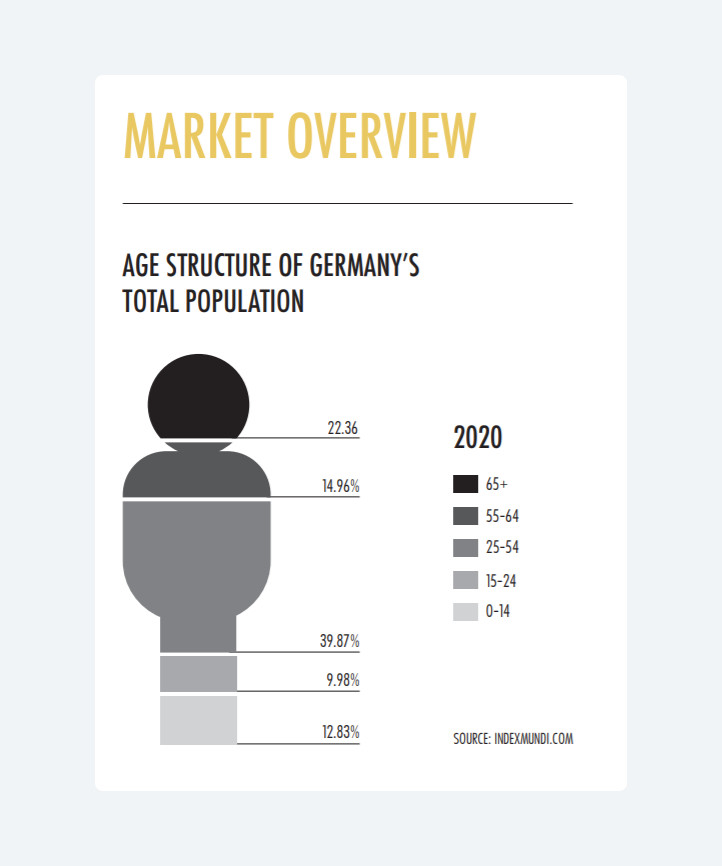 It is worth to mention that Germans are getting richer. Gross Domestic Products getting higher and higher every year. However, due to the pandemic of COVID-19 it is predicted to fall by 5.8%.
To see the difference here is a comparison to second one in Europe – France.
French GPD in 2019 was about EUR 2,419 bn ( about 2 trillion) and in 2020 it is forecasted to decrease by 9%.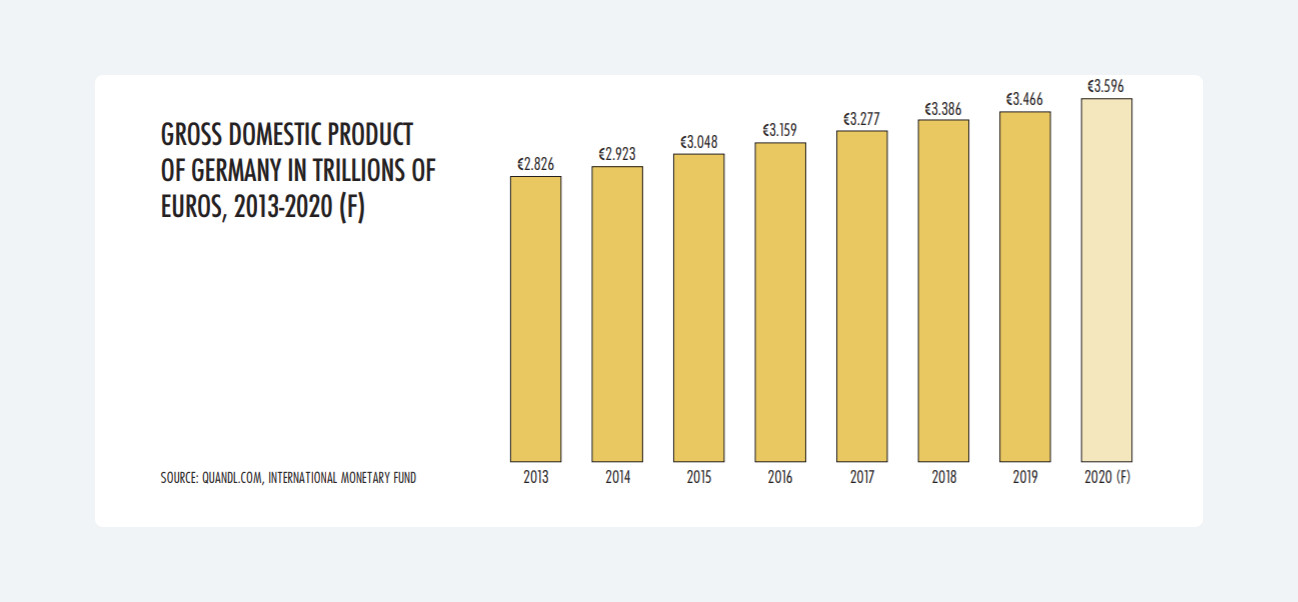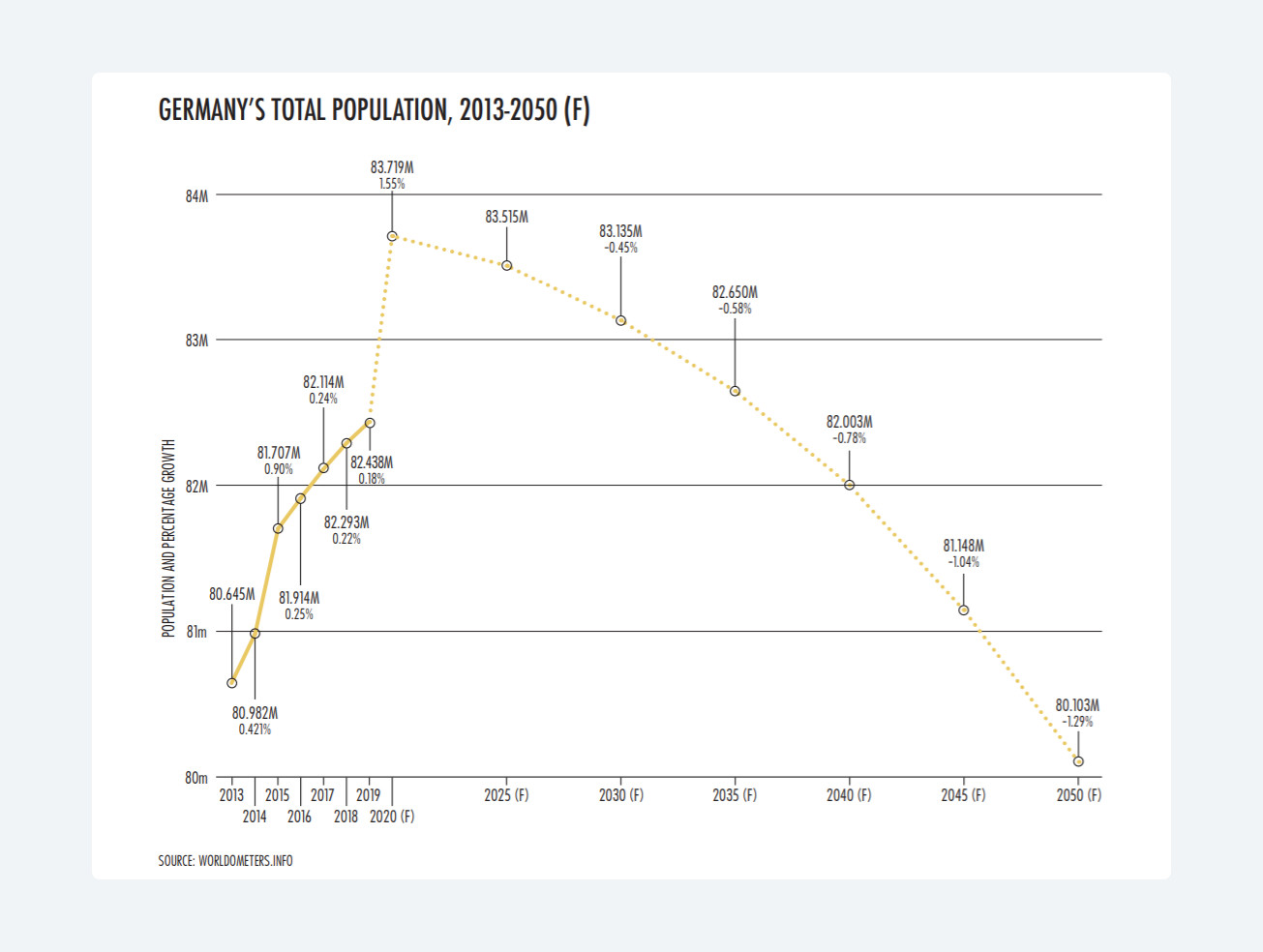 Germany's population has grown by 2020. It was not a big increase – less than one percent a year. However, a significant decrease in the population is expected after this year.
By the fact that the German's average life expectancy is forecast to increase, the decrease in birth rate is inevitable. German society will be getting older, which is not so good if you are looking from an economic perspective.
To sum up quickly
German consumers are one of the most demanding ones. It is also worth noting that despite such a demanding audience, it is a market that is relatively easy to enter, too.
German is one of the biggest and richest economies in Europe. Definitely worth considering if you want to expand your business.
To sum up