Bosnia and Herzegovina is a country created after the breakup of Yugoslavia. It borders Montenegro, Serbia, and Croatia. It accesses the Adriatic Sea. Bosnia and Herzegovina is a member of the UN, WHO, and a candidate for the European Union and NATO.
The GDP of this country was $11.96 billion in 2019. It was ranked 73rd at HDI ranking.
In this text, you will find some information about ecommerce in this country. We will cover such topics as consumer behavior, payments methods, social media, and logistics. But let's start from the beginning – overview.
Ecommerce in Bosnia and Herzegovina overview
Revenue in this market is expected to hit US$237m in 2021. And by the end of 2025, its market volume may be $304m. There are 1.3 m people doing shopping online, which means user penetration may reach 39.1% this year and in four years – 43.7%.
The most significant segment is Fashion, its market volume is expected to be US$65m in 2021. The fastest-growing ecommerce sites in Bosnia are Mbuy, eKupi.ba, and citydeal.ba.
Ecommerce is not well-developed in this country. This may be due to a low percentage of credit card ownership. Only 9.7% of Bosnians have them.
Consumer behavior in Bosnia and Herzegovina
Consumers are not used to shopping online and find it hard to convince themselves of this shopping way. Only 15% of consumers in this country do shopping online or pay bills via the Internet.
Nevertheless, they are willing to pay for online content. Bosnians focus on access to music, applications, or various software. However, they prefer subscription services over single file downloads. The financial sector is undeniably dominant in digital, where many banks offer their clients mobile services. But only 16% of women and 15% of men are making online transactions.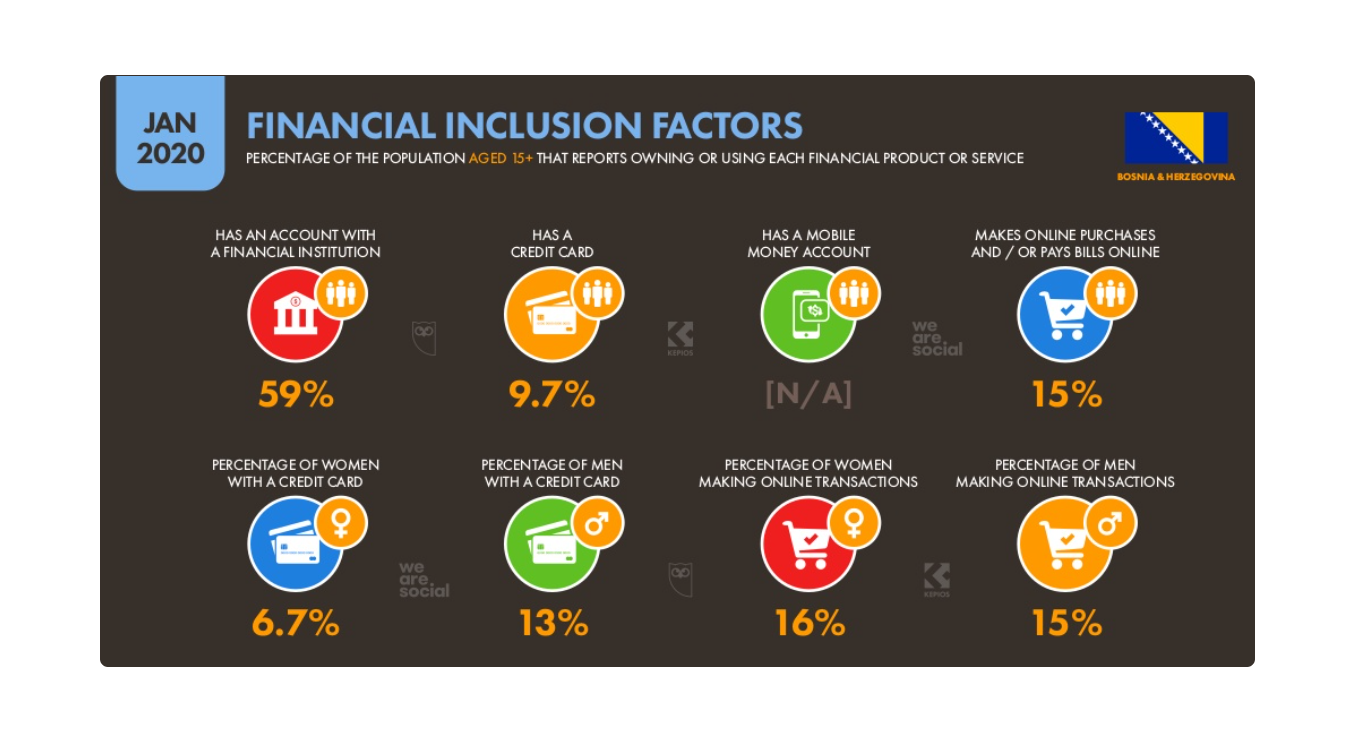 source: https://datareportal.com/reports/digital-2020-bosnia-and-herzegovina?rq=%2Fbosnia%20and%20herzegovina
Bosnian payment methods
As we mentioned before, Bosnian do not like credit cards, but 17% of the payment are cover this way. The most popular payment method is paying by mobile. Other ways like prepaid cards, bank transfers, or ewallets have a marginal share.

source: https://www.paymentwall.com/pl/payment-methods/bosnia-and-herzegovina
In Bosnia and Herzegovina, such a solution is available Mobiano and MINT. Due to mobile payments' high popularity, it has many fans, while MINT, which offers prepaid payments, is not a very popular solution. Neither Google Pay nor Apple Pay are available in Bosnia and Herzegovina.
Social media in Bosnia and Herzegovina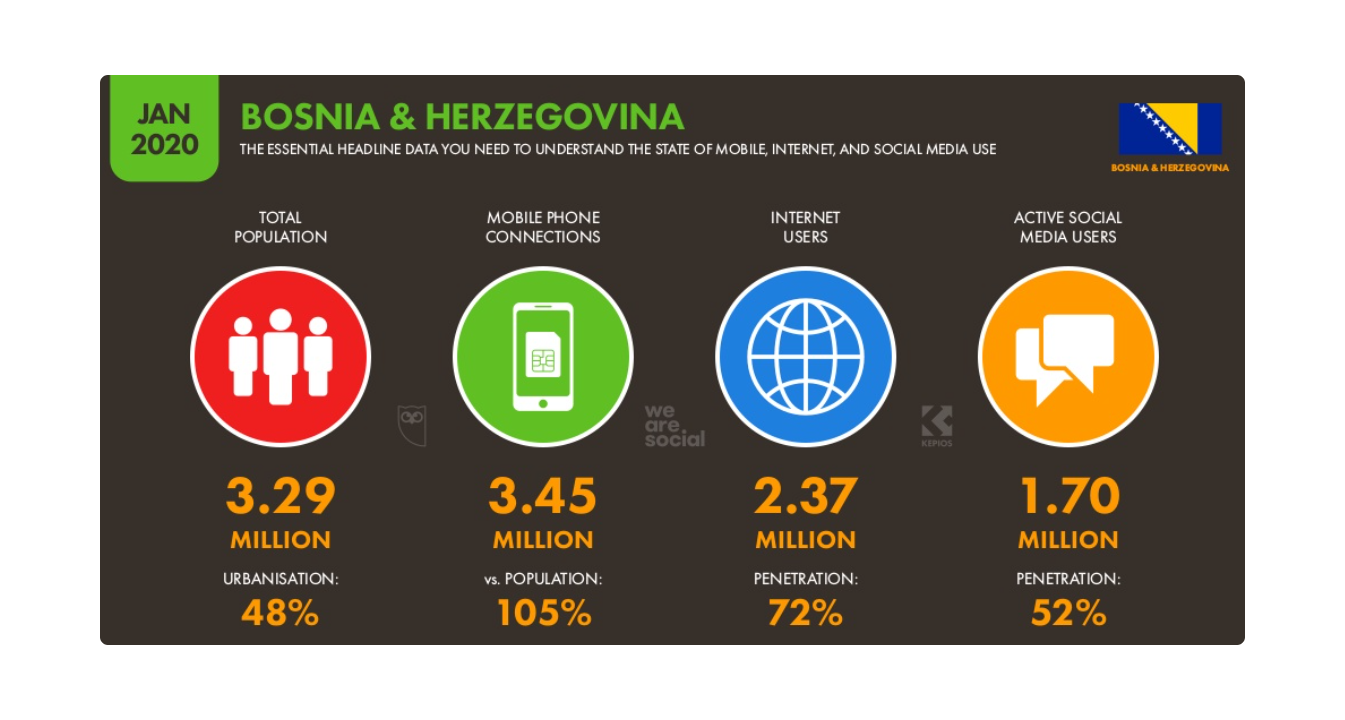 source: https://datareportal.com/reports/digital-2020-bosnia-and-herzegovina?rq=%2Fbosnia%20and%20herzegovina
There are over 2 million users of the Internet in Bosnia and Herzegovina. About 1.7 million users are active on social media. 97% of them use it via mobile.
In the case of ad reach – Facebook has it all. You can get to about 1.4 million users. Then comes Instagram with 860 thousand ad reach. The third-place belongs to LinkedIn – you can get to about 240 thousand users.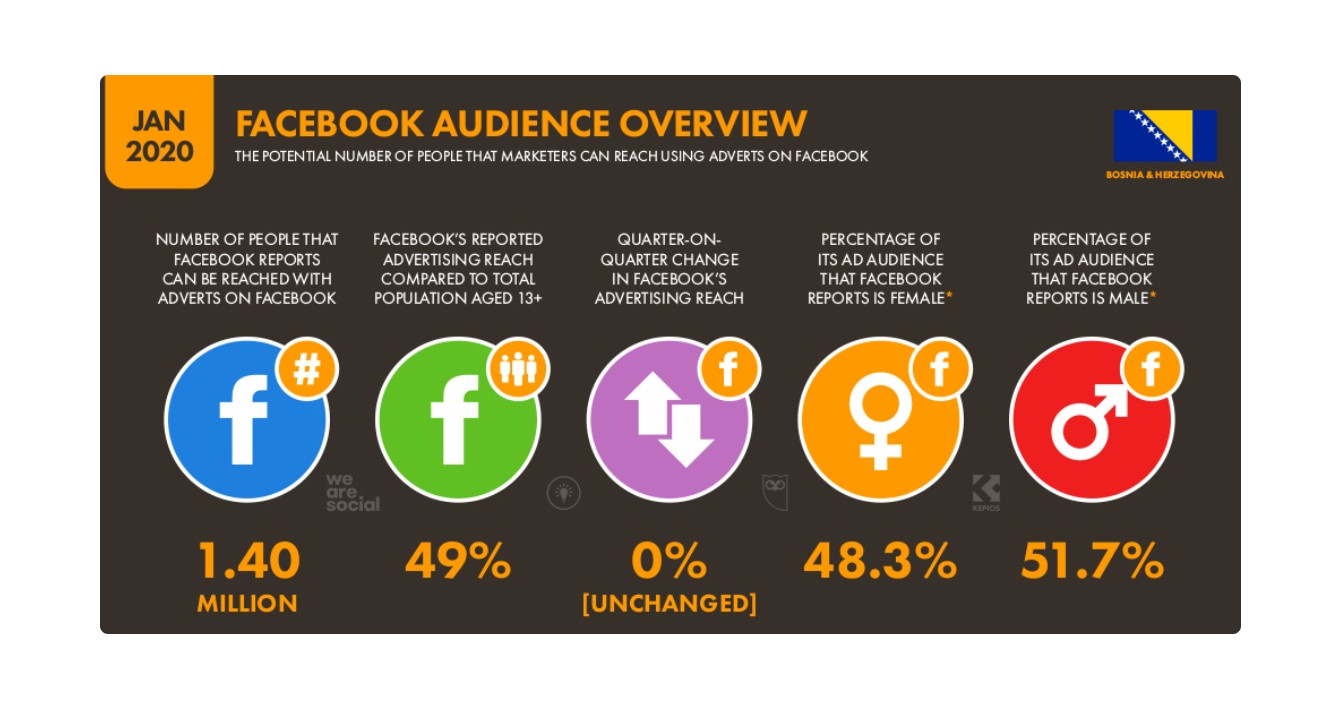 source: https://datareportal.com/reports/digital-2020-bosnia-and-herzegovina?rq=%2Fbosnia%20and%20herzegovina
Logistics in Bosnia and Herzegovina
The quality of roads and railways is not the best. Moving around the country is also not made easier by the fact that about 90% of its area is placed 2,000 meters above sea level. Due to the short coastline – only 20 km, this type of transport is not significant. The only seaport is located in Neum.
There are three airports: Sarajevo International Airport, Mostar International Airport, and Banja Luka Airport.
To sum up
Bosnia and Herzegovina is a tough cookie for ecommerce stores. People are not convinced about the idea of doing shopping from home, but it also means that competition is small here.
If you want to read about other Balkan countries, you can find articles about Croatia, Romania, and Albania.